As of today, there is one month left until Christmas, and only 12 days left until the beginning of Hanukkah. Tomorrow is US Thanksgiving and the traditional start to the holiday sales season happens Friday with the retail event known as Black Friday. Most of the people celebrate something in and around December / January so it's a busy time of year. Between family events, social events, work related events, and school concerts my December calendar is looking very full indeed.
I have to admit that the holidays are much harder now since the death of my mum. She loved Christmas and the house would be bursting at the seams with decorations, music, baking, and presents (one year we had 3 trees – big one in the living room, small one in the family room, and a child / pet proof one in the basement). Dad on the other hand, has leaned more towards the Grinch side of the spectrum. He never begrudged mum all her decorations but we both knew if left to his own devices, there would be a lot less Christmas in the house. I'm somewhere in the middle. I like Christmas and love finding the perfect gift for friends and family members, setting up my nativity scene, and enjoy putting up the tree, but aside from that? I'm not big on decking the halls. Last year it was about  10 days before Christmas when we finally got the tree up (and that was because we had company coming over). I'm not sure when it's going up this year.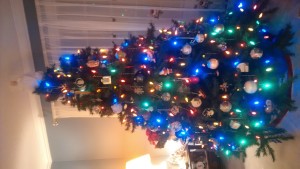 I have a tradition of getting all the kids in my life (and there are a lot of them) who I buy presents for, books for Christmas. It's much easier to keep track of reading levels than it is to figure out who likes Littlest Pet Shop vs Barbie vs Transformers vs Hot Wheels. I do that for birthdays – they're (thankfully) spread out though the year. I get some books used (but in great condition) and some new – helps the budget and the earth. I find 2-3 books per kid and double check with mom and  or dad to make sure they don't already have it, then I put a post-it note with the kid's name on it and wrap them in a marathon session. The bonus is that books are far easier to wrap than most toys – straight edges and they're generally flat.  This is about 2/3 of the total books for this year: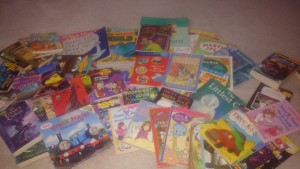 All of this has me thinking about holidays and when holidays aren't actually holidays. We celebrate 2 Thanksgivings here, although I only cook turkey for one. The US Thanksgiving is a social event with 6 or 7 people dropping by all afternoon and evening to hang out and watch football (starting, of course, with my beloved Detroit Lions game at 12:30). So it's a holiday here, even if its' not an official holiday in Canada. Today's Word Wednesday, in celebration of all of this, is holiday. Holiday is defined as a day of festivity or recreation when no work is done. So I guess neither Thanksgiving counts as a holiday in my house – we're doing outside work on Canadian Thanksgiving and I work before and during the games on US Thanksgiving. The word holiday comes from the Old English halidaeg which translates to 'holy day', reflecting that early holidays were religious observances.
Holiday (hol·i·day) noun
A 

day

fixed

by

law

or

custom

on

which

ordinary

business

is

suspended

in

commemoration

of

some

event

or

in

honor

of

some

person.

Any

day

of

exemption

from

work

(distinguished

from

 working day ).

a

religious

feast

day; holy day. 
Now, if you'll excuse me, I need to get ready for tomorrow's holiday.