One of the most common questions I hear during the holiday season is "How do I teach my child gift etiquette?" Gift giving occasions with kids on the spectrum can be tricky to say the least. Gifts may overwhelm, kids may forget the social niceties we spend all year teaching them causing friends or relatives to get upset when a child forgets to thank them, or worse, is unable to tell one of the social white lies when a gift isn't quite what was expected. I've known more than one child on the spectrum who blurted out "I didn't want this", "Yuck",or "I already have this" when presented with a gift that wasn't on their radar. I have previously written about buying gifts for kids with special needs so this post is going to focus on ways you can help your child both giving and receiving gifts.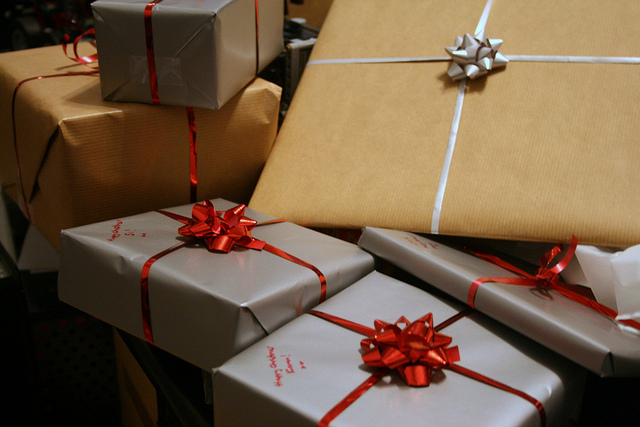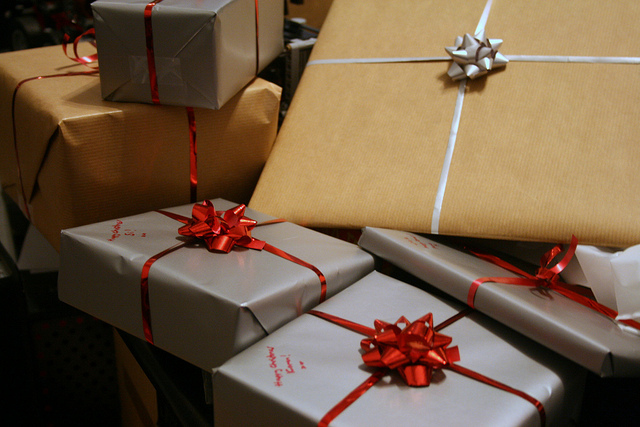 Giving
Gift giving can be a really tough skill for kids to learn, and kids on the spectrum have a tougher time than most. There are quite a few strategies I've used to teach kids about giving (both gifts and in a larger, charitable sense) and others that friends have used successfully. It's hit and miss what works with a particular kid, but with some trial and error, a method that works for a particular kid can almost always be found.
Write your own social story about giving gifts to others. Important points to include are why we give gifts, and how to respond when thanked for a present. You can also include a section on choosing gifts if you wish. For a quick and easy social story maker I use ConnectAbility's Visuals Engine. It's free and you can download the story as a PDF and print it once made. Read the social story often leading up to the gift giving occasion. Make one specific to the holiday season and another one for other gift giving occasions such as birthday parties.
Involve the child as much as possible in the process. From making a list of people he would like to give gifts to, to picking a suitable gift. You may need to model desired behaviour and show your own thinking "I know daddy likes cars, and needs socks, so he would like these socks with cars on them" – walk your child through how you pick out gifts for others. (Do this cautiously if the child is prone to blurting out to others what they're getting, or do it with hypothetical gifts only)
Help your child wrap the gifts. If your child becomes anxious about wrapping, use a box or a bag. If they really don't want the gift hidden (and some kids don't), then just put a bow on it.
Use photos as gift tags to indicate who the present is for – this serves to remind the child that the gift is for another person (so may discourage them from opening it) and who the recipient is.
Practice, Practice, Practice! Enlist an older sibling or friend and model gift giving (and receiving). When the child has seen the example a few times, have them switch into the scenario.
Some spectrum kids pick things they really like for their friends and siblings and then don't want to give it away. Make sure you talk about the recipient a lot when you're buying the gift, and talk about how much they will enjoy it. They may still not want to give the gift away, but be firm and explain that it is not theirs.
Kids who are rule followers may find the idea of social conventions comforting. So explaining in in terms of a "non-optional social convention" a la Big Bang Theory is a good way to introduce them to the rules of gift giving. http://funny-scenes.com/friends-give-each-other-presents/ (In general, I don't believe that gift giving is a social obligation but for kids who need rules… this helps).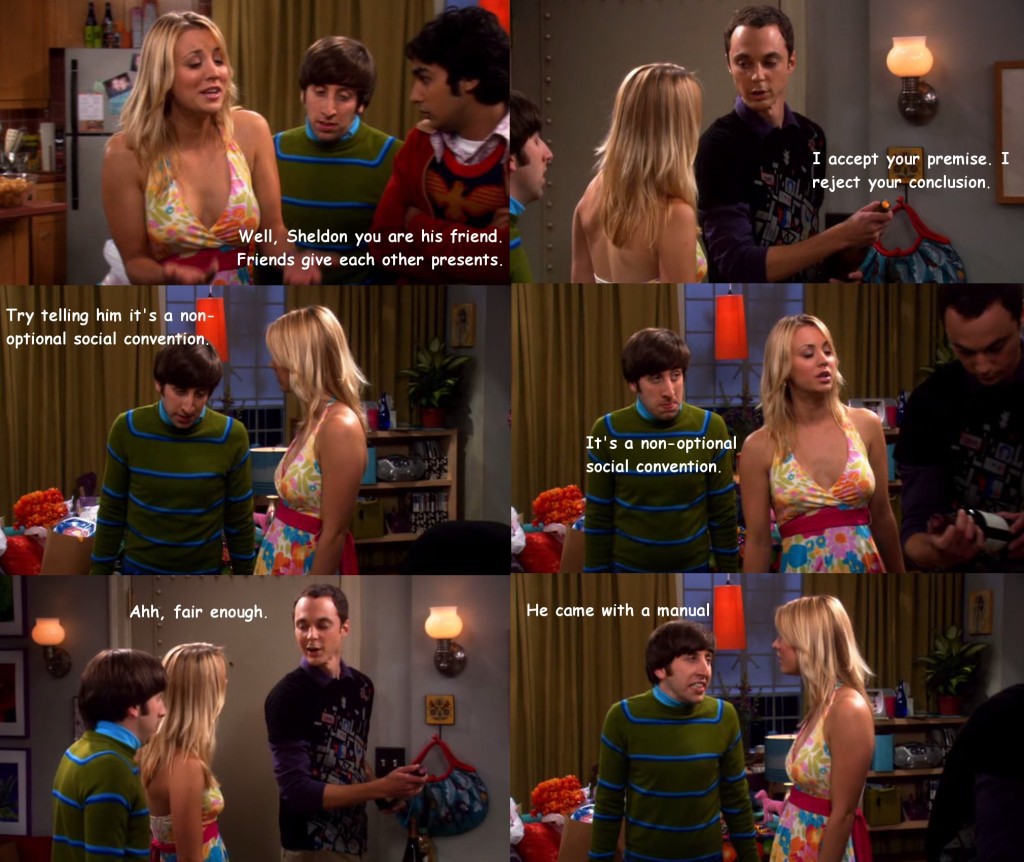 Receiving
Practice opening gifts, taking turns and waiting for others, and giving gifts. Try to practice this daily. Wrap boxes with favourite toys and some new items to simulate the experience. Having an established order for opening gifts – each child opens one and the cycle continues.
Role play scenarios with your child in preparation for him/her getting a gift they do not want. Give them the right words to use to politely accept a gift. "Thank you for thinking of me" works well.
If your family tradition includes putting gifts under the Christmas tree, prepare well ahead of time by setting the rules (gifts are only to be opened when everybody is there, or after a certain time on Christmas morning). Perhaps wrap an empty box to see if your child is able to resist the temptation.
Alternatively, wait until just before the holiday to set out gifts, especially large tempting ones.
Wrap each family member's presents in a distinct wrapping paper. That way the child knows which ones are theirs and hopefully won't unwrap everybody's presents looking for theirs.
When opening gifts as a family, use a consistent order to open gifts. You can try a signal such as an ornament or large candy cane that is passed around to signal whose turn it is to open the next gift. This helps alleviate disorganization and the frustration of waiting.
Set a limit on the number of gifts from extended family members and family friends. That way the child knows to expect 3 gifts from grandma and 2 from an aunt. This is very comforting to some kids on the spectrum.
Gifts can be overwhelming – especially all at once… so don't! Open gifts all day long, or over multiple days, whatever works for your family.
Sometimes you will find that your child is only interested in playing with the gift he or she has just opened. Let them play. Forcing the child to move to the next present will only create a confrontational situation. Give them a timed warning "In 10 minutes, we're going to open another gift", and stick to it. Adjust the time limit if there's a time sensitive situation like grandma needing to leave.
Some children with ASD prefer that you leave their presents unwrapped – others want to know exactly what is in each gift. Surprises can be a source of anxiety, so try to honour your child's wishes. You can move towards wrapping in steps – wrap a little more each day or week.  Some kids are okay with a present wrapped if they know what's inside. Experiment to see what works best for your child.
Gifts are part and parcel of the holiday season, but the stress and anxiety that often come with them don't have to be. What are your best tips to make gift giving and receiving easier for your children?