It's no secret that change is hard for me. I like the familiar, I find comfort in routine. I'm an introvert by every definition of the word so I don't like big groups of new people so once I've joined a social activity, I'm likely to stick to it because the initial investment was so high – I pushed myself out of my comfort zone to join. That said, sticking with something for almost two decades isn't just the comfort of the familiar – it's something I genuinely enjoy. There are a few things I've been a part of for more than 20 years. One of them is Girl Guiding – I've been in it for 30 years now, I started as a Brownie then went through Guides, Pathfinders, Junior Leaders (Senior Branches), and went straight into being a leader.  I love Guiding and can't see my participation in it ending anytime soon. I'd miss the girls and the adventures, but most of all I would miss the fabulous women I've worked with in Guiding.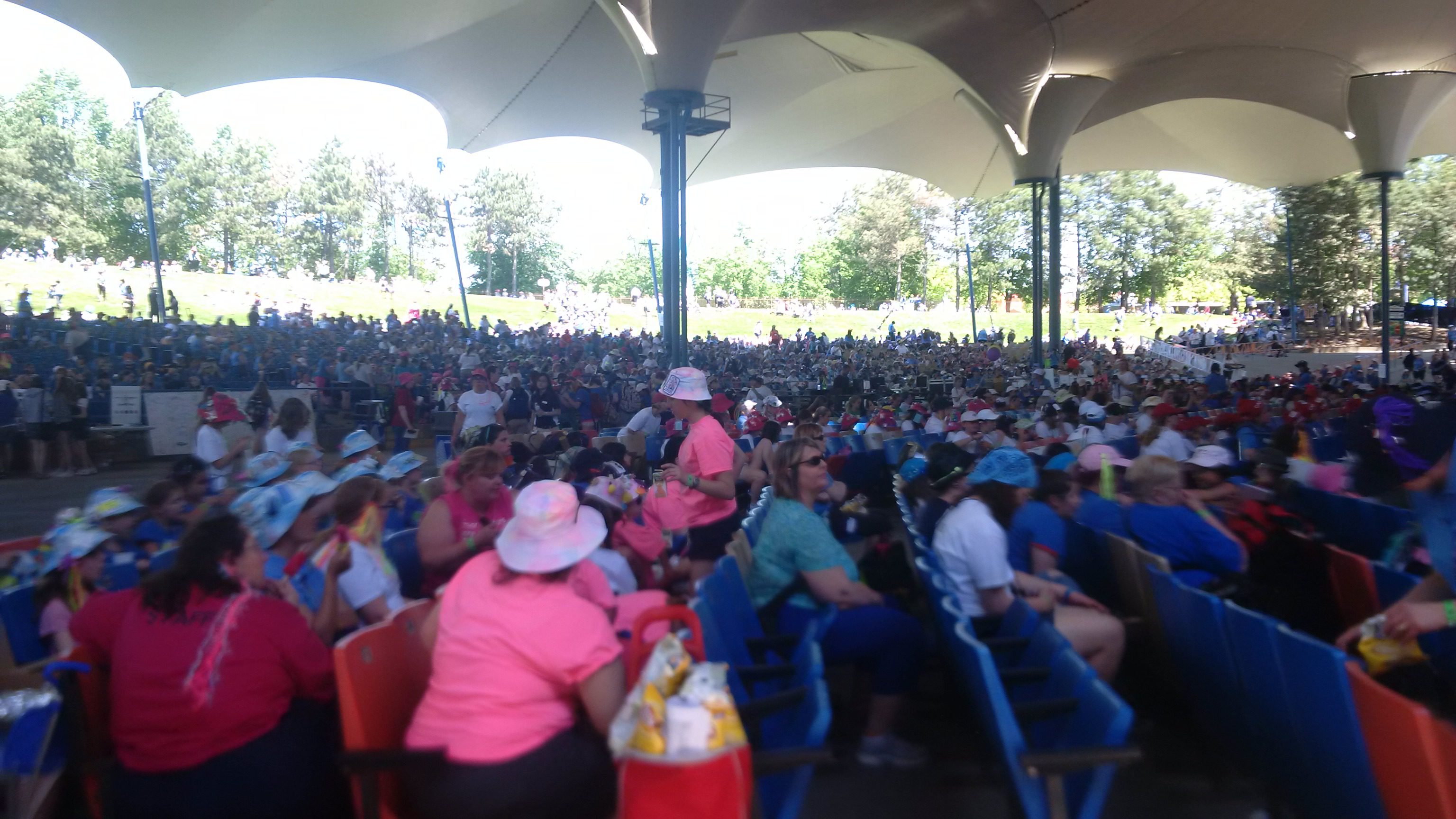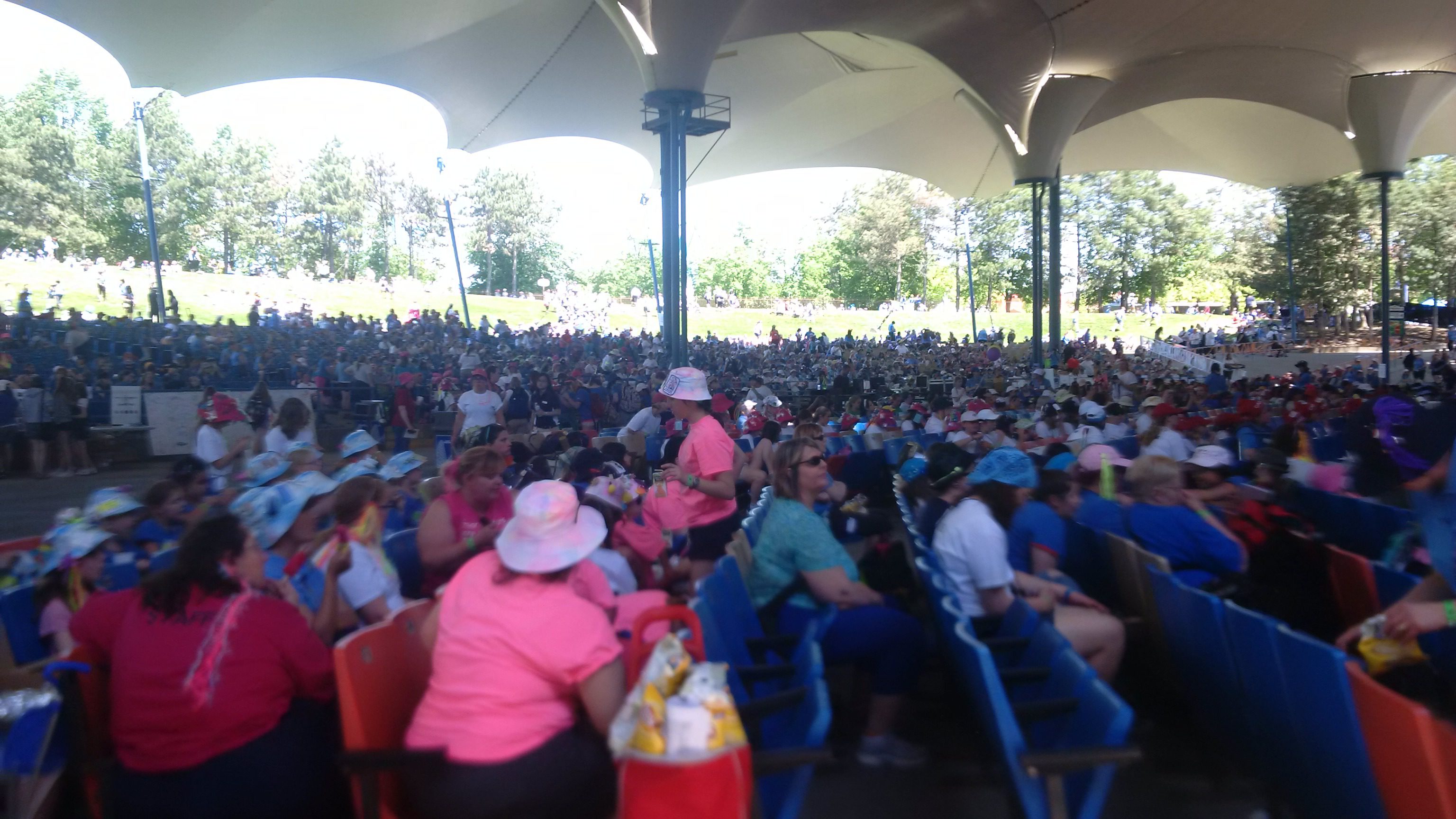 Another thing I've been involved with for longer than I want to admit (but pushing 20 years) is Argonotes – the Toronto Argonauts' Band. At least we were the Toronto Argonaut's Band until 2017. As much as I don't like change, I'm usually okay with it when it's a choice I have made, less so when it's something forced on me. I've been in the band since my last year of high school, throughout multiple degrees, some really tough personal times, and some absolutely horrific football teams.  For me, it wasn't just about football or just about music – it was a combination of the two along with some amazing people. Some of the best friendships I've made started in Argonotes and some of my favourite memories are with the band. Now, with your indulgence, I'm going to go through some of my favourite memories with the band.
In 1998 the Argos made it to the Eastern Semi-Final in Montreal – the team invited us to share their via train to Montreal. It was a last minute scramble to make it but I had such a blast. My roommate Ingrid and I weren't old enough to drink in Ontario but were old enough to drink in Quebec so our beloved Dictator, Steve, told us we couldn't go into the hotel bar for any reason. We got bored and decided to explore rue Sainte-Catherine, where our hotel was located but Steve was in the hotel bar with other members of the band so we couldn't let him know where we were going. In retrospect, leaving him a note to say "exploring Ste. Catherine Street, back by morning" probably wasn't the best choice of words to make him not panic. In our defense, we did not go drinking and were back in our room by 11pm.  Now, I can't say we didn't try the special hot chocolate that the vendor near Molson Stadium used to sell spiked with brandy, but when in Rome right?  I was with the band at SkyDome (it will *always* be SkyDome to me) when Pinball took his last run on September 15. 2000 – we played Pinball Wizard for him, and after he retired he became a friend of the band and even played kazoo and drums on occasion. Pinball was the only thing or person that could make us feel safe in Ivor Wynne Stadium – even the Ticats fans loved him enough not to throw stuff at us when he was near.  I went to a number of Labour Day Classic games with Argonotes – and we'd always hear the same refrain from the fans "Argos Suck but we love the Argonotes".  Inevitably, we'd be asked to play the Ticat Marching song, although we were often the only ones in the crowd who knew the words to our arch-rival's theme song.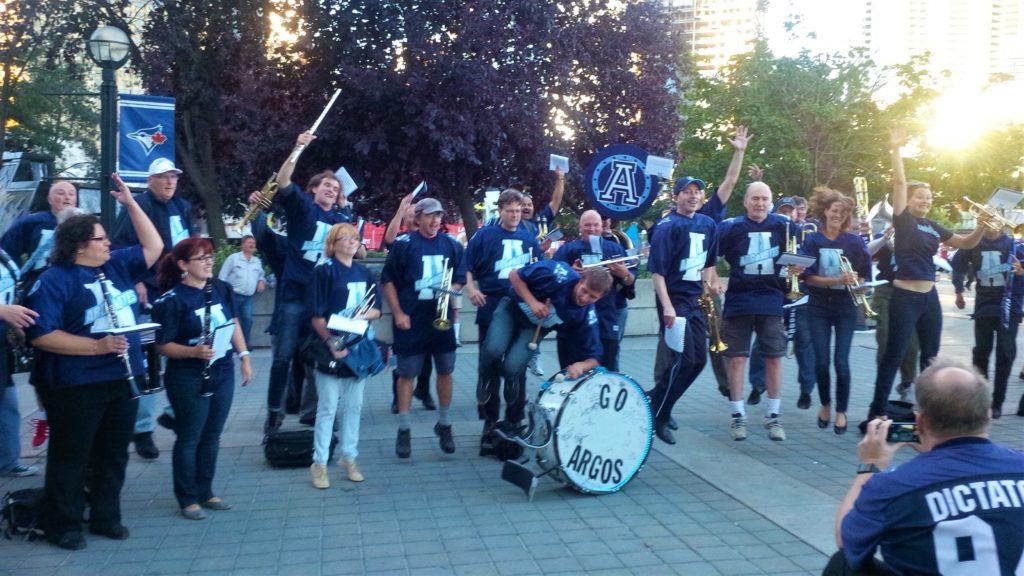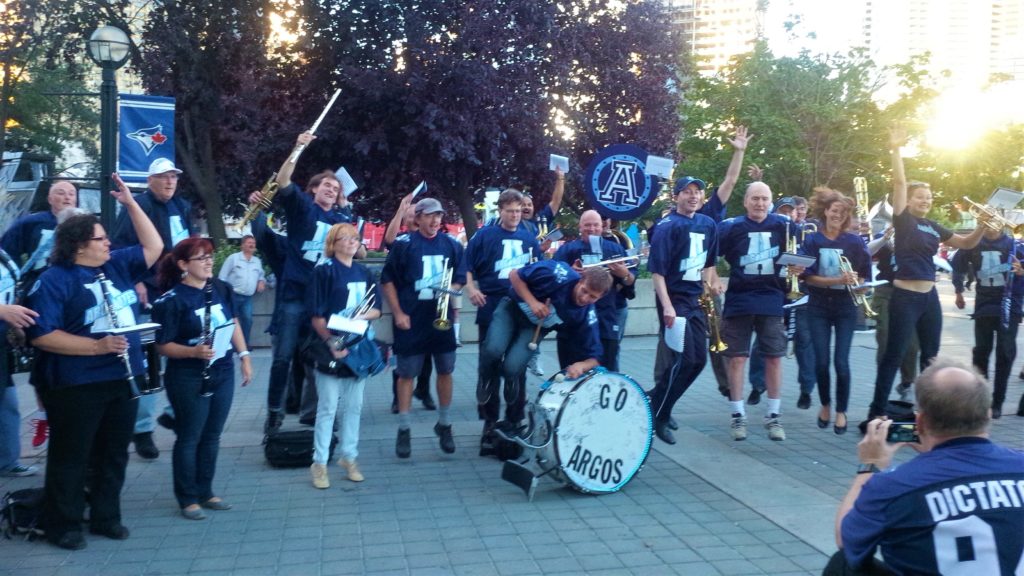 We played at lots of Argos related events over the years, and more than a few non-Argos related ones. I loved doing Fan Day – it was always a great time and inevitably we'd have a player or player's kid (or six) come and "join" the band and play. Usually that meant giving them a "hitty stick" and letting them bash on the bass drum or a cowbell. We never played for more than about half an hour but we had a great time and helped make sure everybody else had a great time too. In 2011, we were even asked to be in a TSN commercial celebrating the CFL. We had a ton of fun that day, and many of us took the day off work to be there. We went to as many Grey Cup and Playoff Road games as possible, for a band that is all volunteers and pay their own way to events including hotel and food. In 2010, we traveled to Moncton, New Brunswick for a game. I had the pleasure of driving out with Steve and the equipment you can't easily put on a plane – namely the bass drum. I don't remember who won the game but I remember how much fun the whole experience was. We had some players from the Mount Allison University Pep band join us.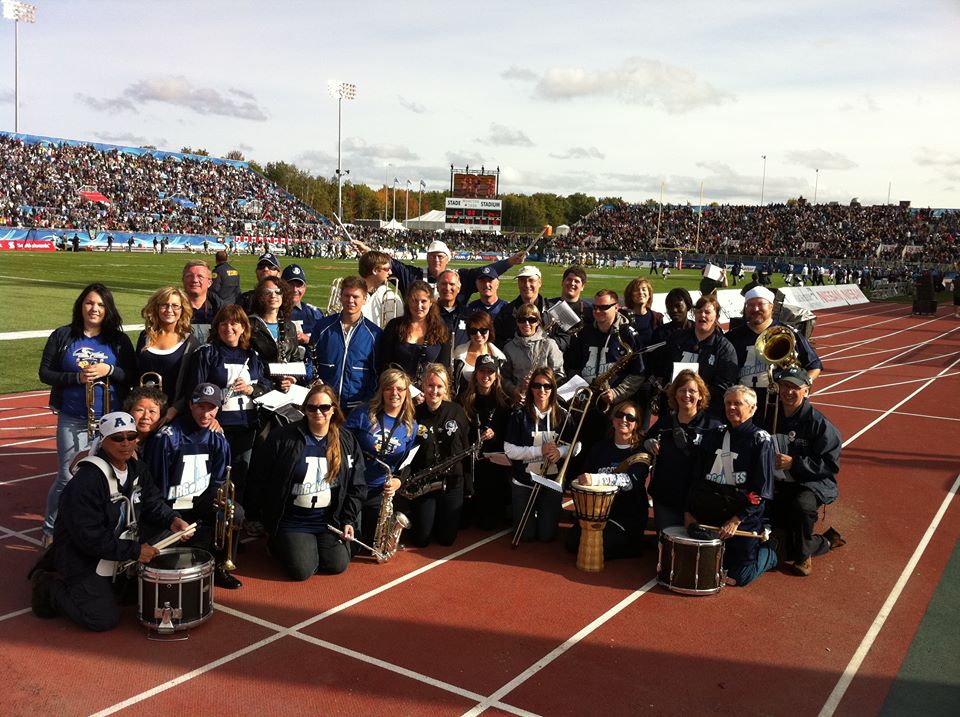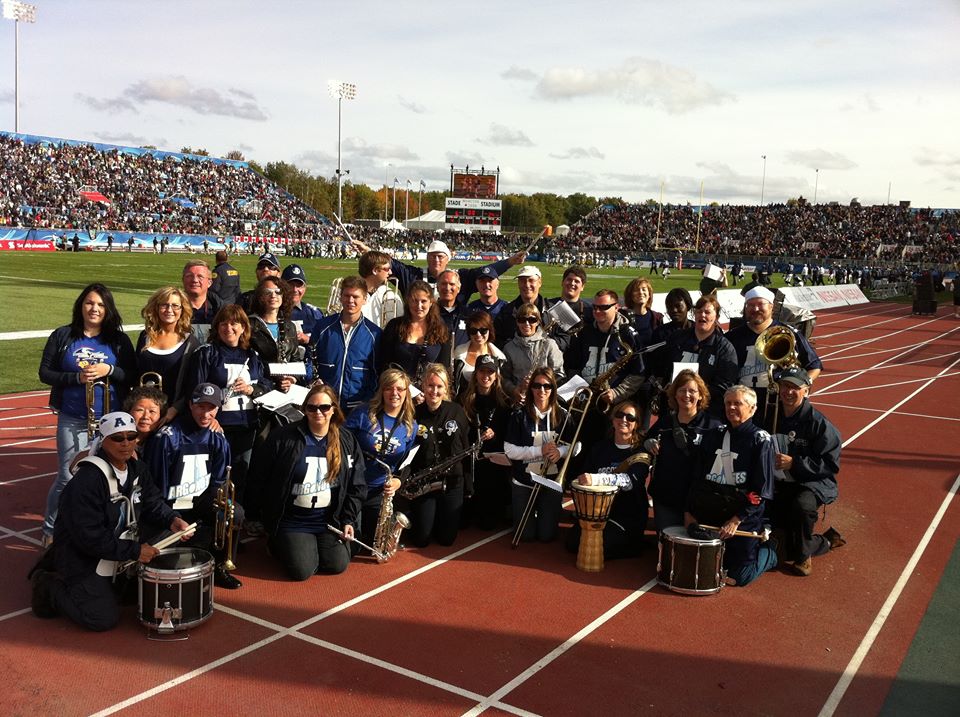 I think the times when the band felt most appreciated by the team were the years with Keith Pelley as CEO of the team – he loved the band and what we brought to the game day experience. We had a stage in the endzone for a few years – it led to all sorts of fun like the tuba / sousaphones attempting to "catch" balls in the bells of their instrument, the band needing to pay more attention to the game because of wayward balls and players, and seeing players chuckle at some of our musical jokes. We all used to groan at Steve's jokes, but I think those are one of the things I'm going to miss most. Playing "Hold that Tiger" when the Argos got a holding penalty against the Ticats, "The Lion Sleeps Tonight" when we played BC, "Green Acres" when Saskatchewan was in town, "Alouette" for Montreal, and "Winnipeg the Pooh" (AKA the Winnie the Pooh theme song) when the Blue Bomber's players were being introduced. It wasn't just the opposing teams we took aim at – when a challenge flag was thrown, we'd launch into the theme from Jeopardy. Whenever Keith Pelley walked by we'd show him our appreciation by playing "Sharp Dressed Man" by ZZ Top. When the Argos' kicker was Noel Prefontaine, we'd play "The First Noel" in his honour whenever he kicked a single. We even attempted to learn Hawaii 5-0 for Chad Owens. If there was a musical gag or pun possible, we'd go for it with gusto.
What a lot of fans, and assuredly the current Argos management, don't realize was that we were a dedicated group of volunteers. Many of us drove hours to get to the games, regularly coming from as far west as Kitchener-Waterloo, as far east as Oshawa, and as far north as northern York Region. We all paid dues to cover the expenses but Steve kicked in his own money more often than he should have. We bought our own jerseys and jackets.  Steve bought us some wonderfully underappreciated bucket hats one year. I still have mine. On game days, the band would meet 1.5-2 hours before kick off, play around the stadium (at the Dome that meant going from our meeting spot at Front and Simcoe to a few bars and restaurants along Front street, then doing a circuit around the stadium before going in), interact with fans, let any kids around look at / test our instruments (especially the drums), and head into the stadium. We'd play during breaks in play for the fans in and around us, play once or twice for the in-stadium cameras, and wander around the stadium playing for different groups of fans. We had fans who would always request the same tunes from us and would seek us out to come and play for a birthday or other special occasion. Immediately after the game, we'd head out and play at gate 2 for 20ish minutes and amassed pretty good crowds, win or lose. Year after year we'd see the same fans in our gate 2 postgame concerts, and I lost count of how many times I heard after a particularly bad loss "Well the game sucked but thank goodness for Argonotes". When we won, we would often play (and sing) "Argos Rule the CFL","You Ain't Seen Nothing Yet", and "Go Toronto Argos Go  Go Go".  For the first few years of my Argonotes experience, when we lost we'd break out "Always Look on the Bright Side of Life" by Monty Python but that was replaced by "Heartbreak Hotel" later on (providing we had enough saxaphones).  We had choreography for some numbers in our post-game shows – it didn't always work, but we always tried to be as entertaining as possible for everyone. Especially if it was a stinker of a game, we'd go out of our way to make sure people left with a good memory. Steve would step aside and let anyone who wanted to conduct the band. You'd think it would screw us up to have random people waving their hands at us, but we generally didn't pay that much attention to Steve so having someone different waving their hands at us didn't throw us off at all. We were a part of thousands of fans' gameday experiences – but not a part of the team's plans anymore.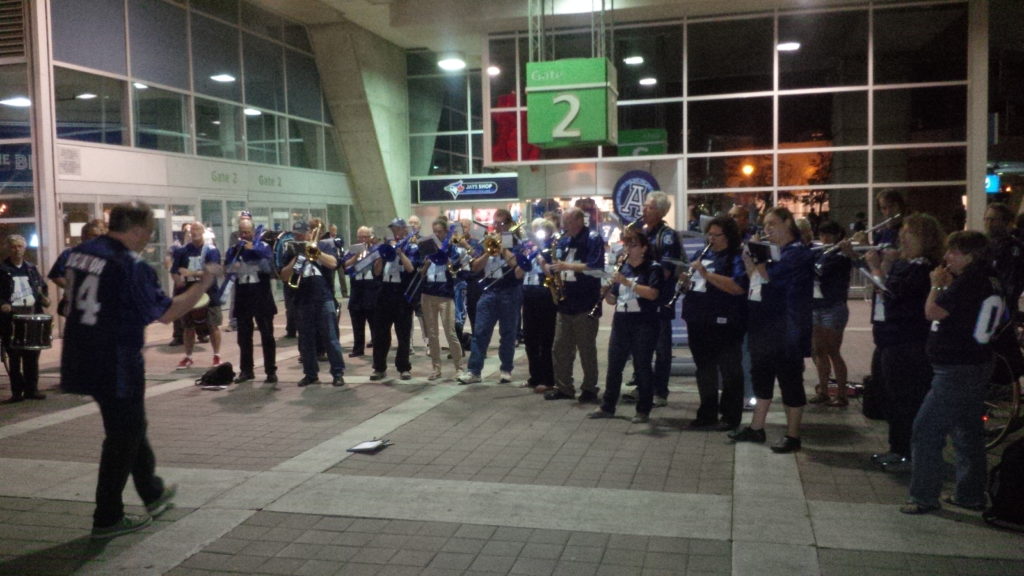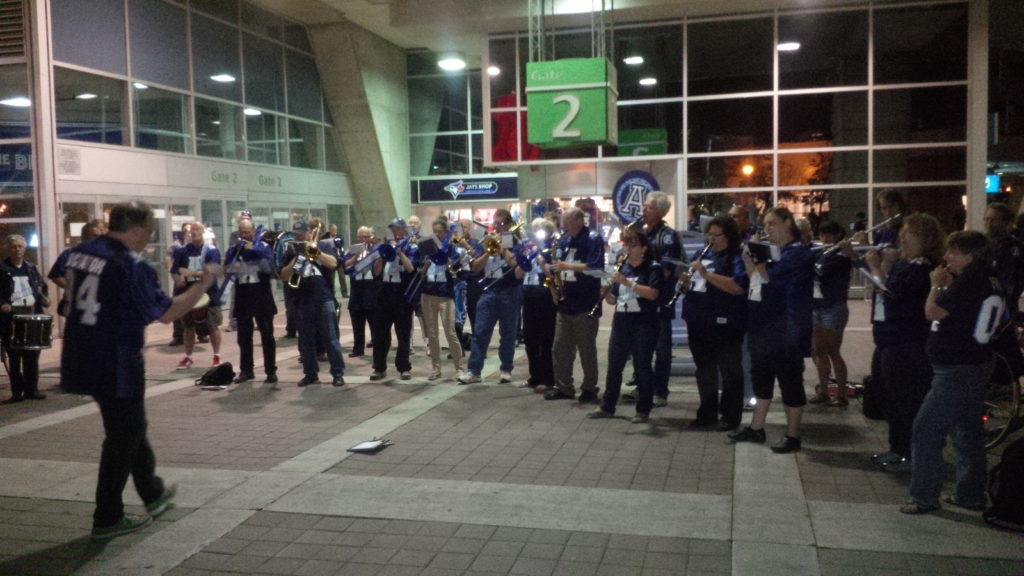 One last favourite memory, although I haven't come anywhere close to describing all of the amazing times I've had with Argonotes. In 2004 the Argos made it to the Grey Cup. We didn't have tickets for the game but somehow Steve found out that there was a room in the recesses of the stadium where we could watch the game. We were having a blast at the event – Grey Cups are always a ton of fun – we love the Spirit of Edmonton room and they love us even if Steve has to remind us not to drink the "orange juice" when we play at the breakfast on Saturday morning (mostly because we always have a full day of playing ahead and the orange juice is never just orange juice there). Midway through the 4th quarter, Steve notices the Mounties are gathering at the front of our little room with the Grey Cup. Of course we all crowded around to get a better look – which was allowed providing we didn't touch the shiny trophy and get our fingerprints all over it. As the time ran out, the Mounties prepared to take the trophy on the field and it was then that Argonotes taught a very important lesson. If you look and act like you belong somewhere, nobody will question you. And that, my friends, is how the Argonotes came to be on the field celebrating the 2004 Grey Cup victory much to everybody involved with the team's surprise.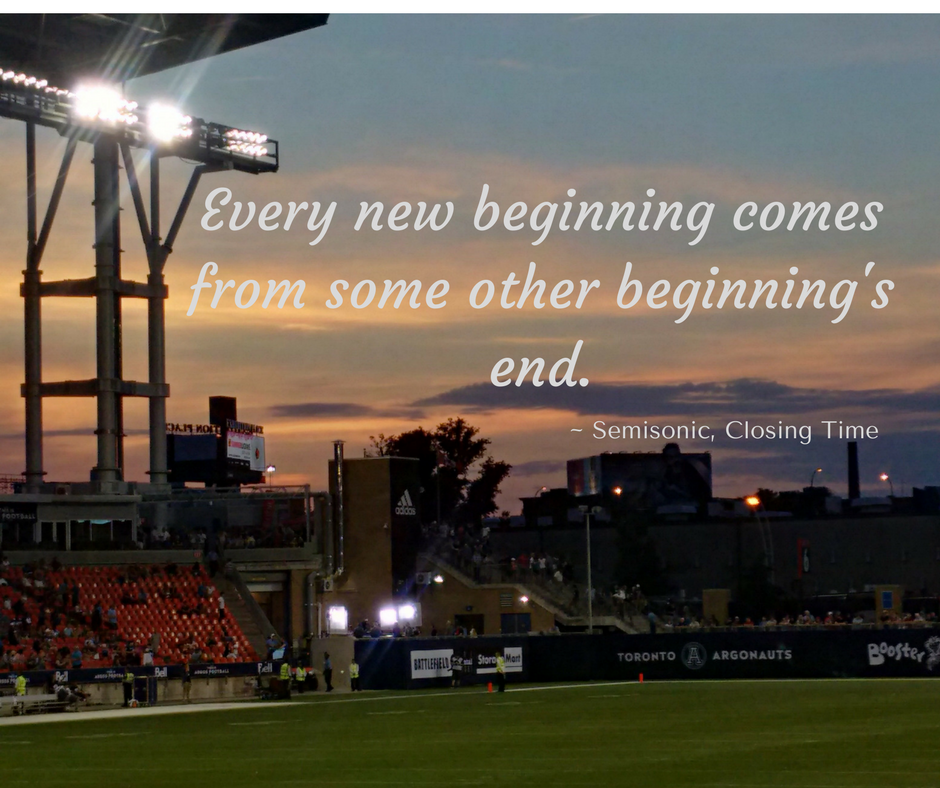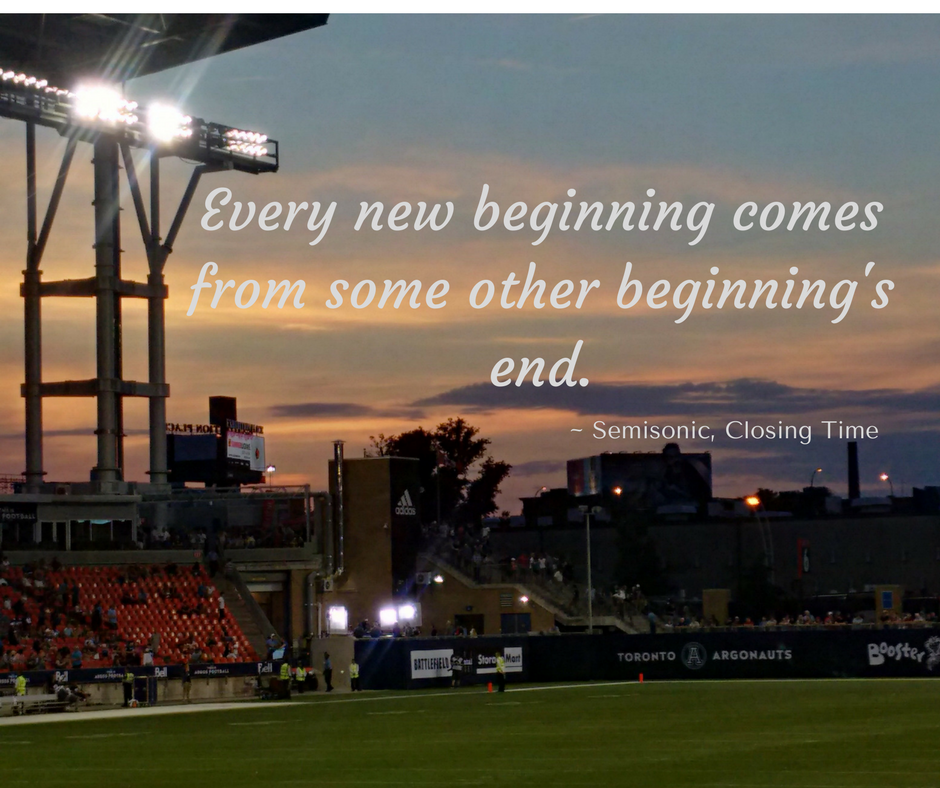 Which brings me to my Word Wednesday word. I'm trying very hard to get to the "Don't cry because it's over, Smile because it happened" stage but I'm not there yet. I'm mourning the loss of this extension of myself. It is an end, but not necessarily the end.  I'm not 100% sure what is coming next for myself or the Argonotes other than we're reuniting for one game on July 24th to celebrate the 1996 and 1997 Argonaut teams that won the Grey Cup. Back then, Argonotes was in its infancy; now it's at an end.  To all of the people I've met through the band (especially Steve Hayman who gave Argonotes so much of his time, energy, money, and passion), from the bottom of my heart THANK YOU. There's nobody I'd rather play 15B while watching a game with.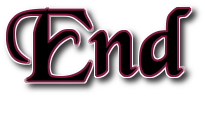 End (end) noun
A final part of something, especially a period of time, an activity, or a story.
The furthest or most extreme part or point of something.
Something incomplete, fragmentary, or undersized.