I'm an overthinker. I like to weigh out decisions carefully, and make the best possible choice and even then I often second guess myself. I'm the person you want to plan your hike because I'll have come up with solutions to problems that most people haven't even considered.  I'm pretty self-aware about this though, so sometimes I try to force myself to agree to things before thinking about them too much. Once I commit to something I very rarely back out – which makes this tactic work really well at pushing me out of my comfort zone to try something new.  Except that it's called a comfort zone for a reason – it's comfortable, and comfortable is nice and safe.
Like a few weeks ago, when I was on the fabulous #LetsGoMaple retreat, and we had a chance to choose activities for Wednesday morning – either skiing at Mount. St. Louis Moonstone or staying back at the lovely Casino Rama Balance in Life Spa and sampling one of the treatments – massage, manicure, pedicure, or facial.  Knowing that I was doing Fat Biking, snowshoeing, and tubing the day before, and that I happened to be online just as the sign-up sheet went up  for the coveted spa spaces, I was torn between being pampered and quite possibly breaking my arm / leg / neck. My best friend and her kids ski regularly at a private ski hill not too far from my house. For the past few years, I've gone up for a day or two on March break and watched as the kids take on bigger and bigger hills and the terrain park with a confidence I only wish I had. I have become a master of Aprés Ski, including spending time in the hot tub and chilling with the kids after a morning of ski fun,  and quite enjoy working from one of the tables in the Chalet as I watch them ski. However, there is a part of me that feels like I'm missing out (though not so much when they come in covered in slush from spring melt). Part of me felt like skiing was something that had to be taken up earlier in life not in my mid 30s. Or at least, it would have been much easier to have learned as a child.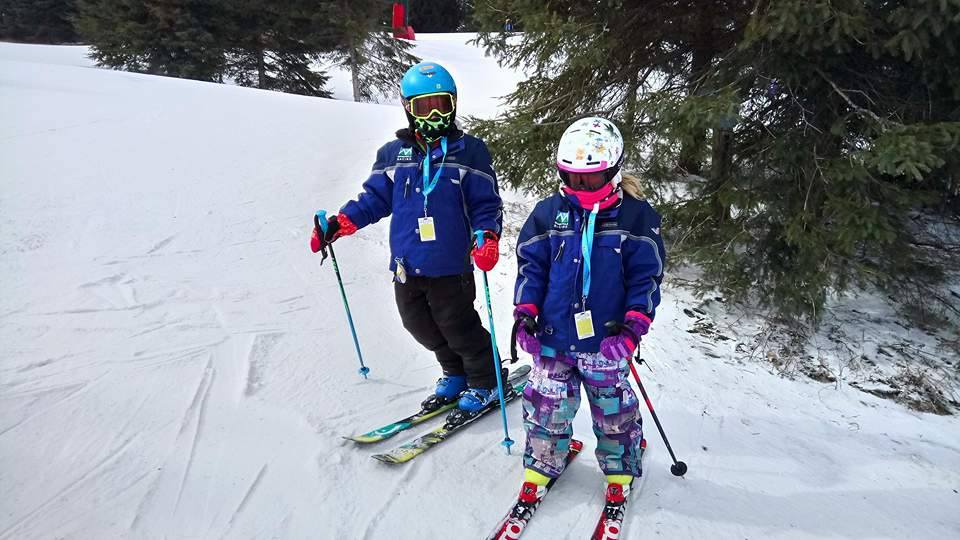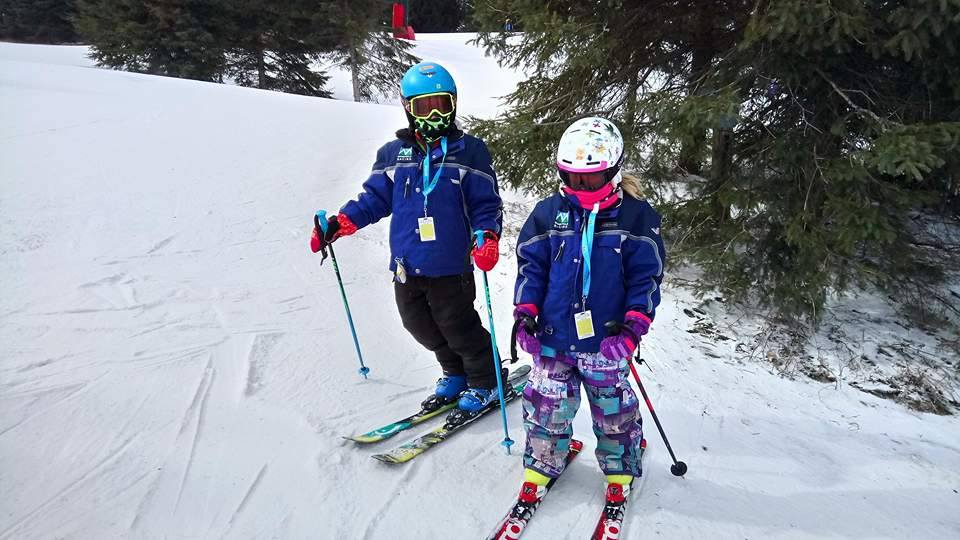 I waffled a bit between skiing and spa, then decided that if the purpose of this trip was to try new things, I was going to ski. Given the recent incident at the gym, I was a little hesitant about trying something so far out of my skill level or comfort zone but I saw that there was time for a lesson included so I figured I'd at least get a new skill out of the skiing experience. I checked with some of my friends who ski, and they all told me that Mount St. Louis was a great place to learn – even as an adult.  I hesitated again when I saw that we had to put height and weight down on the rental form that all of the other people skiing could see, but I did it and closed the tab that had the forms in it and didn't reopen it until after the deadline so that I couldn't change my mind.
I proceeded to freak out a little (okay a lot) and replayed the grade school ski trip where I'd managed to start moving down a slight slope and plow into the snow fence at the bottom of the bunny hill before we'd even had a lesson ending my skiing before it really started, wondering if I'd made a huge mistake by not choosing the spa. When I got to the retreat and discovered that there were only 6/16 influencers (plus our three hosts from Casino Rama) going skiing and that everyone else had at least skied before even if it'd been a decade, I considered backing out. Out of the nine people to go skiing, I was definitely the worst. By a lot – my brain kept telling me to stay at the hotel and pay for a massage and not embarrass myself. Wednesday morning, I was already sore from falling off the Fat Bike on Tuesday but it was beautiful and sunny and I told myself if I really sucked, I could always be the one to take pictures of everyone else having fun.
We piled on the bus, and spent the ride to the ski hill chatting and attempting bus selfies (very hard on a bumpy bus ride) which served to distract me from the fear that was building up in the pit of my stomach. We got to Mount St. Louis Moonstone, went inside, got our lift passes, lesson vouchers, and a voucher to be used after skiing for lunch and were introduced to Jim Morris who is the director of the snow school at the skill hill. Jim told us about the hills, and it was clear from his talk how much he enjoys working there and the passion he has for skiing and teaching people to ski. He talked about the education program and how Mount St.Louis Moonstone has the most education programs and school trips there of any ski hill in Ontario. This eased my mind a little as I know how hard it can be to get field trips approved so I figured they had a lot of safety programs in place! Looking out over the hill from our little briefing room, I was greeted with an amazing view of the hill – so naturally I pulled out my BlackBerry and took a panorama shot of the hill to post on Facebook (partly to prove I really WAS skiing to some skeptical friends).


Jim took us down to the rental area and we got fit for boots, skis, poles, and helmets (there was no way I wasn't wearing a helmet even though they're not mandatory for skiing).  The more experienced skiiers in the group helped the rest of us get our boots on and learn to walk in them. Skis and poles in hand, we went outside.  Again, the more experienced skiers in the group helped those of us who were rusty or completely new learn to put our skis on. It was at this point that I finally learned what had happened in grade school – I'd put my skis on on a slight downward slope with the skis pointing down the slope and gravity had taken over.  Oops.  This time, I put my skis on with them parallel to the slope and on a fairly flat spot too for good measure.  Jenna from Casino Rama, who is a member at Mount St. Louis Moonstone and a good skier, taught me how to make my way up the tiny incline that was the pre bunny hill by going sideways.  She also explained how to stop by pushing outward with my skis at an angle (that kind of made them look like a slice of pizza). It took awhile, but I slowly got down the pre-bunny hill without falling, and was starting to feel like I could maybe do this. There was still about 45 minutes before our lesson was scheduled to start and the rest of the group decided that they should try the actual bunny hill to warm up. The more experienced skiers went on some bigger warm up runs – double checking that I was okay on my own before they went. I said I was okay and that I'd totally be able to get myself over to the bottom of the bunny hill about 200m from where I was and watch the others ski.
There were a bunch of school groups at the hill, and it was approaching lunch time – so many were going inside, and the instructors who had been working with the school groups were heading in on break too. As I (slowly) made my way past the bottom of one run (ensuring that I was well beyond the run off area) a few older boys thought it would be hilarious to snowboard / ski AT me. Two of them actually tapped me, which caused me to fall – but I figured out how to get up on my own so that was good. Another one feigned like he was going to run into me and I went down for a third time, and this time I was having a bit of trouble getting back up. Thankfully a girl about the same age as the boys skied over and asked if I was okay, apologizing for their behaviour and offering to help me up. I was out of the way where I was though and was already tired and more than a little upset so I just stayed down, took off the skis, waited until the kids left, and cried. The stronger skiers who had gone off to one of the slightly bigger runs to warm up came down off their runs, saw me in the snow crying and asked what happened, I explained, while trying to dry my tears with my mitten and they said I could go wait in the lodge if I wanted and take pictures if I'd had enough.
At this point, I was already a little tired, both from falling and from crying, and now I was almost certain that I was just going to embarrass myself if I kept going. I almost said "okay" to going back to the ski lodge – but then the little voice inside my head said "you miss 100% of the shots you don't take dumbass" (my inner voice is a bit of a jerk sometimes) and I took the tissues I was offered and said that I wanted to try the lesson -but reserve the right to go inside if i couldn't hack it.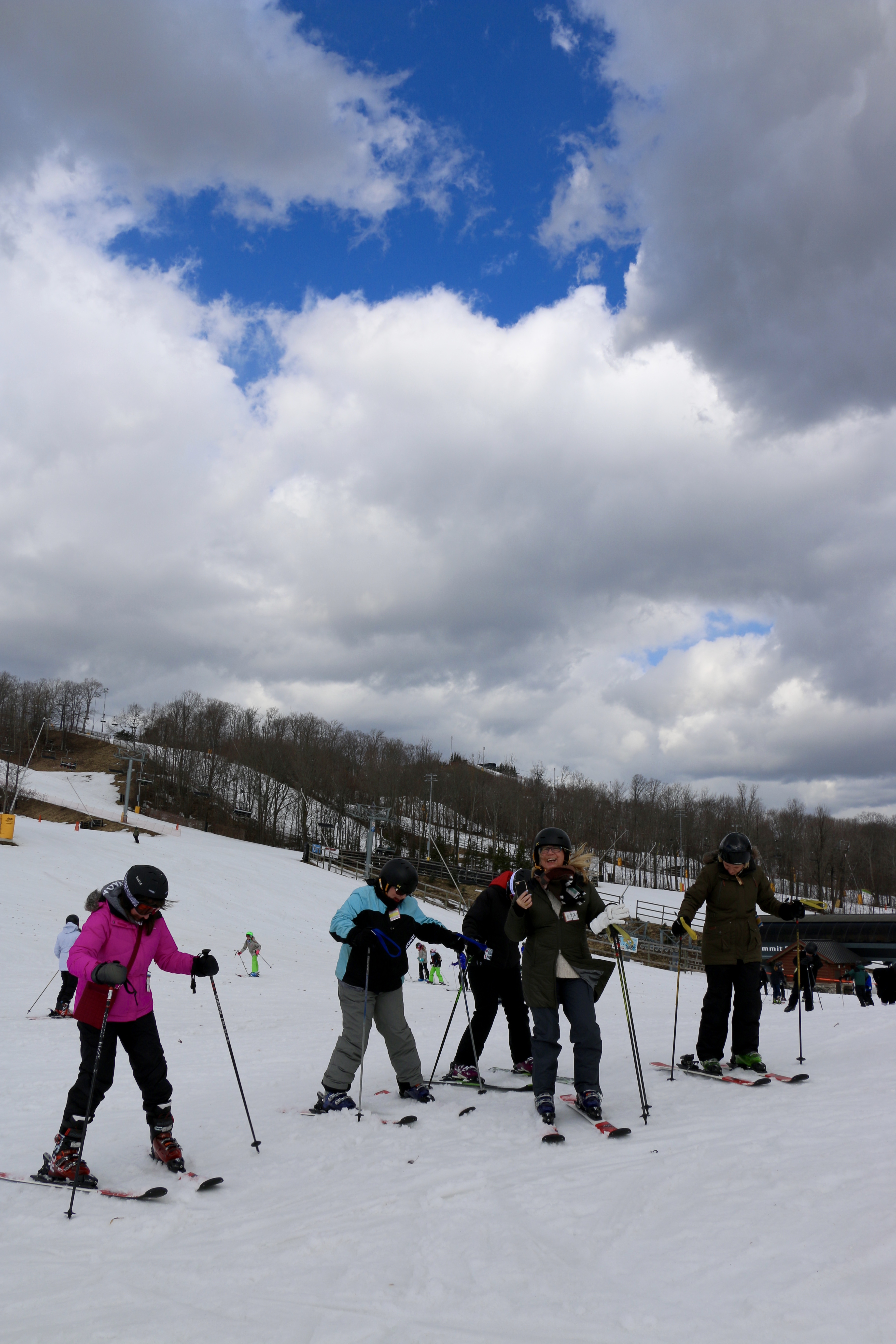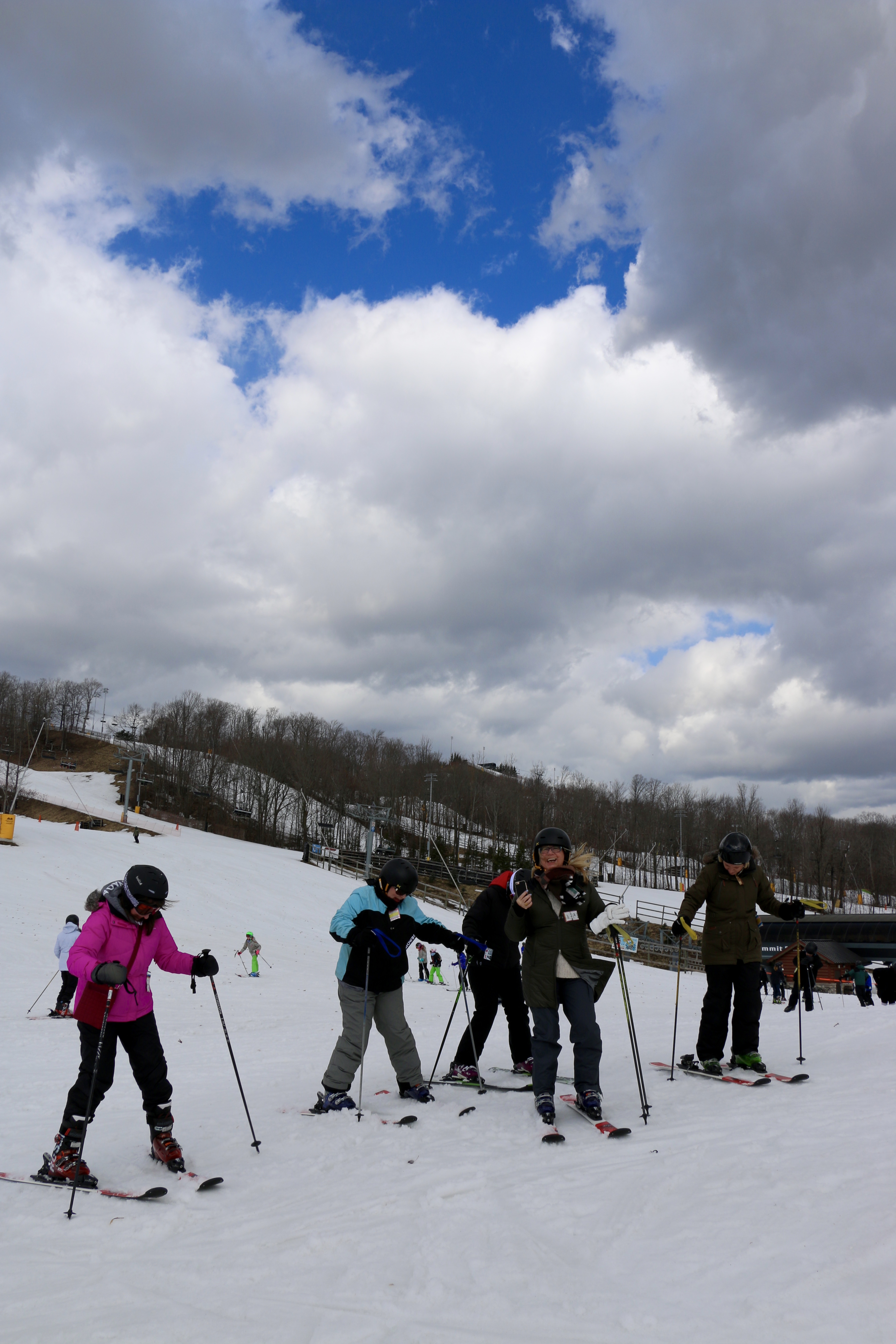 I ended up with a private instructor since I was so far below the rest of the group.  Her name was Anne and  her kindness and patience are bringing tears to my eyes three weeks later. Anne is one of those people who have a gift for instruction – she meets people where they are, figures out the best analogies to use for each person, explains things clearly (and repeatedly when needed) and pushes you to do things you didn't think you could do. She got me down the pre-bunny hill pretty much immediately, and then took me over to the beginner slope with the learning area magic carpet and had me follow her on. She taught me how to turn and stop, and explained that skiing is a lot like driving a car – you have to look where you want to go. I'm not the quickest study with these things, and I did look down at my skis more than I'd like to admit and Anne kept reminding me to look up and at her so that I wouldn't fall. We went down the easiest run a few times, and then skied over to the next magic carpet run and did that a couple of times, although the first time, I felt like I wanted to throw up because I was so nervous. Each time I went down I gained a little confidence and suddenly 50 minutes had passed and I realized that I'd actually been enjoying myself – the fear was still there, but I was having fun anyway.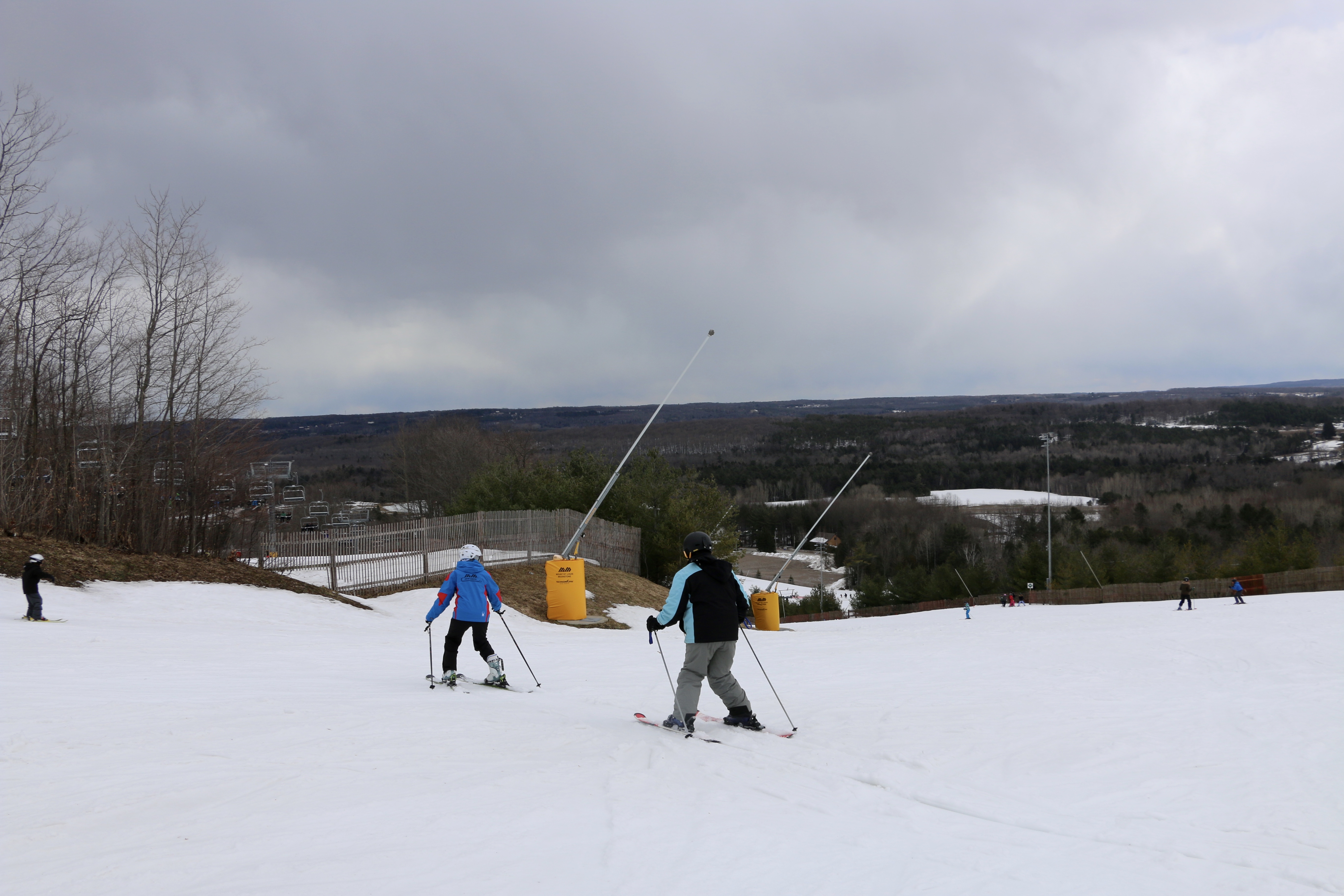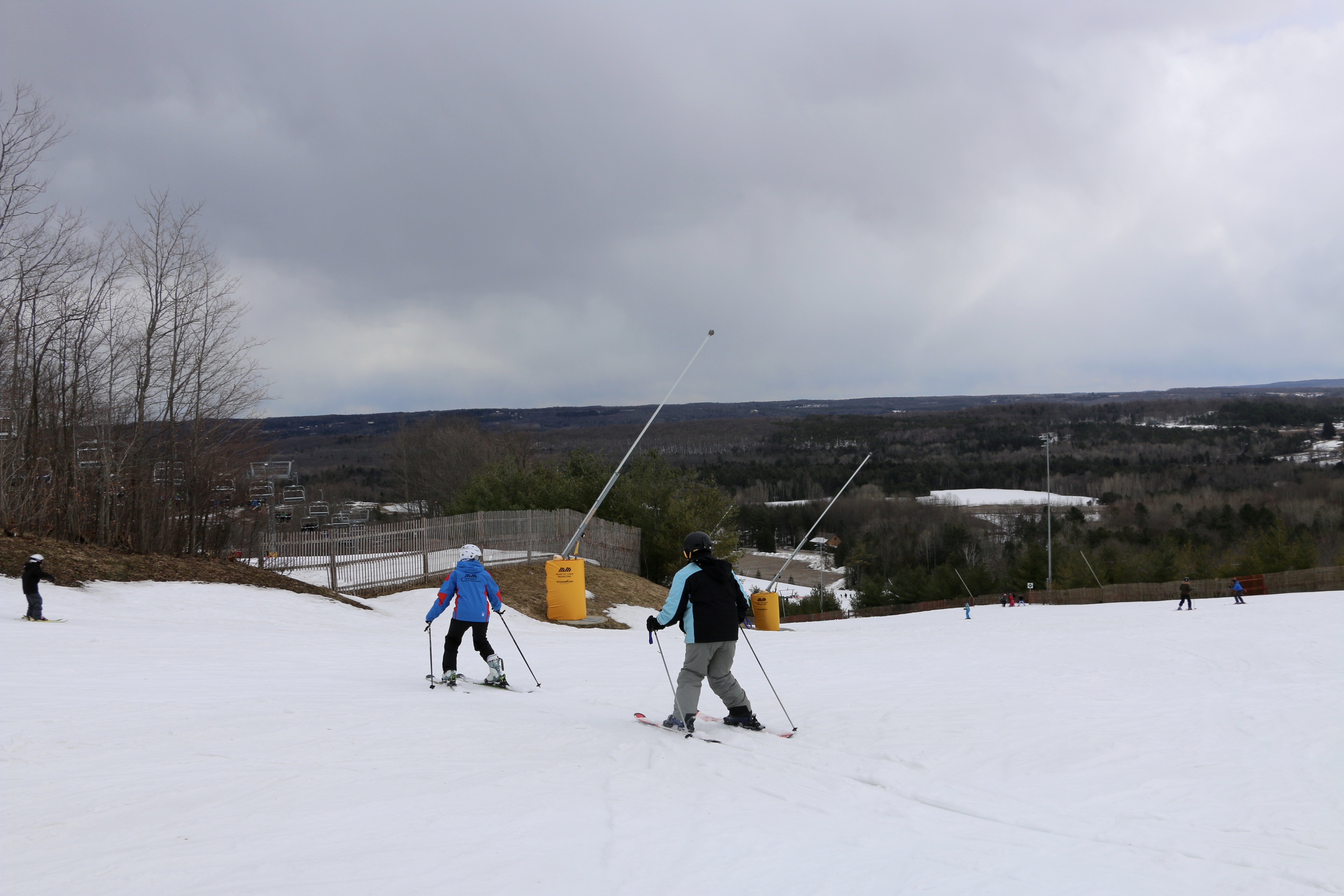 Then Anne asked if I wanted to try the run with the quad chair lift where the others had started their lesson.  I hesitated,  my mind desperately trying to come up with an excuse as to why that was a horrible idea. Anne smiled and told me she wouldn't suggest it if she didn't think I could do it, so I agreed. She had me watch the lift for a minute, and she explained the gate system and how to get on.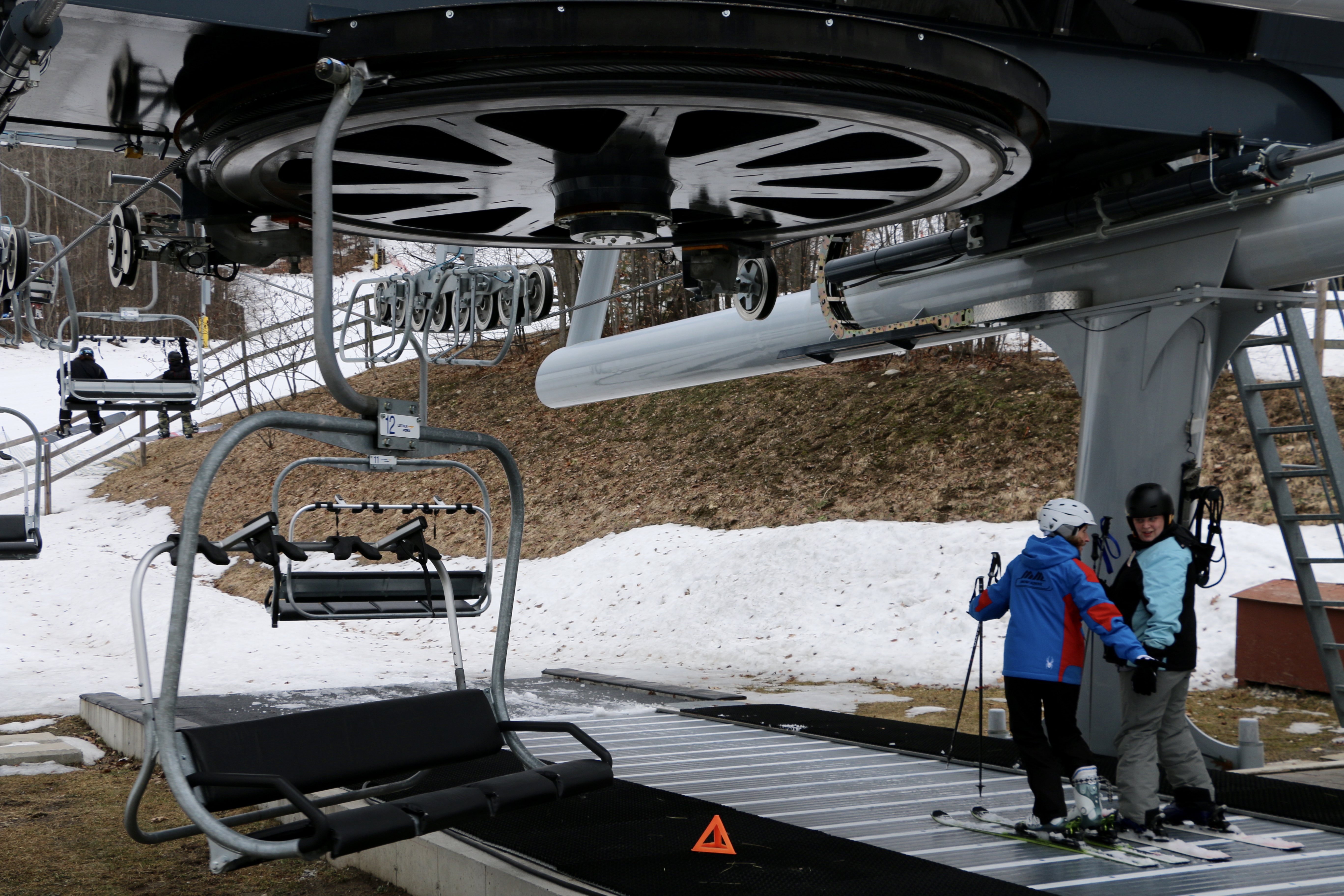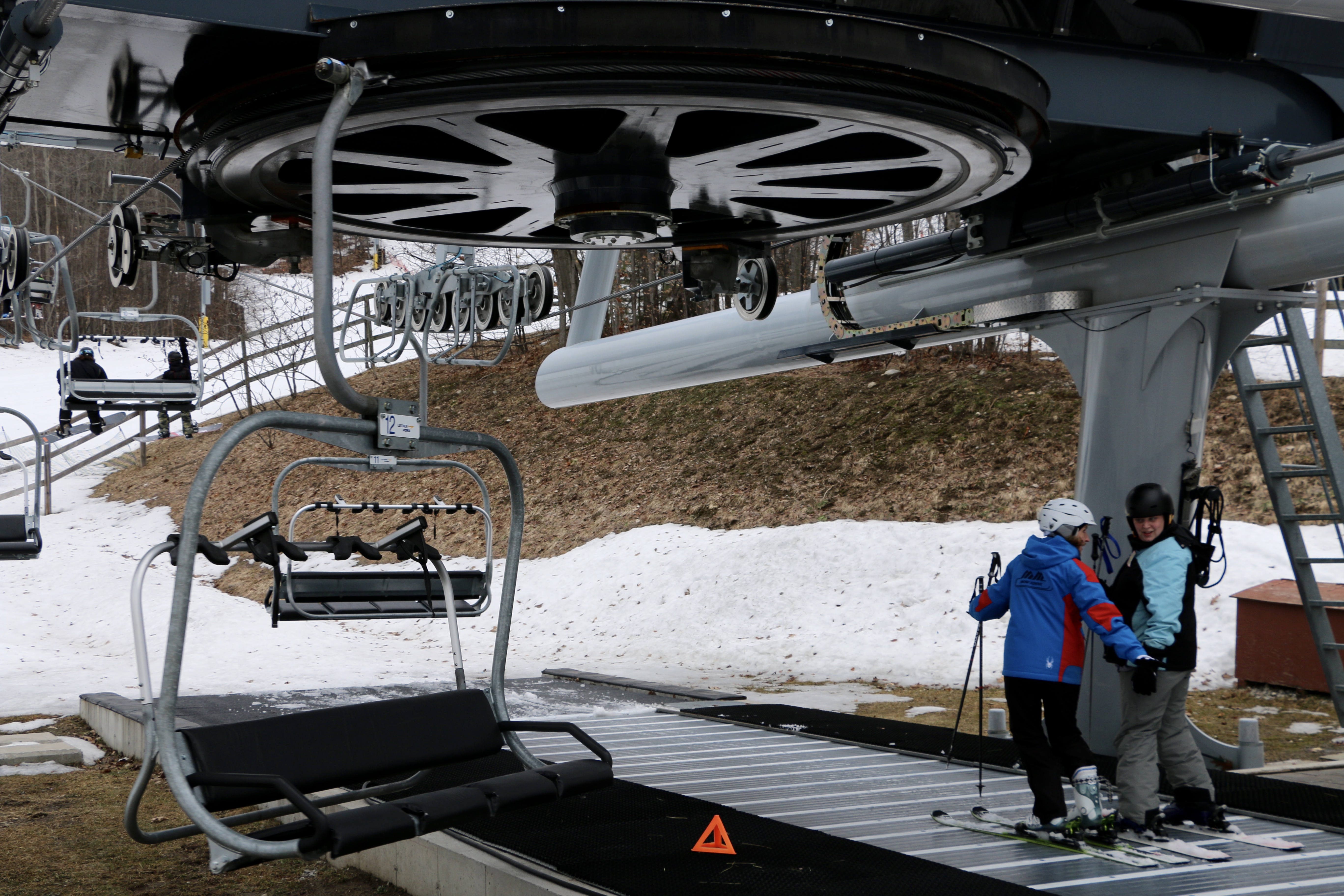 Granted, I fell on my butt getting off the chair lift, which had nothing to do with Anne's instructions but more to do with the fact that I was trying to "stand up as if I was getting off the toilet" as she had instructed and was having a hard time figuring out exactly how that worked and ran out of time. That fall knocked the wind out of me and I ended up in tears, but I wasn't hurt – it was just a big shock and all the fear and worry came out. Anne had a little hanky in her pocket which she handed me to dry my tears. She made me take a few deep breaths and told me this hill was just longer than the others, it wasn't any steeper and that I'd be fine – just follow her.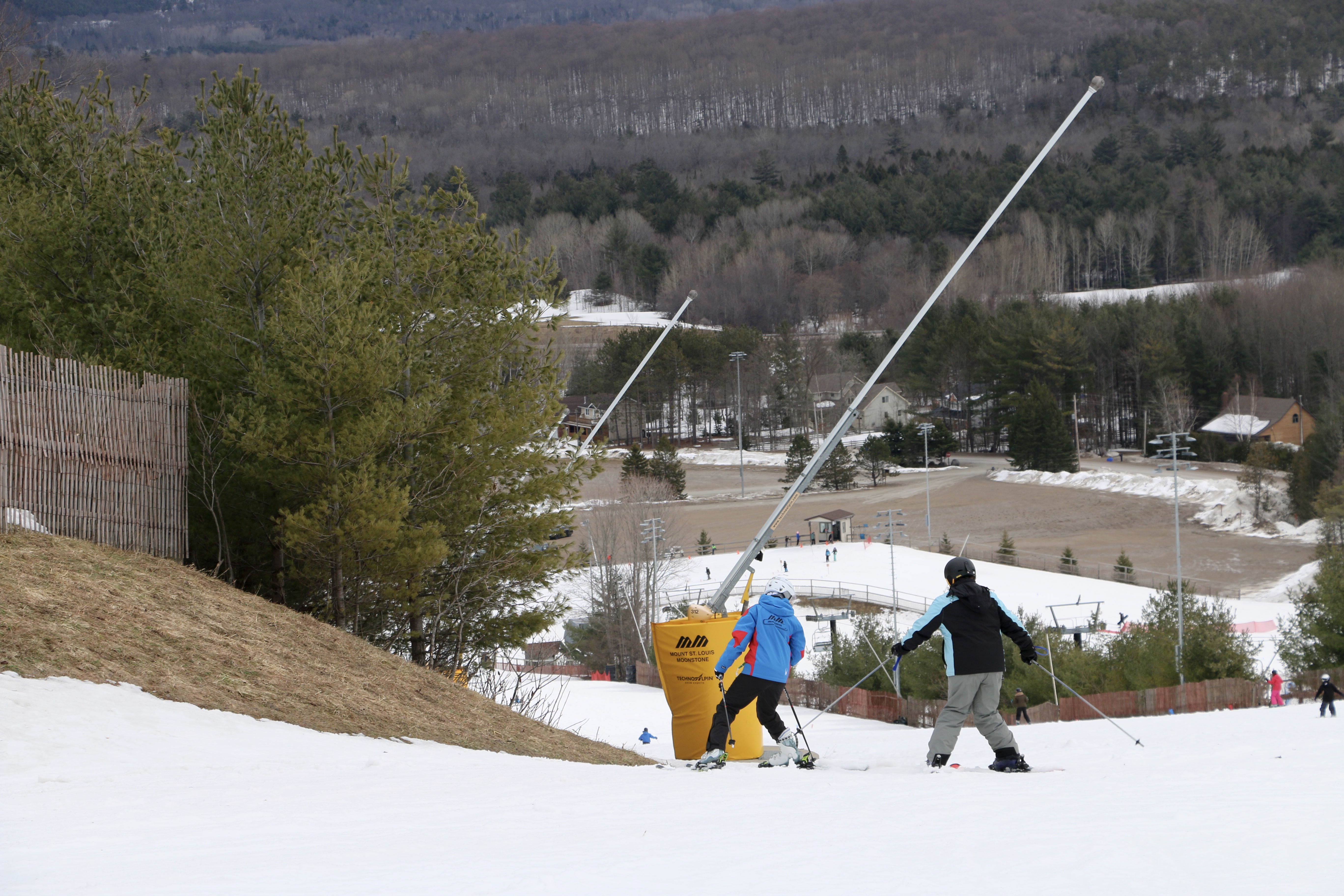 As much as I'd love to say I skied gracefully down the hill, that isn't close to the truth. I fell three (more) times going down that last hill, and was a sobbing mess by the time I got to the bottom. About three-quarters of the way down, my calf muscles decided they'd had quite enough of all of this skiing nonsense and were sending sharp, stabbing pains that we had to stop so that I could try to massage it out because I couldn't continue otherwise. Anne, my wonderful and patient instructor, helped me get back to the meeting spot after we got to the bottom and took me aside to tell me how proud she was that I kept going even though she could tell that I was absolutely terrified, and that she'd had confidence in me even when I hadn't. Of course this started the waterworks again, this time more out of exhaustion and happiness that I'd actually done it than pain or fear.  I thanked Anne profusely, but I still don't think any words are adequate to thank her for helping me conquer my fear of skiing. Not only did I conquer my fear, I realized that I actually really enjoyed skiing and decided that at the beginning of the 2017-2018 ski season, I'm going to book one of the beginner lesson packages at Mount St. Louis Moonstone and take another lesson so that I can at least claim that I'm a beginner skier.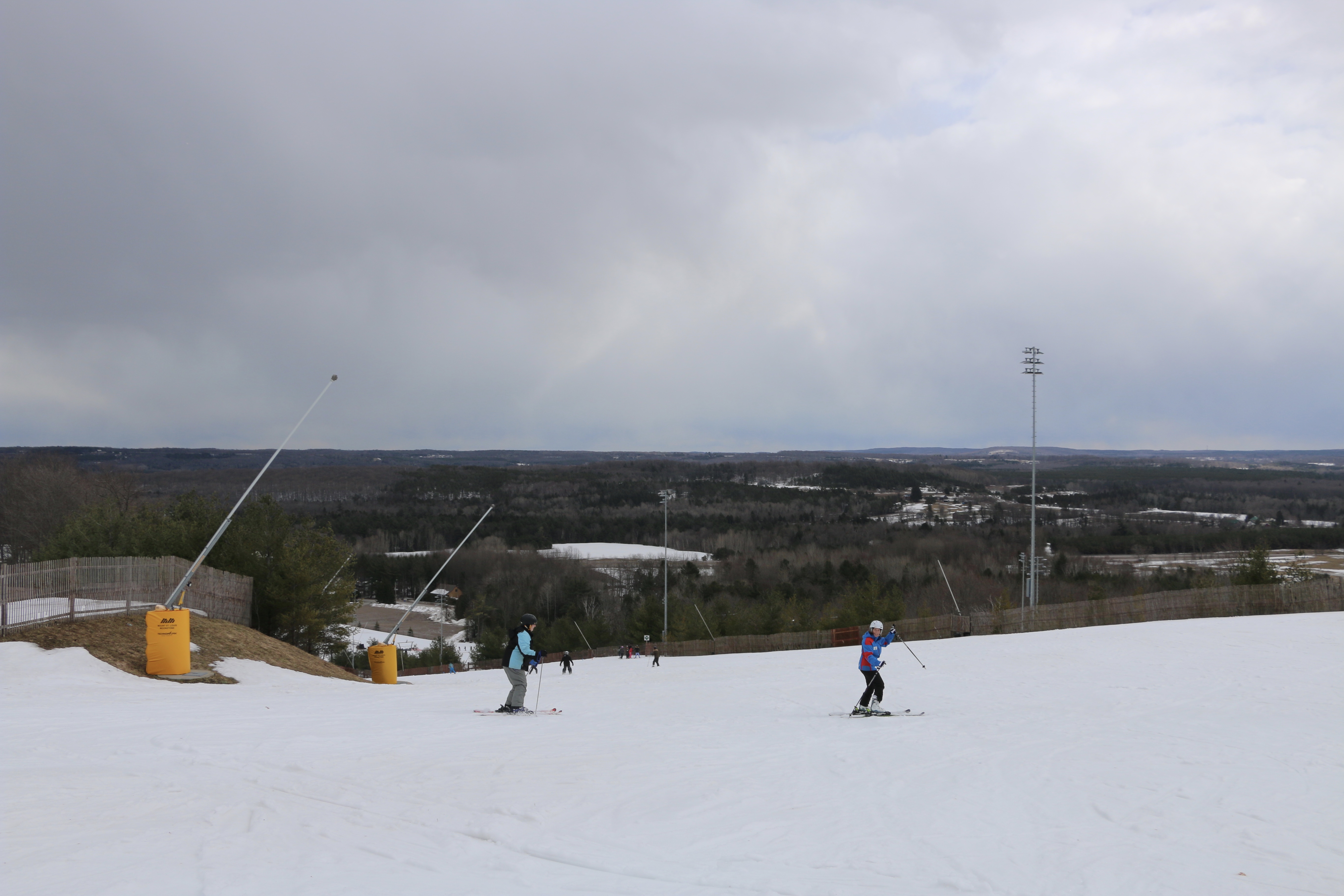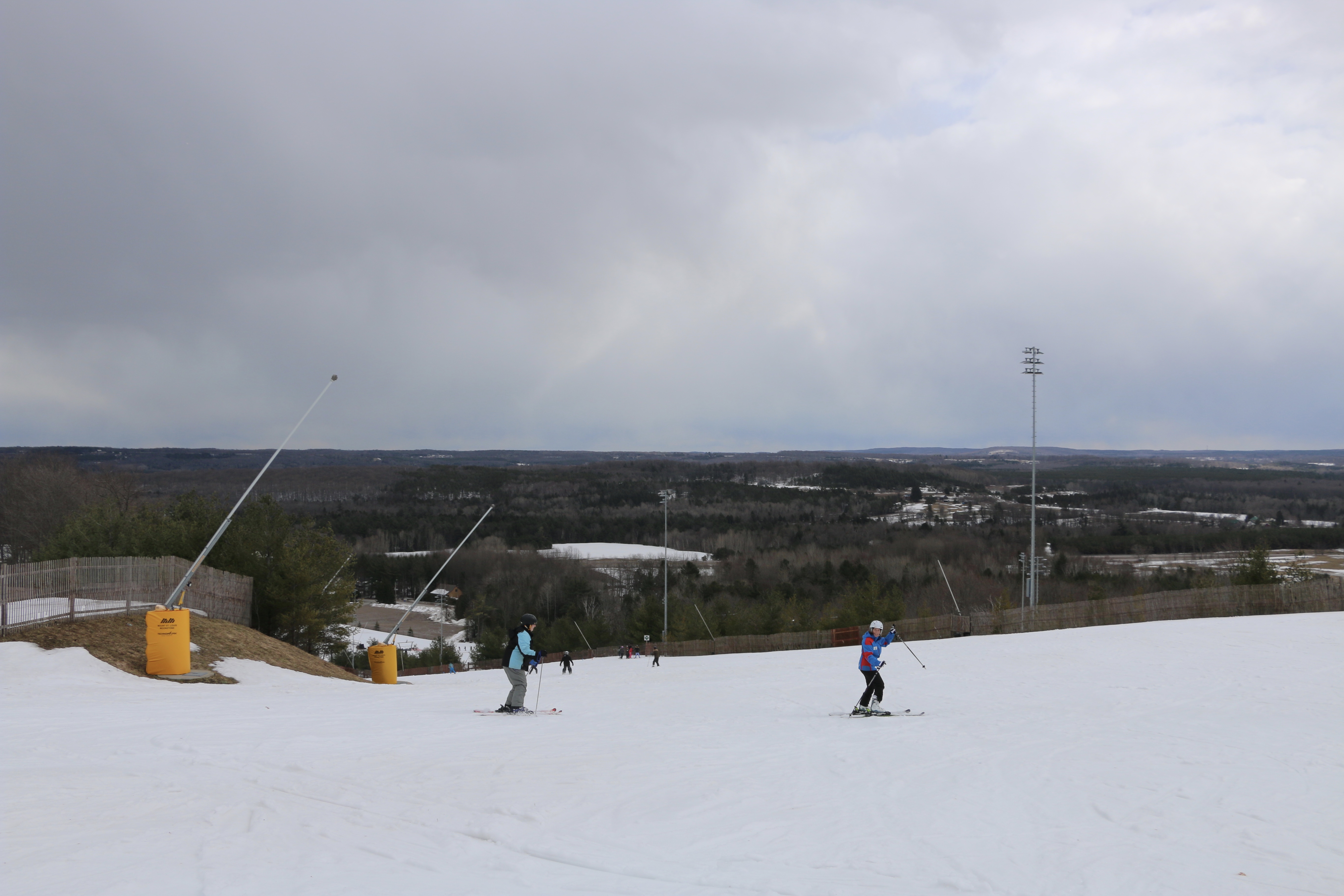 All of which brings me to my word for today. I struggled a lot trying to figure out what word to choose, and then finally settled on resolve. Not the verb form though, the noun – meaning a firm determination to do something.  The word resolve comes to us from Middle English, via the Latin word resolvere meaning to loosen or dissolve; which is a compound formed from the words re meaning again and  solvere meaning to release. Resolve was the feeling I felt standing at the top of the last hill – I was going to ski down that hill.


Resolve (re·solve) Noun
A firm determination to do something.

A firmness

of

purpose

or

intent.