It's really no secret that I'm a huge fan of the Olympics and the Paralympics. I'm a huge fan of sport in general and think that the Olympics can bring out the best in athletes, and enjoy watching athletes who aren't making millions of dollars for their sport compete. Not that I don't love professional sports, especially the CFL, but it's nice to watch people who are doing sport for the love of it (and maybe for a lucrative endorsement contract).
The other great thing about the Olympics is that it introduces or reintroduces me to really cool sports that I don't often get a chance to see on television. This year, the Summer Olympics were held in Rio de Janeiro, Brazil – the first ever Olympiad in South America. Everyone expected this Olympics to be a disaster – there was more than the usual amount of corruption alleged, Brazil is in the midst of a huge economic and political crisis, and there were worries athletes and coaches could bring home Zika – a mosquito borne illness that can be sexually transmitted.  There were issues for sure (such as the Irish Olympic Delegation scalping tickets to Olympic events), but none of the catastrophes imagined before the games took place.
As much as I love the Olympics, I have to admit I'm not as big a fan of the Summer Olympics, simply because Team Canada never does exceptionally well in them. We're more of a winter nation –  maybe because there are fewer events and fewer nations sending people to events in the Winter Olympics. Still, I always get my Canada T-shirts ready and cheer on my countrymen and countrywomen for the two weeks. I just usually do it without expecting to hear the anthem too often.
There's no possible way to watch ALL of the events in the Olympics, so I try to figure out which ones I really want to see and which ones are highlights only material. For me, the must-see events of Rio 2016 were the Swimming races, Women's Rugby Sevens, Archery, some Track and Field events, and the Road Cycling races. The Highlights only list included Dressage (I really don't understand the sport at all – it looks like horses doing choreography which is cool but not exactly up my alley), Rhythmic Gymnastics, Basketball, and Softball. Everything else fell into the "if I see it live, cool, but I wouldn't set the PVR for it" category. I played a little rugby in high school and then managed and helped out with the team for another year. The concept of rugby sevens appealed greatly to me – two seven minute halves and a 4 minute halftime. Done and dusted in under 20 minutes per match. For someone with a somewhat limited attention span at times, this is the perfect sport for me.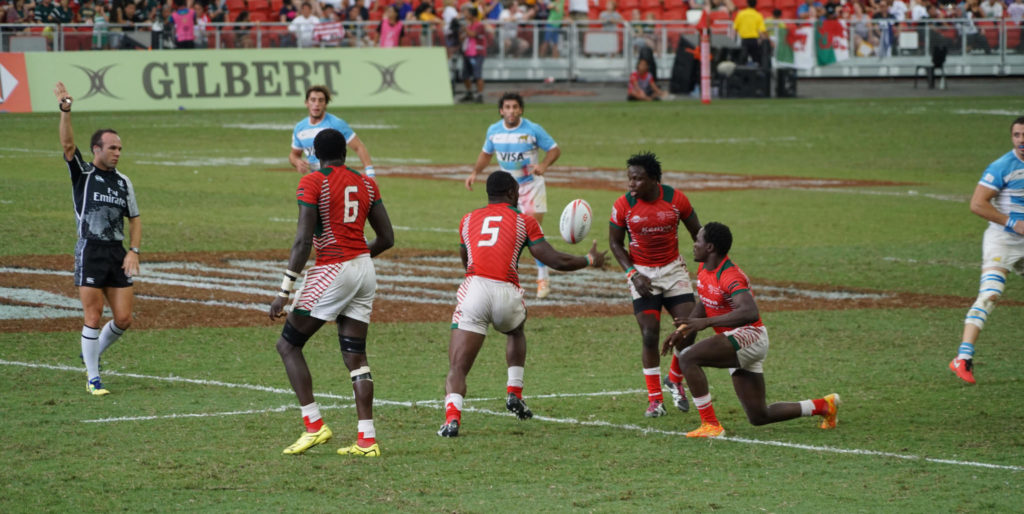 Rugby Sevens is played on the standard pitch but with 7 players per side.   Photo Courtesy of Flickr
It was while watching the road bicycle race that I heard today's Word Wednesday word. I don't watch a lot of cycle racing outside of the Olympics, and in the past I'd only watched the track cycling (which fascinates me because I'm pretty sure I'd slide down the side of the velodrome and take out everyone). The announcer kept saying a racer had broken off of the peloton and I was wondering what the heck a peloton was so I finally Goolged it and learned a new word. It turns out that a peloton is the word used for the main group of cyclists in a race. So breaking off of the peloton is usually a good thing – it means a racer is going for the solo lead.  Unfortunately this seems to be a term only used in bicycle racing so I'm not going to hear it too much unless I want to watch the Tour De France.  The word peloton came to English by way of French. The word literally means "small ball" which is what the pack of riders looks like.  Sometimes I choose a word because it has an awesome etymology, sometimes I just like how the word sounds. With peloton it's the latter.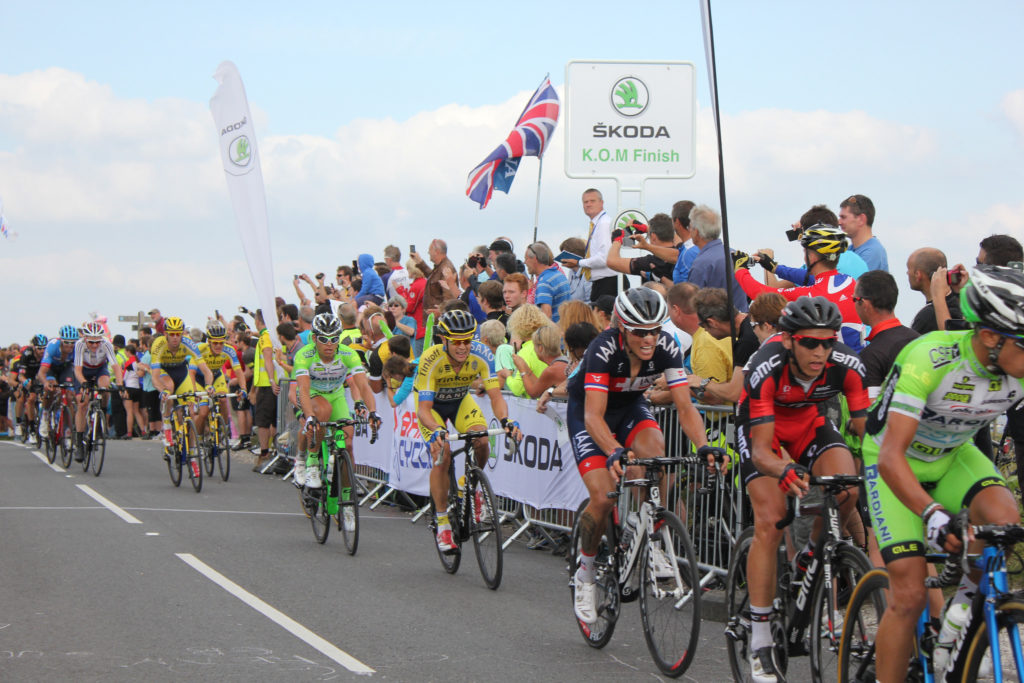 Here, the Peloton has just broken up and the racers are all single file.   Source: Flickr 
Peloton (pel·o·ton) Noun
The main field or group of cyclists in a race.