Last week I wrote about all the indoor fun I had exploring Ontario's Lake Country on the #LetsGoMaple retreat. Between the absolutely amazing food, the table gaming lessons, the pool, the king size bed, and the chance to explore a local museum, I had a wonderful time just being inside! A big part of the trip however, was to get outside and enjoy the beauty of Ontario's Lake Country in winter. I'm the first to admit, that I'm a winter wuss. I don't hate snow, but once the windchill dips below -25 degrees Celcius, I'm a warm blanket, good book, and hot chocolate kind of girl.
After our fabulous dinner at St. Germain's Steakhouse on the first night and my quick dip in the pool, I spent a little time packing what I would need for the following day's adventures into my daypack. Girl Guide traditions die hard, and I knew it would be easier to do in the evening and I'd be less likely to forget something than if I was rushing around in the morning trying to remember everything that I would need. The funny thing is that while we were supposed to be having a taste of winter adventure in Ontario's Lake Country, mother nature had something else in mind and we woke up to 7 degrees and rain. I had been obsessively checking the forecast in the days leading up to leaving, had re-waterproofed my boots and daypack, and had packed rain pants and a lined raincoat along with a polar fleece jacket and my snow pants and ski jacket.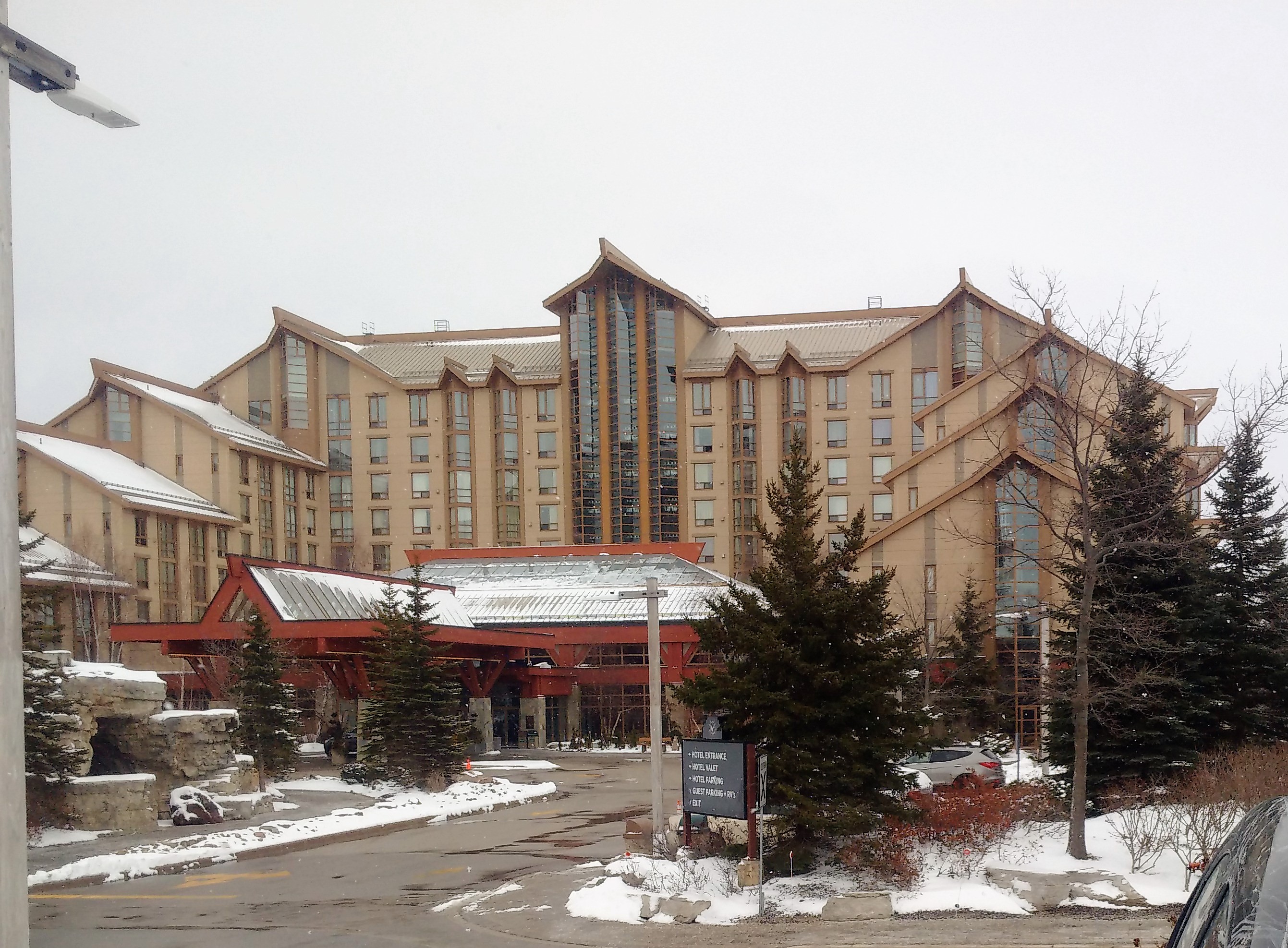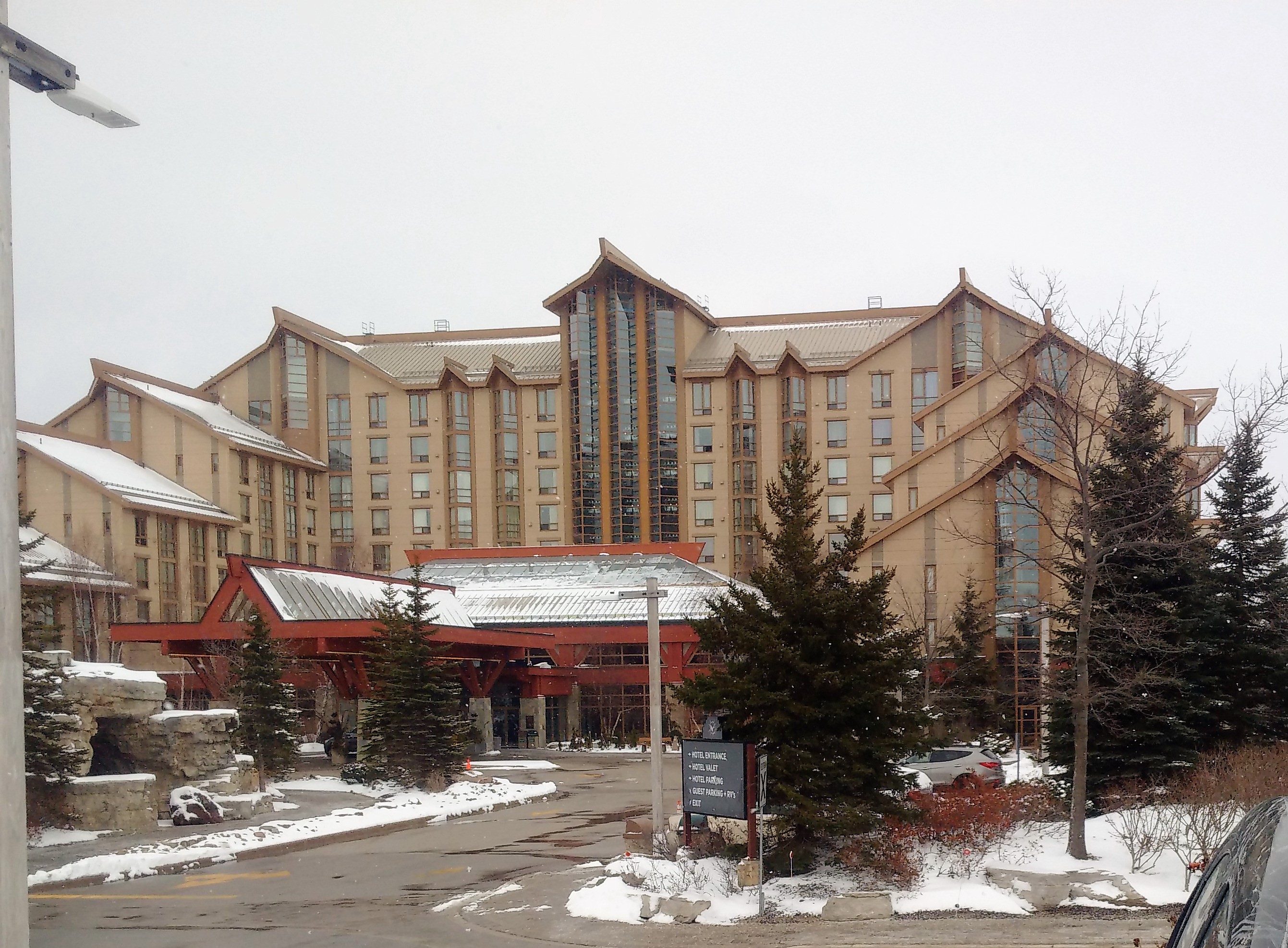 I had non-cotton layers for the ones closest to my skin, and a plastic bag I could put any wet items into, so they didn't get the rest of the items in my bag wet. The reason I went with non-cotton base layers is because cotton makes you colder. Cotton clothing absorbs moisture – it can hold up to twenty seven times its weight in water – which means that it will take a long time to dry and will be actively cooling you until it is dry, because water conducts heat away from the body almost twenty five times faster than air. Cotton loses all of its insulating ability when wet whereas synthetic fibres and wool do not lose as much of their insulating capacity, and many are designed to be fast drying. The biggest mistake I see people make when going out in winter is having great, warm boots and wearing cotton socks in them and then complaining that their feet are cold and blaming the boot. The boot has done its job, your feet are warm – so warm in fact, that they're sweating and cotton socks absorb the moisture and make your feet feel cold. It's not the boots at all, it's the socks. I prefer merino wool socks for outdoor activities in the winter but any non cotton socks will do.  I packed extra socks in my bag too – they're small and don't take up space and a change of socks is one of the fastest ways I know to warm up if I get cold.  I had pants on top of my synthetic leggings, and rain pants over top of them. I had a long sleeved shirt made of polyester and nylon, a polar fleece jacket, and my lined winter raincoat on – it added bulk but I wasn't cold or damp all day.
We were due to be on the bus between 8:15 and 8:30 to head to Shaw's Maple Syrup Bush, so naturally I was down in the lobby by 8:00 because I really hate being late and I certainly didn't want to be left behind. Coffee in hand, I sat with one of the complementary newspapers and waited for my fellow bloggers to make their way down. After a bus ride full of fun and chatter (and a little motion sickness for me due to a headache and empty stomach), we arrived at the sugar bush.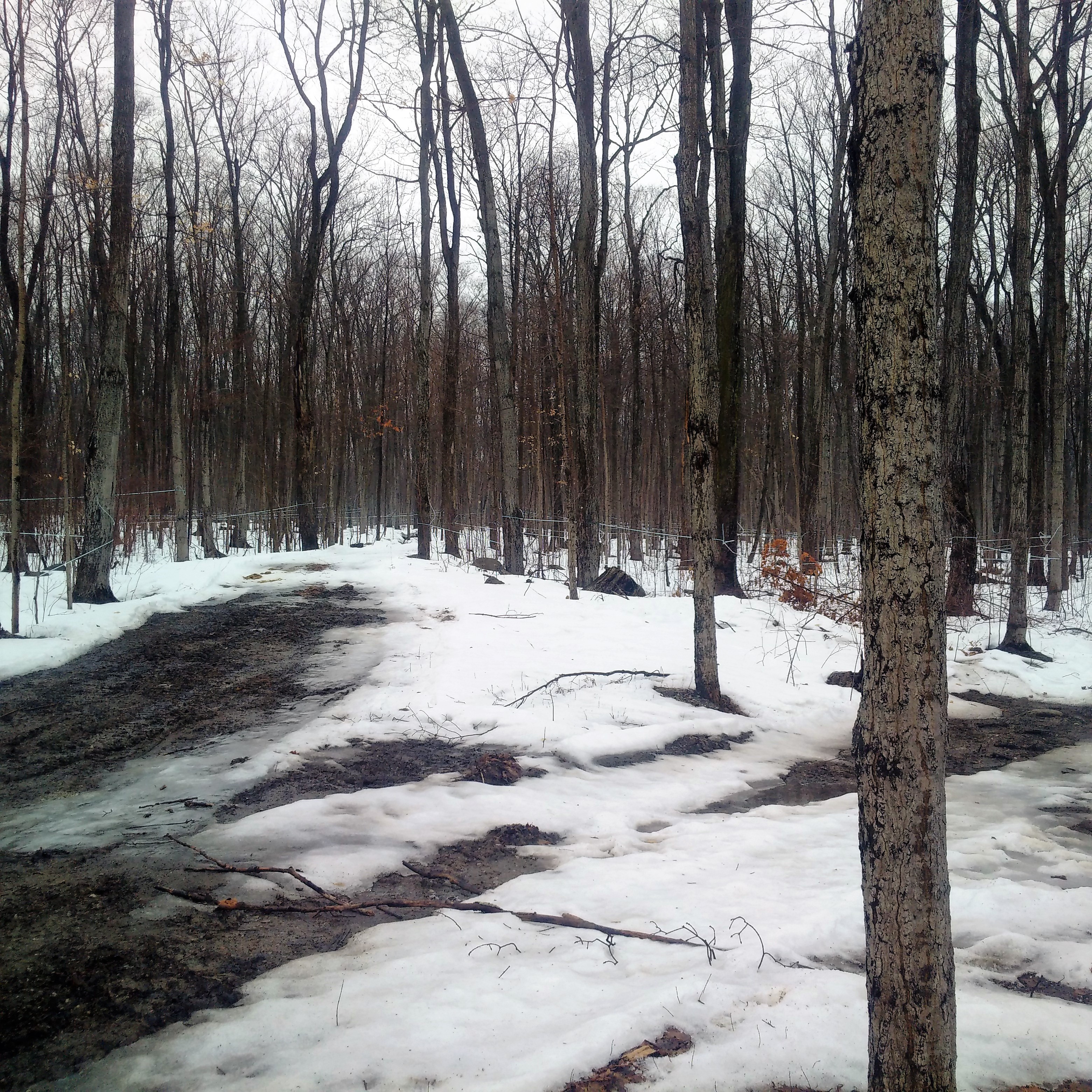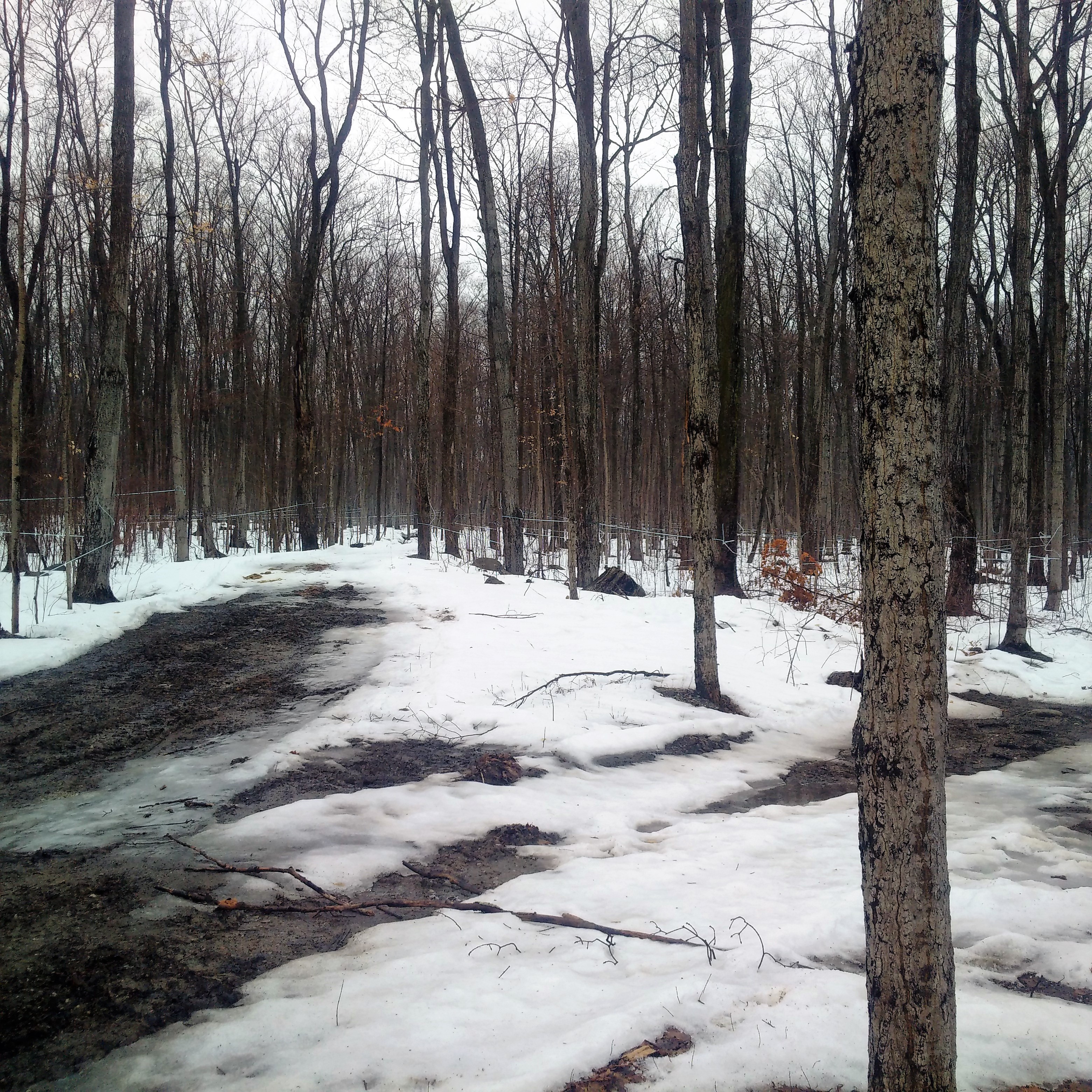 Shaw's uses a tubing system to get the sap from the trees to the holding tank – which results in less waste and fewer impurities from entering the sap.We didn't tour the bush until after we had breakfast and learned a bit about the process of making maple syrup – like that it takes on average 40 gallons of sap to make a single gallon of syrup. Or that the trees can be tapped as soon as they begin to thaw, typically in mid February and sap runs until the trees begin to bud in April but the sap doesn't run the whole time. To produce the best sap, the ideal conditions are a freeze and then a rapid warm up that pushes the sap up into the branches. Warmer days and cold nights are absolutely perfect. A tree has to be 8″ in diameter or approximately 40 years old before it can be tapped. Most of us have an image of a spigot in a tree with a bucket hanging off of it but larger sugar bushes don't use that system anymore since it is less efficient than a system of interconnected tubes running through the bush and to a holding tank. However, they still have a few trees tapped the old fashioned way for demonstrations. The sugar bush has been owned by the Shaw family and trees tapped since 1904. Between 10-20% of the trees that were tapped that first year are still being tapped today.
Breakfast started with either coffee or maple tea, so naturally I went with maple tea. We had a choice of pancakes and sausage or French toast (I went with pancakes), and fresh maple syrup. I actually managed to get a picture before digging in, but not by much. (it was SO  good). Full and happy, we went out to look at the sugar bush setup, before getting on the bus for our next stop.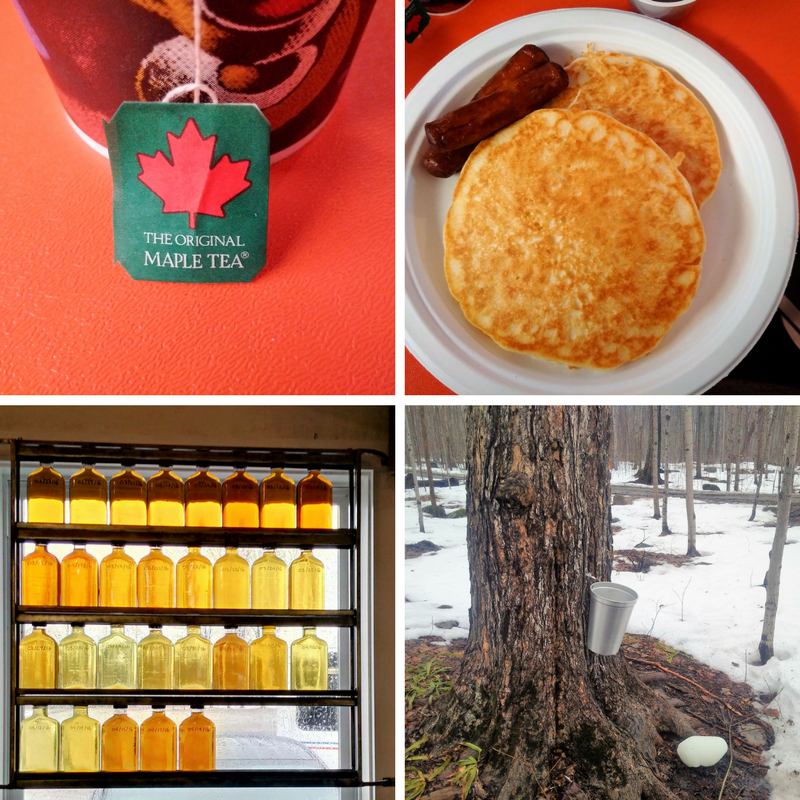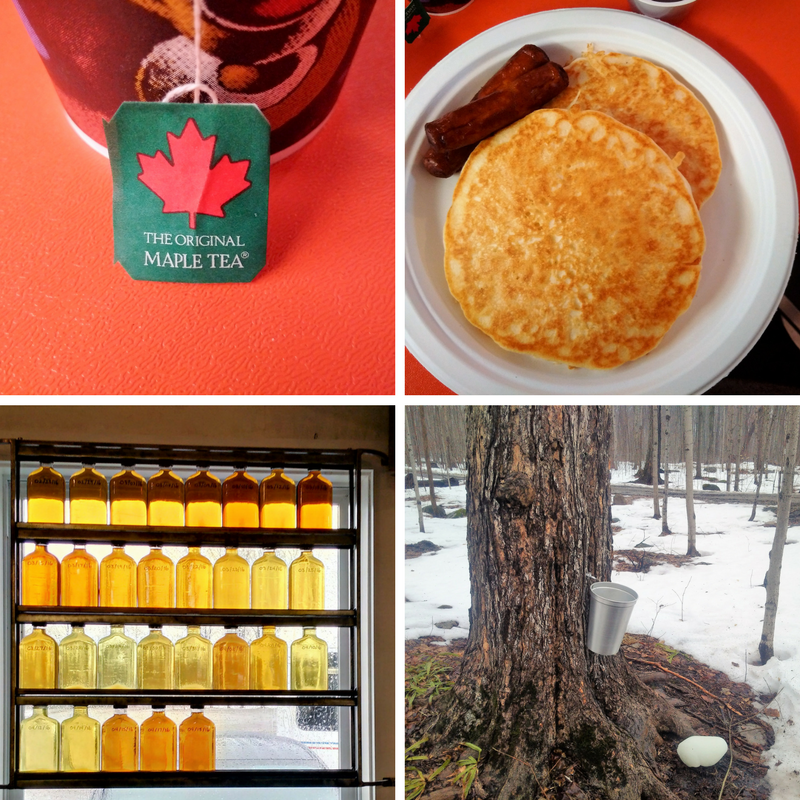 After our time at the sugar bush, we got back on the bus to head to Horseshoe Resort for some outdoor fun. Our first activity was a choice between cross country skiing and Fat Biking. I'd gone cross country skiing with Girl Guides back when I was 11 or 12, so I chose to do the activity I hadn't done before – Fat Biking. Fat Biking is biking on snowy trails on bikes equipped with special extra wide tires for grip on the snow. It's quite the workout and a little intimidating but luckily we weren't going at it on our own, we had Tim from Ride Guides and Andrew from Horseshoe Resort to help us along. I had one very close encounter with a tree as my bike slipped off the trail, but luckily we were wearing helmets and I was at the back of the pack with Tim close behind and he helped me right myself (and before any pictures could be taken). I know I'm a little bit of a klutz, so I didn't take my camera with me. Luckily Julie took hers, and got this fab shot of us before we set off. Fat Biking was an absolute blast and something I'm looking forward to doing again.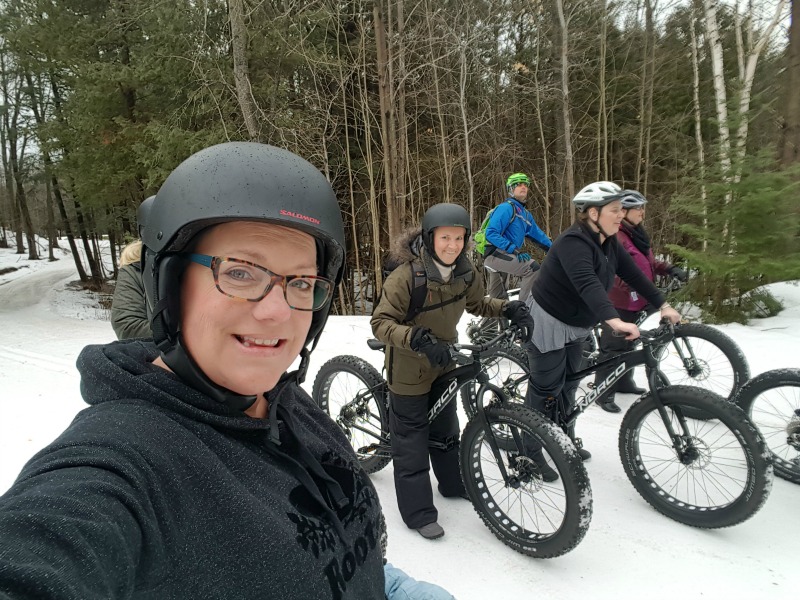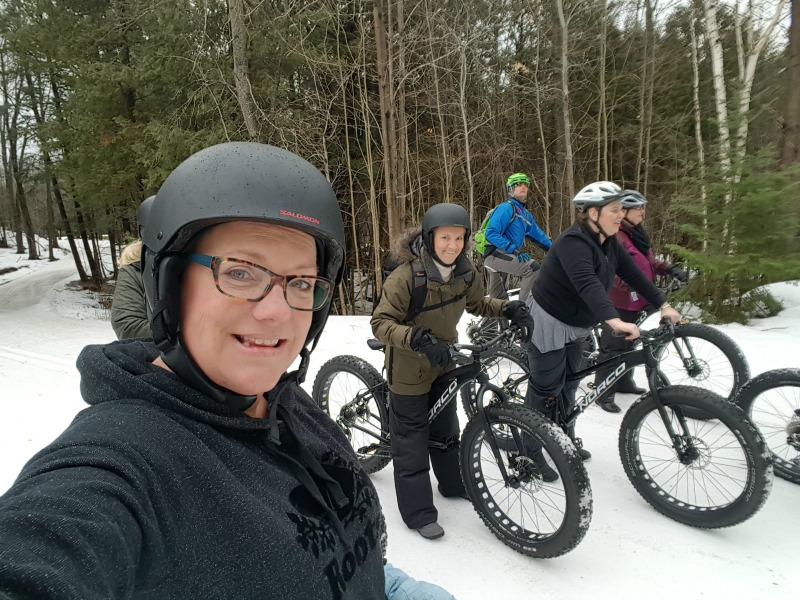 Having survived Fat Biking, it was time for a more relaxing activity, or so I thought. I'd gone snowshoeing before – but on those big old fashioned snowshoes that had the webbing and the big tails behind them that caused you to trip and fall into the snow. Or maybe that was just me. Anyway, modern snowshoes are much shorter and easier to use, and you get quite a workout walking along the trail. Of course when you're walking with bloggers, there are a lot of stops for photo ops, which also means lots of time to look at the gorgeous scenery around Horseshoe resort. Horseshoe also offers Moonlight Snowshoeing on Saturday nights during the winter – although we were told that these tours are often sold out – at $15 / person (including hot chocolate!) so it's best to book early. I had a great time snowshoeing – especially in the mild weather and got some good pictures too.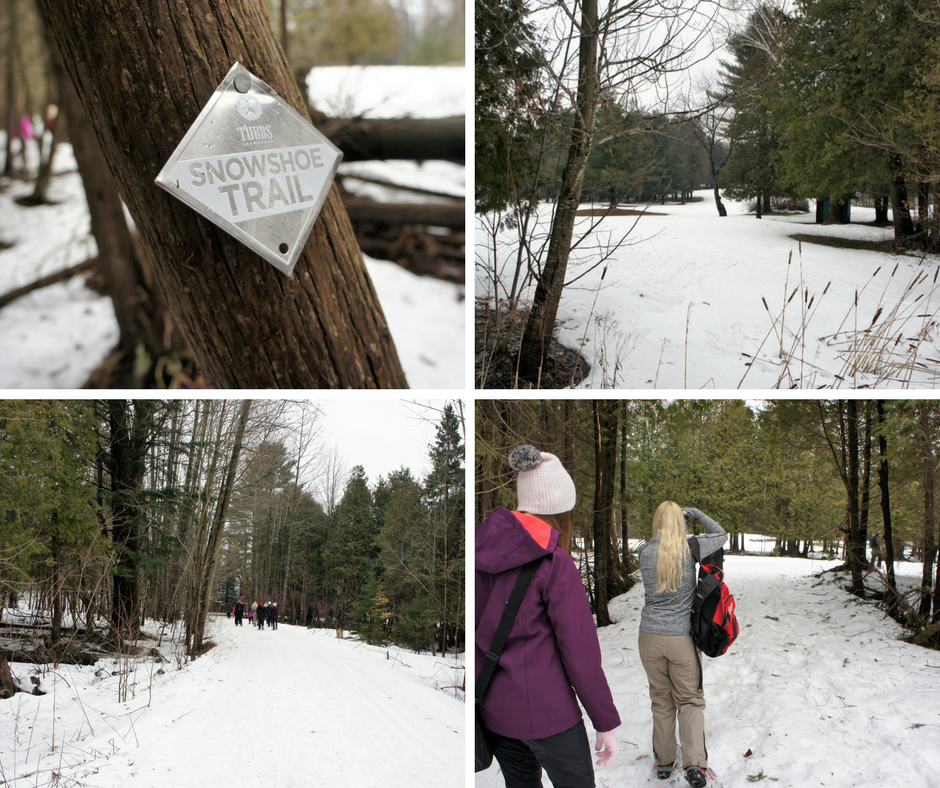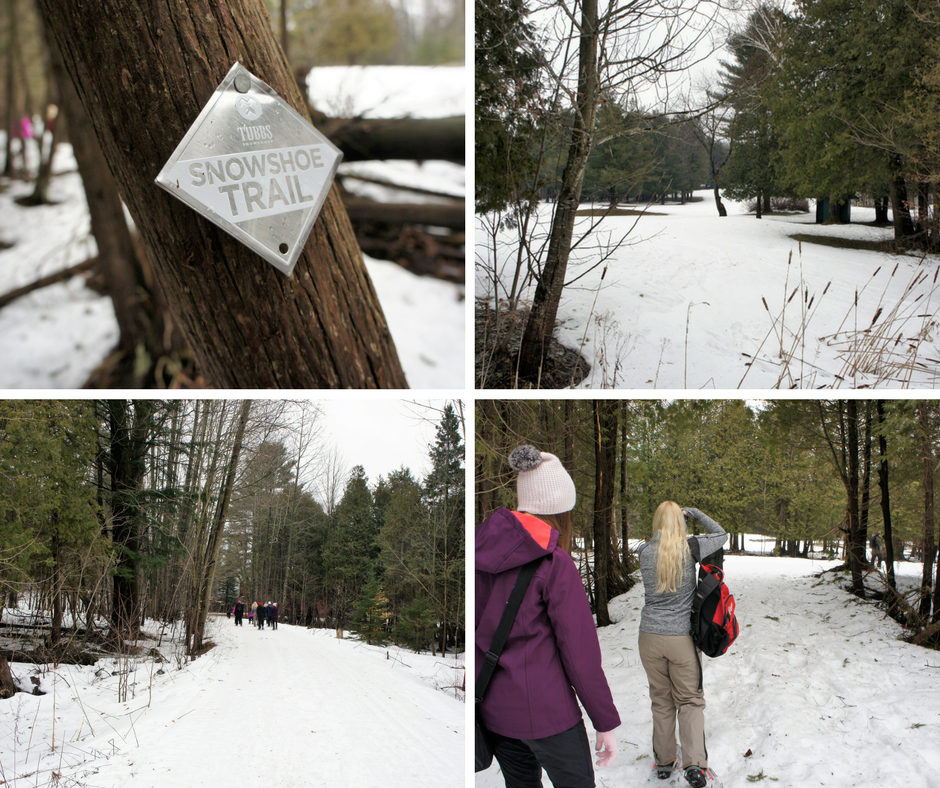 You'd think we'd stop for lunch after all this activity right? Well you'd be wrong – we had one final activity to try out at Horseshoe before lunch – snow tubing! If you've never been snow tubing, you're missing out. Basically you get to ride a magic carpet carrying large covered inner tubes to the top of a hill that has been specially built and groomed (in our case it was icy because of the warm weather) with 5 chutes to go down. The hill is higher and steeper than it looks and the tubes can get quite a bit of speed.  My friend Ann got this great shot from the top of the hill – it didn't look anywhere near this steep from the bottom. We had a great time and tubed for about an hour – by which point we were ravenous and headed into the Crazy Horse Sports Bar and Grill for some lunch and a bit of a rest.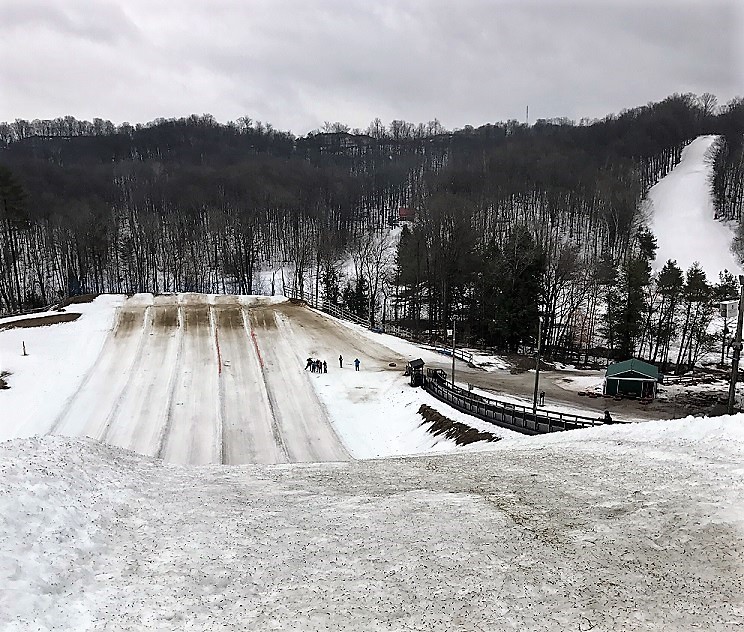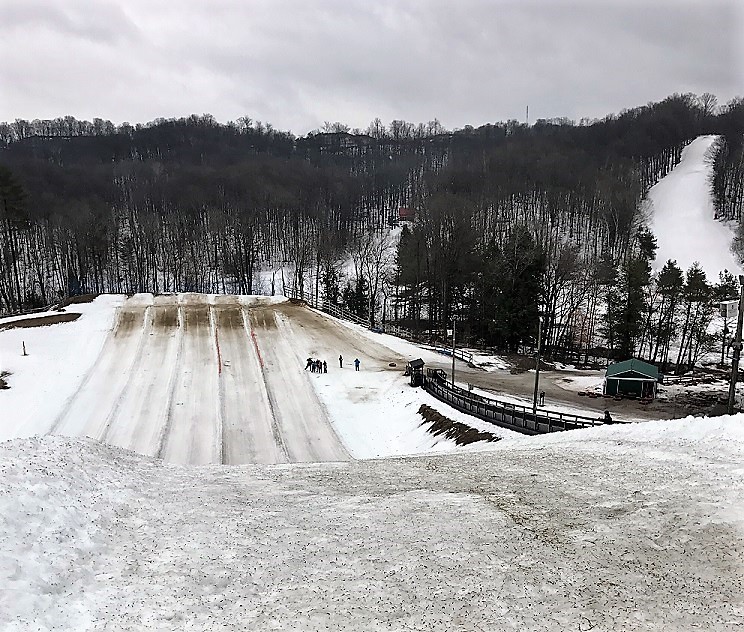 After lunch, we headed out to the patio below the restaurant where there were gorgeous outdoor fire pits, muskoka chairs (Some with the Muskoka Brewery logo – which always amuses me as a great bit of branding), hot chocolate, and s'mores! I was full from lunch, but there's always room for s'mores right? The outdoor fireplaces were perfect to sit around, warm up, and watch some of the skiers on the slopes. The conditions weren't great – being warm and rainy, but there were some brave skiers out there nonetheless. Horseshoe Resort has 29 runs, a terrain park, and their snow school starts for kids as young as 3 years old! It's the closest ski hill to the GTA – about an hour north of the city. I quite enjoyed watching the skiers come down the hill – and not great weather meant there was no lineup – they literally went from the bottom to the lift and right back up to the top again. I was trying to pick up some pointers because the next morning, I'd be skiing for the first time in my adult life. But first, there were s'mores to roast.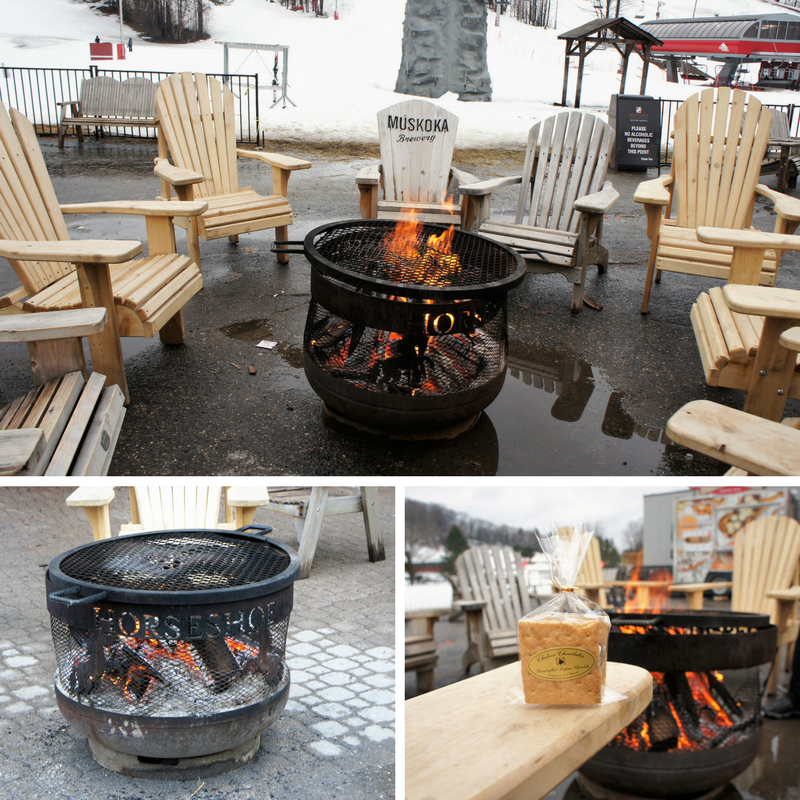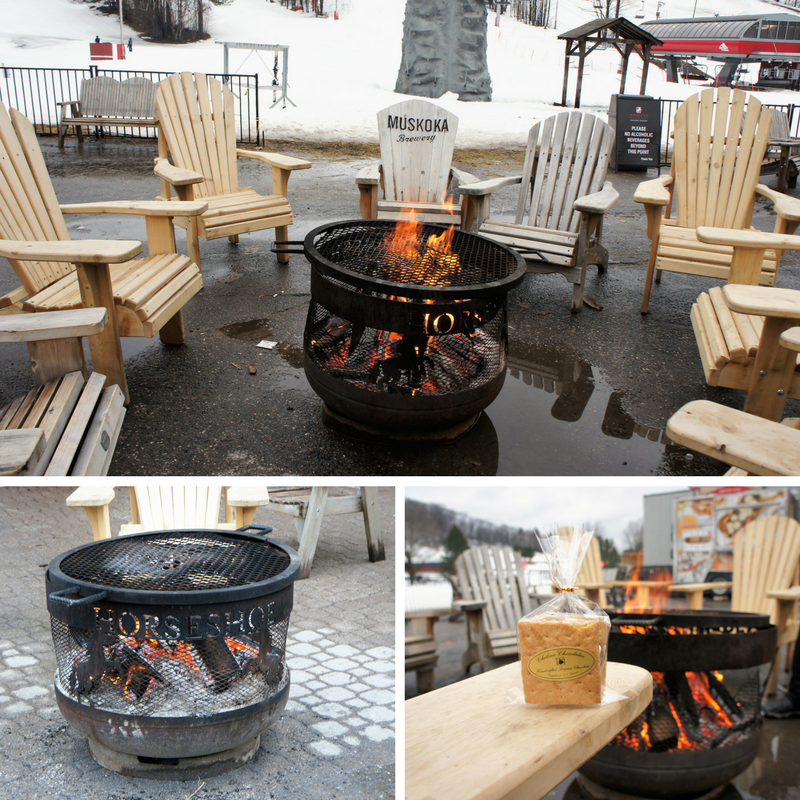 After s'mores and hot chocolate, it was time to get back on the bus to head back to the Casino. I was definitely ready for a nap, but having missed the table games lessons when I was at Let's Go Rama (albeit for a really good reason – I was on my way into Toronto to see the Tragically Hip concert), I wasn't going to miss them again so I changed out of my layers and into jeans and a nice top and headed down to the casino floor to learn about blackjack and roulette, and head out for dinner.
Wednesday morning started off with a phone call to wish a very special little girl a happy 7th birthday. Actually, it started off with my first ever phone call for in-room dining (aka room service). We were lucky enough to have room credits to cover our breakfasts on Wednesday and Thursday and I've never had room service before. I thought it would be super expensive, but it was only a couple of dollars more than going down to the restaurant would have been, and I could eat in my room! I had to try it out. I pressed the "In Room Dining" button on my phone, spoke to a very friendly person on the other end of the line, who told me my order would be up in 20-30 minutes, and that was it. I used the waiting time to make the birthday phone call and get dressed for the day's big activity – skiing. I was just finishing up on the phone when there was a knock on my door, and I opened it to see someone holding a tray with my breakfast on it! I thought it was super cool. I signed the receipt, tipped the server and sat down to breakfast.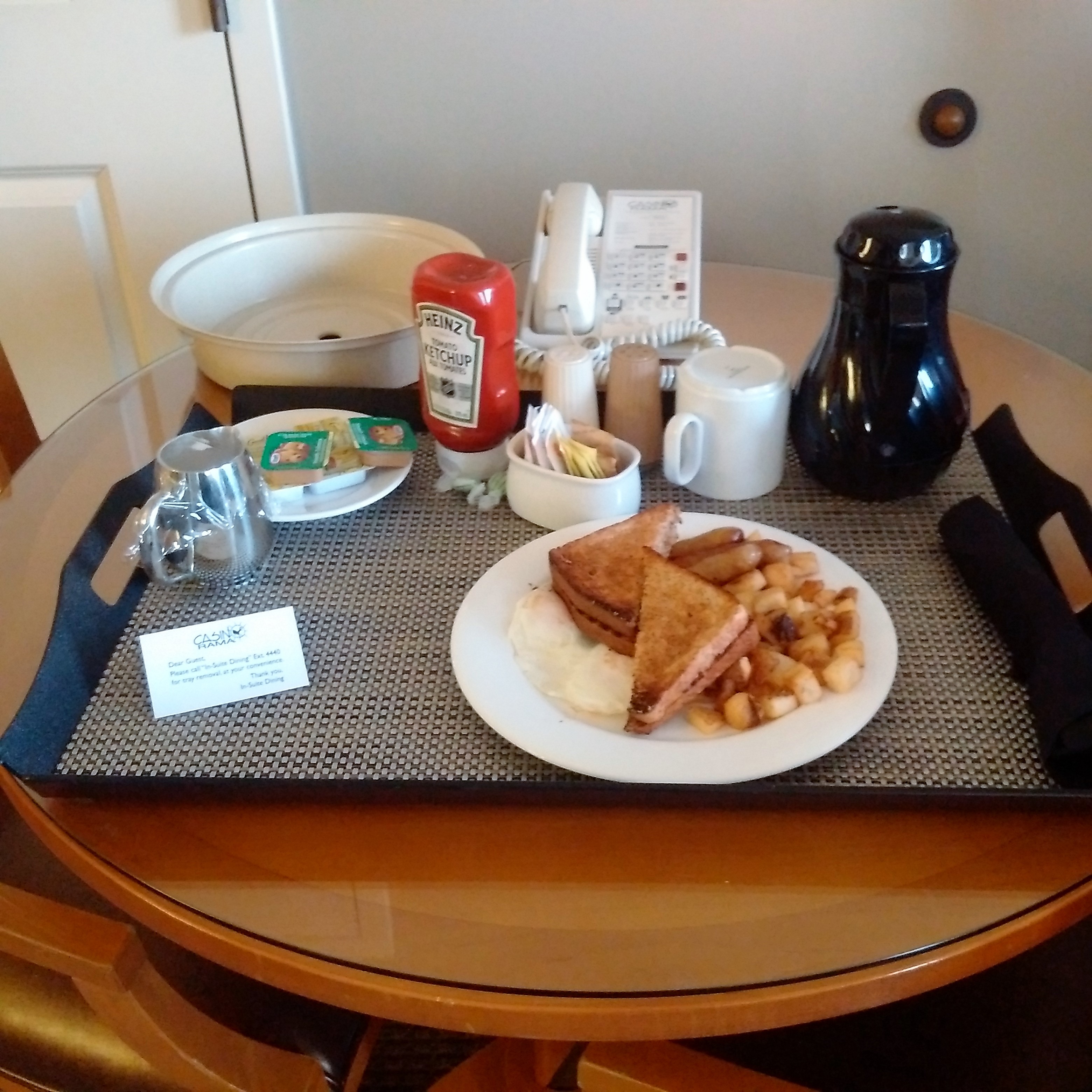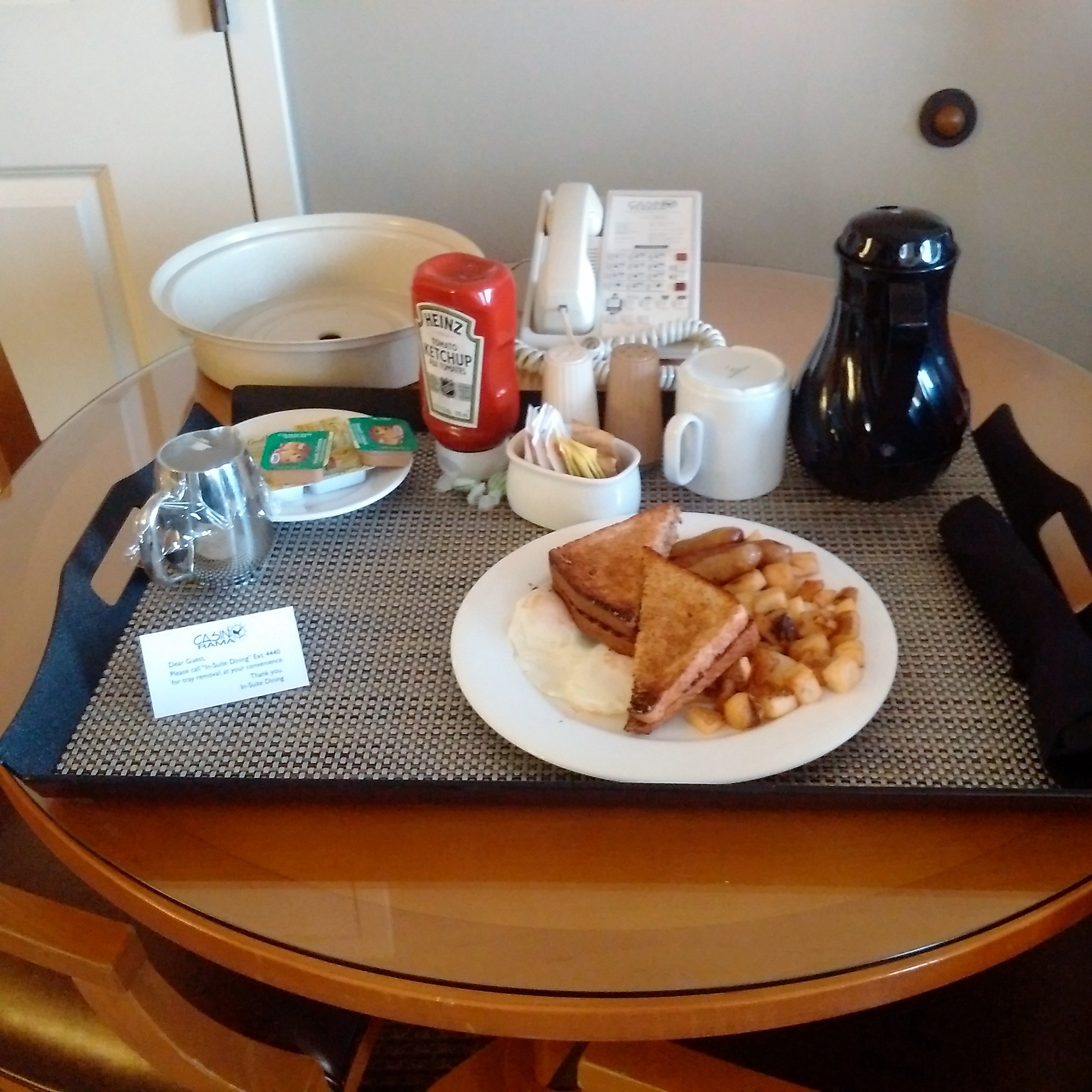 Out of the 16 social media influencers and bloggers at Let's Go Maple, only 6 of us signed up for skiing. We had a choice of skiing or sticking around the casino and trying out one of the amazing spa services at the Balance in Life Spa. When the sign up sheet went up, I wavered a bit. You see, I'd only ever been downhill skiing once, with my class in elementary school and that ended before it really started. Everyone else had been at least as an adult if not recently. I'm going to have to write a whole post about facing fears and the amazing people at Mount St. Louis Moonstone because otherwise this post would be way too long. For now though, a few teasers will have to suffice.


Mount St. Louis Moonstone is actually 2 hills: Mount St. Louis, where we skied, and Moonstone which is directly beside it. There are 2 bases – one at each hill, and a beginner area at both hills as well. Combined, Mount St. Louis Moonstone have 36 slopes,  3 terrain parks and 2 half pipes. They also have 9 chair lifts (3 six express, 1 quad express, 3 quad lifts, and 2 triple lifts), and 3 magic carpets giving them an uphill capacity of 26,000 skiers per hour!  35% of the slopes are rated for beginners, 50% for intermediate skiers, and 15% for experts. The longest run is 2 kilometers, and there are approximately 180 acres of ski-able terrain!  Mount St. Louis Moonstone is also the largest provider of school skiing trips in the area.  On the day we were there, there were at least 3 different schools and more than 300 kids skiing with their schools! Had my elementary school gone to Mount St. Louis Moonstone, I might have developed a love for skiing.
Having never really skied before, I needed to rent everything – helmet, boots, skis, poles – the works! Fortunately even with all the school groups there, the ski rental desk still had lots of equipment available. They helped fit me for boots, then some of the more experienced skiers in our group helped me get them on and walk in them without falling on my face (totally harder than it sounds). I got skis, poles, and a helmet and went outside to figure out how to get the skis on. Now that was an adventure. I learned a very important lesson right away – never put on your skis when you are facing down a hill, no matter how slight. Gravity will take over and the end result will be amusing but not very productive. Instead you put your skis across the hill, and everything stays where it should. I'm going to save the details of my learning to ski for the next post but I did learn to turn, stop, and even skied a run that required a chair lift to get up to the top of! To say the instructors are phenomenal is a serious understatement.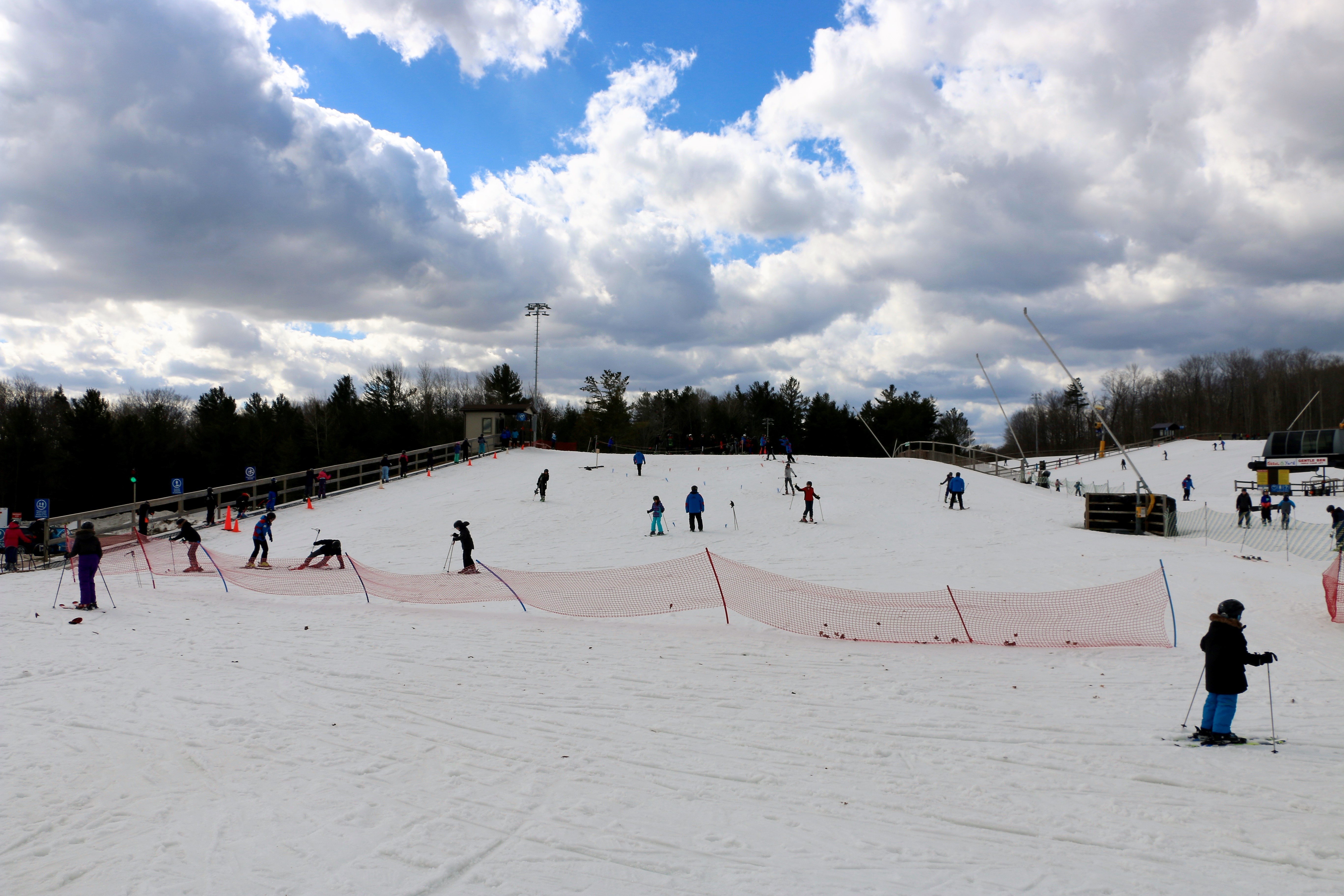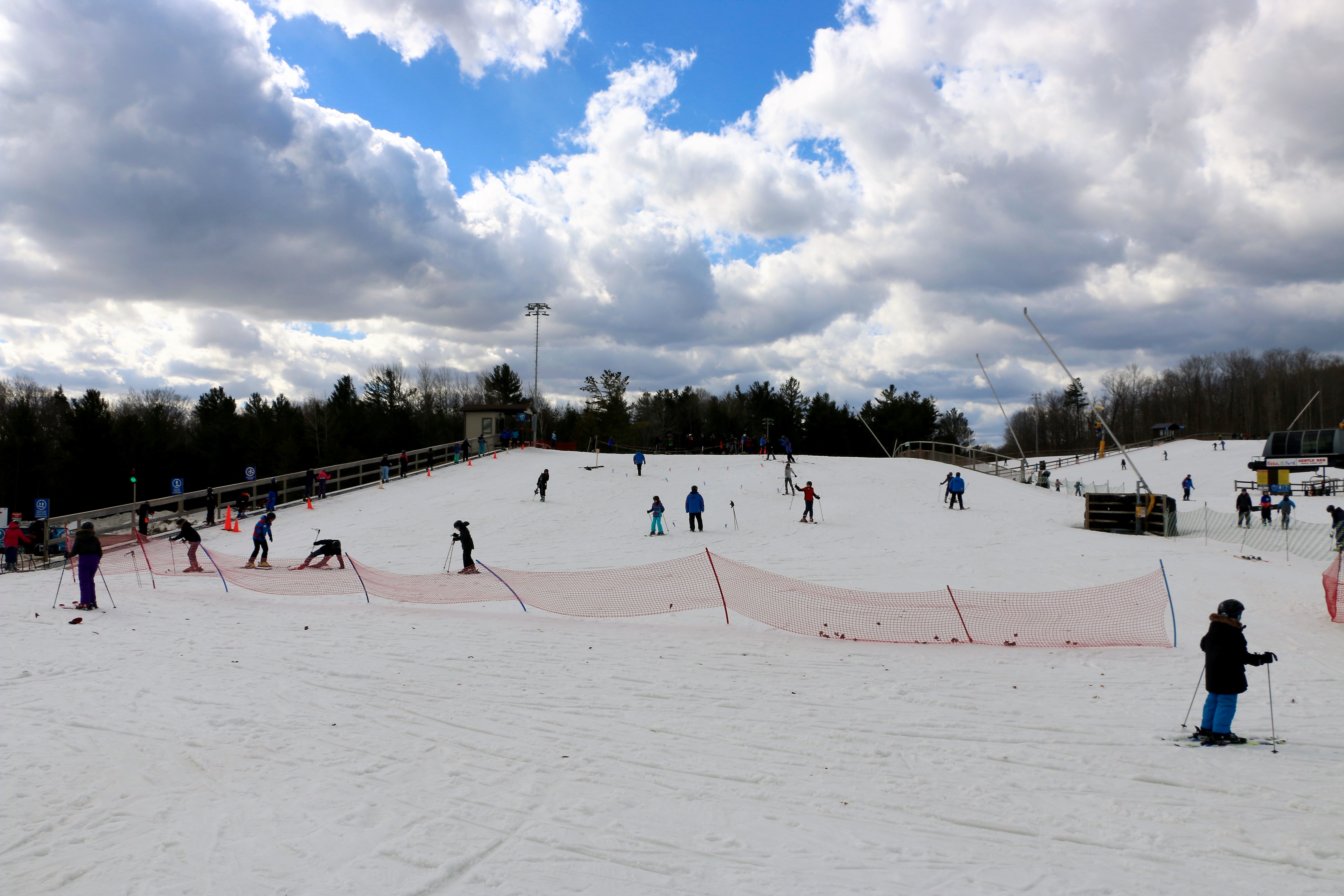 After a great morning of skiing, we grabbed lunch in the cafeteria before heading back to the Casino. I can say this for sure – skiing uses muscles you don't use every day, and a few hours out on the hills was more than enough for this beginner. A soak in the hot tub was much needed when we got back to the hotel. A couple of hours was more than enough to whet my appetite for skiing though and I'm planning to take another beginner lesson at the start of next ski season!
I can't decide whether I had a better time indoors or outdoors on the Let's Go Maple trip – they were both amazing, I got to try so many new things, had a ton of fun, and learned a lot about Ontario's Lake Country. I think outdoor activities may have narrowly edged out indoor activities, because this self-confessed non fan of winter, is already making plans to head back up into Ontario's Lake Country next winter!