Last week, I was fortunate enough to go back to one of my favourite places, Casino Rama Resort, for a few days of winter fun thanks to the wonderful ladies at SJ Consulting, Casino Rama Resort, and Ontario's Lake Country. I go up to the Casino a few times a year – it's my preferred venue for concerts since it takes about the same amount of time as it does to go into Toronto but without the traffic headaches, expensive parking, or nosebleed seats. I went up in August with some of the same people for a great few days of learning and connecting, but this trip was going to be a little different. Whereas last time we pretty much stayed in the Casino, this time we were going to explore the areas around the Casino – downtown Orillia, Horseshoe Resort, and Mount St. Louis Moonstone. There was no way I was going to pass up this opportunity despite my complete lack of skills and coordination when it comes to winter sports. Because we did SO much in such a short period of time, I'm breaking my posts up along completely arbitrary lines – indoor fun and outdoor fun. Today, I'm writing about the indoor fun to be had in and around Casino Rama. Next, I'll post about all the outdoor fun I had – and there was a lot of outdoor fun!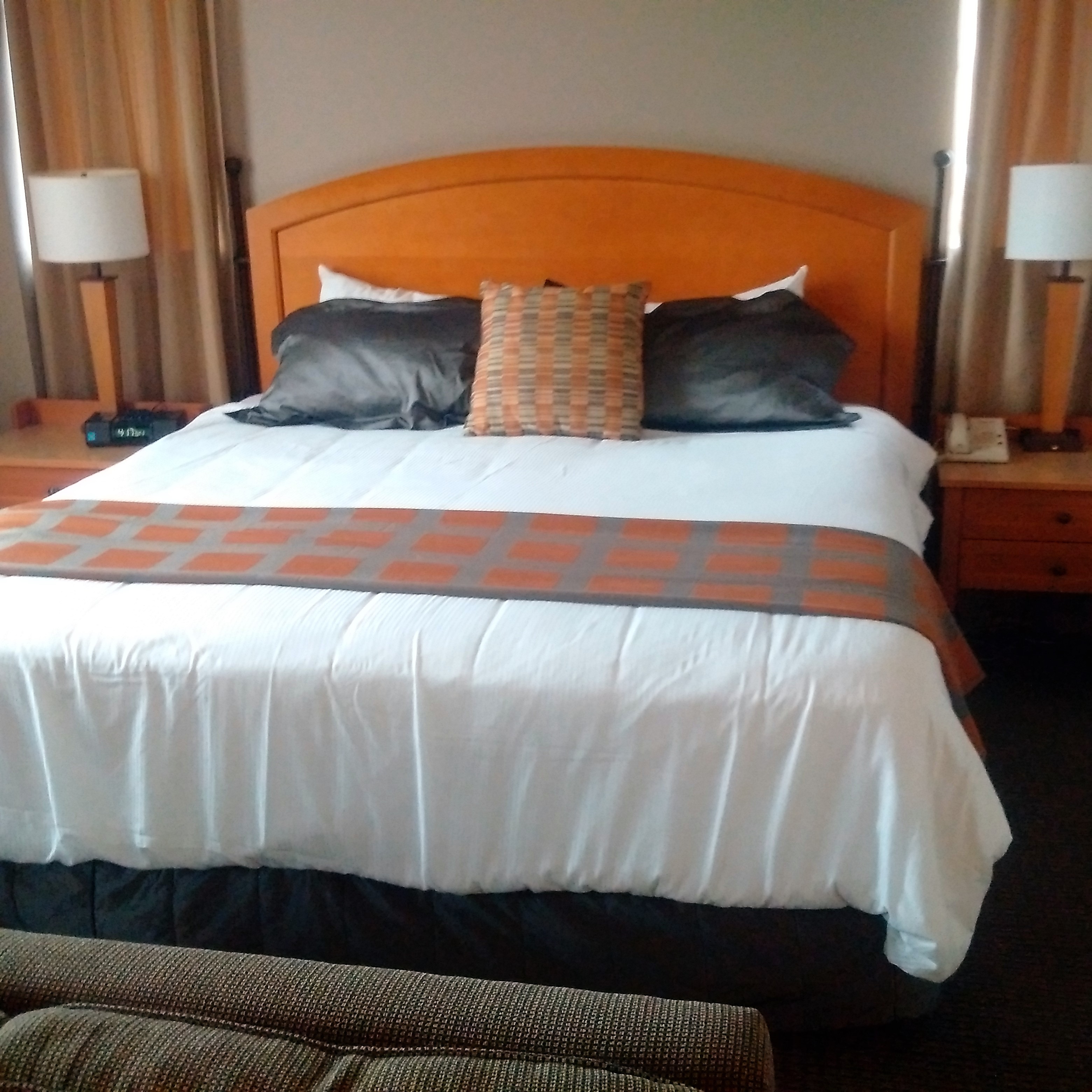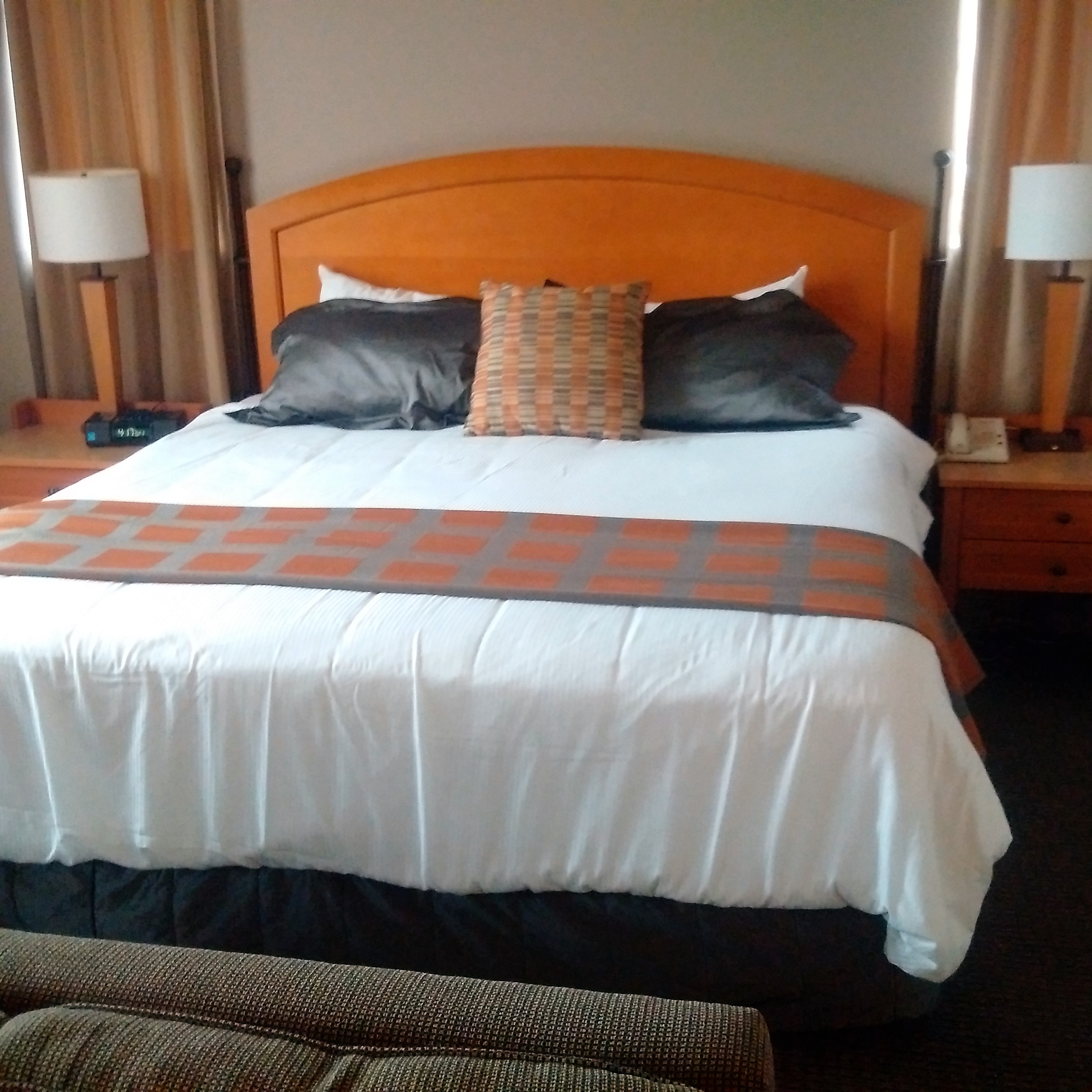 We arrived on Monday afternoon, to 10 degree Celsius weather and pouring rain. I thought that might have some detrimental effects on Tuesday and Wednesday's outdoor activities but it turns out it didn't have too great an effect. More on that next time. Checking in at the hotel at Casino Rama is always pleasant – every single person I've encountered seems genuinely focused on making me as a guest feel comfortable and the commitment to customer service shows. I went upstairs to my room and the first thing I did was spread out in the middle of the king size bed. Well, first I took this picture of it. THEN I jumped in the middle and pretended I was a starfish – Because I could.
It was then that I noticed that I had a treat waiting for me – the wonderful people at Casino Rama had sent up a snack for those of us weary from the drive. It was amazing – especially the fudge.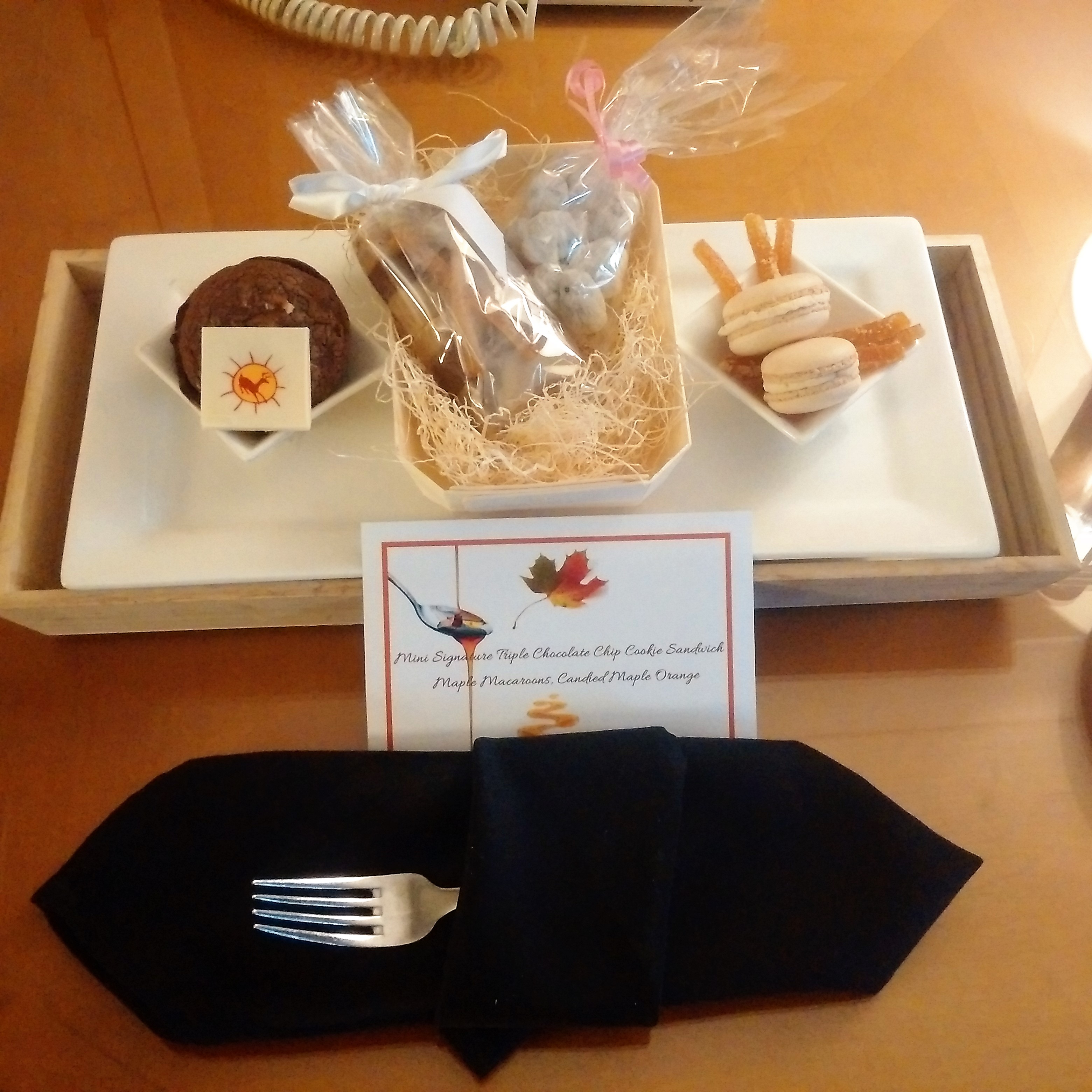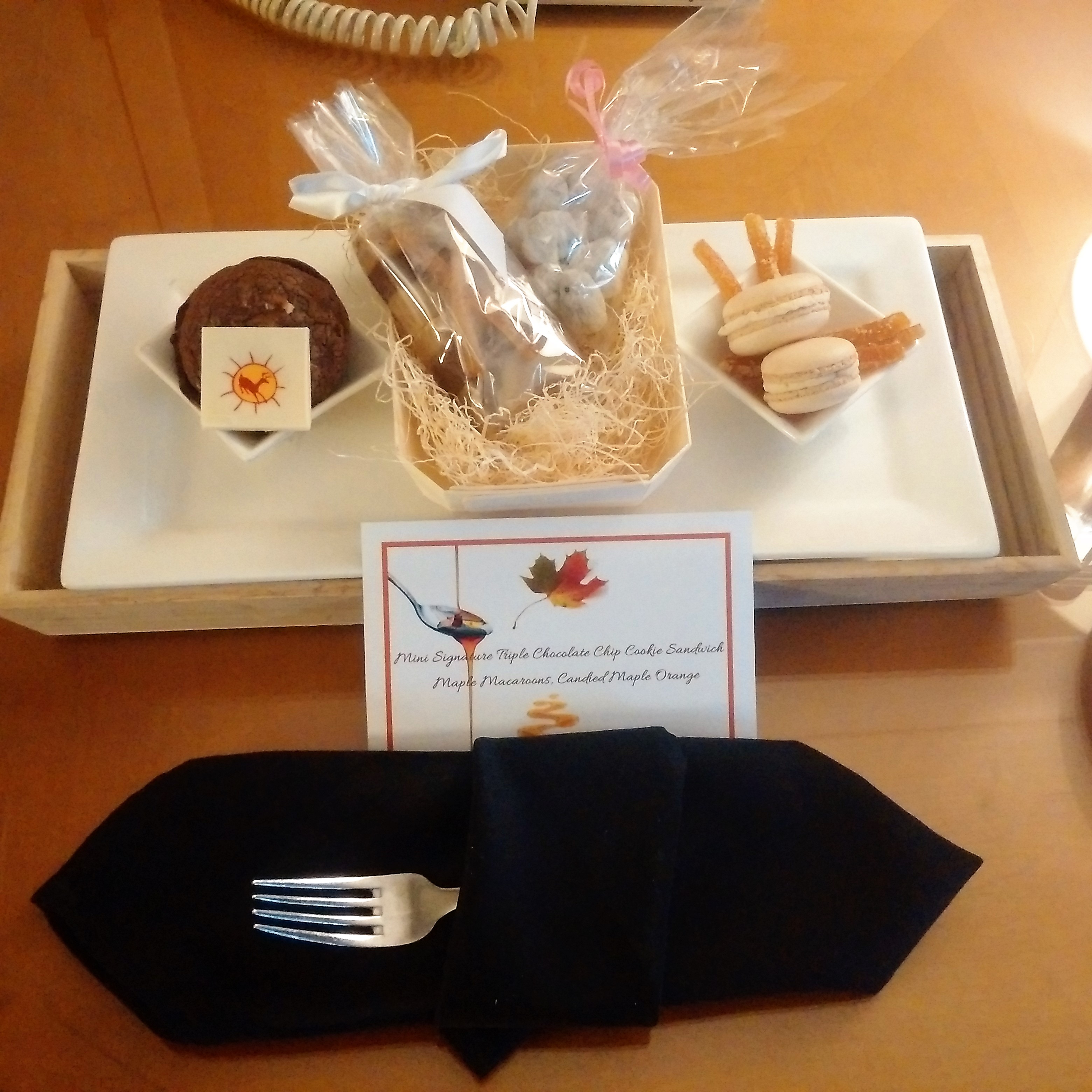 I really wanted to spend some quality time with my treats and my really nice suite, but I had to get changed for dinner and head downstairs for a behind the scenes tour of the Casino properties. I'd been on a tour in August, but I LOVE behind the scenes tours and I couldn't wait to get back to the entertainment centre, plus no two tours are ever the same. I love how Casino Rama honours the Rama First Nation land that it's on throughout the entire Casino. For example, the ceiling in the entertainment centre (where concerts are held) resembles a woven basket, and basket weaving has played a large role in the cultural life of the people of the Rama First Nation.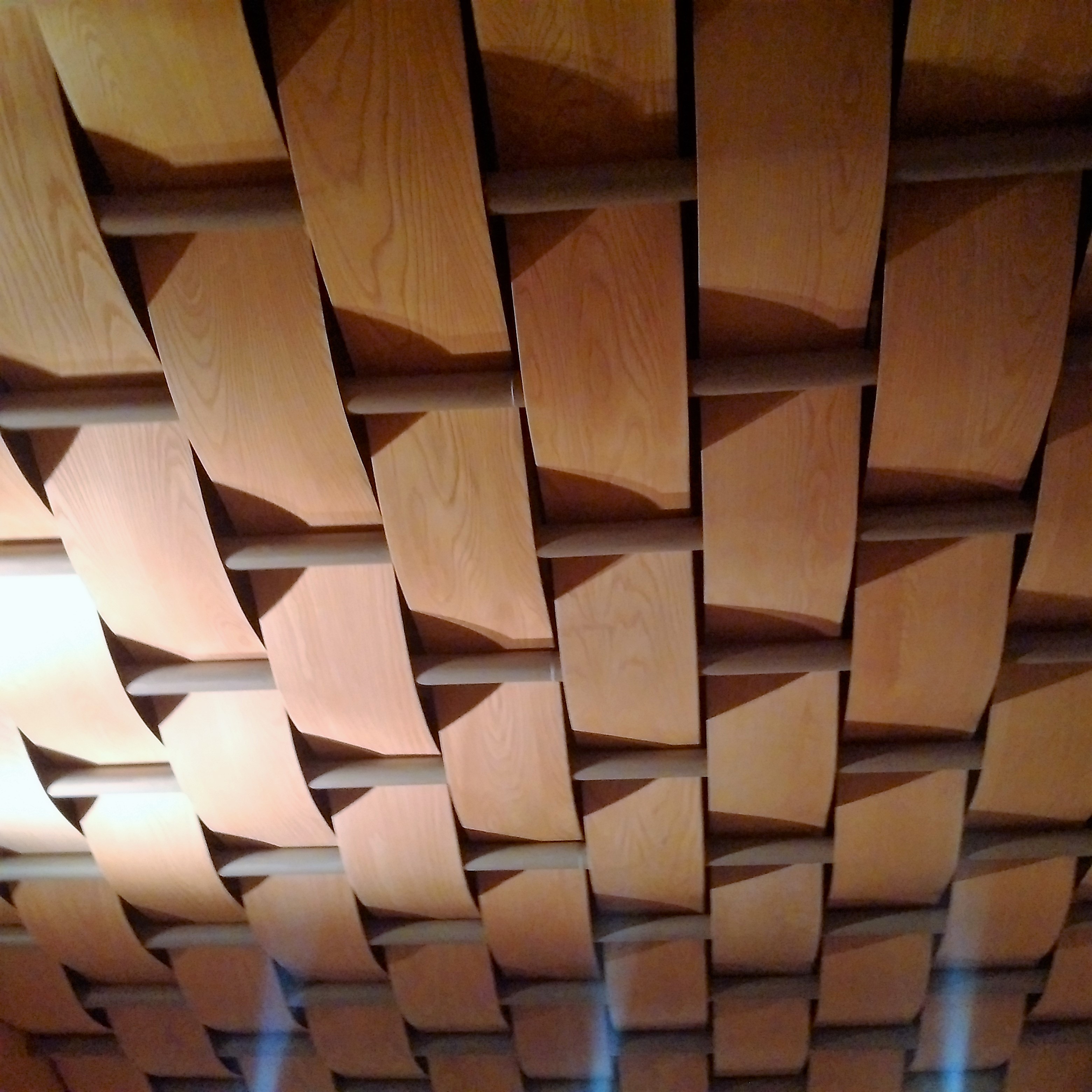 After our tour, it was time for dinner – at my favourite place to eat at Casino Rama – St. Germain's steakhouse. It is named in honour of the man who first came up with the idea of having a Casino on First Nations land in Ontario, and who died before the casino was built (but after it was approved) – George St. Germain.  Dinner was absolutely delicious. Some of my blogger friends have posted about what exactly was in it – although due to allergies I didn't have the scallops but instead had this wonderful beet salad because the Casino restaurants are so wonderfully allergy friendly and will accommodate food allergies of all types, so I'm not going to bore you with those details.. but look at those dishes. I'm hungry again just looking at it. The grilled Brussel sprouts were out of this world good, and the meat… oh I've got the meat sweats just looking at that picture but it was totally worth it.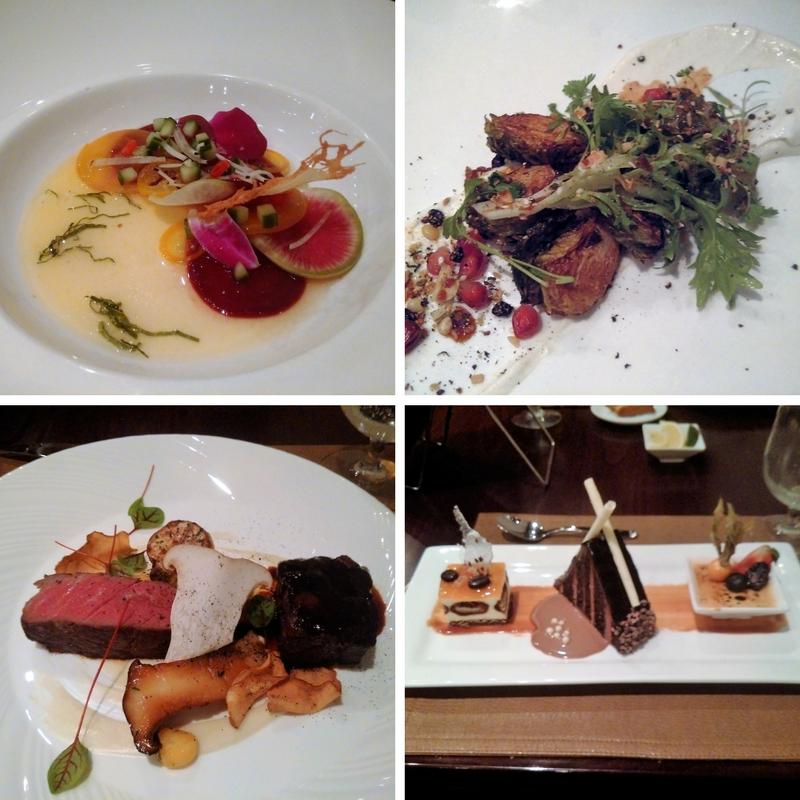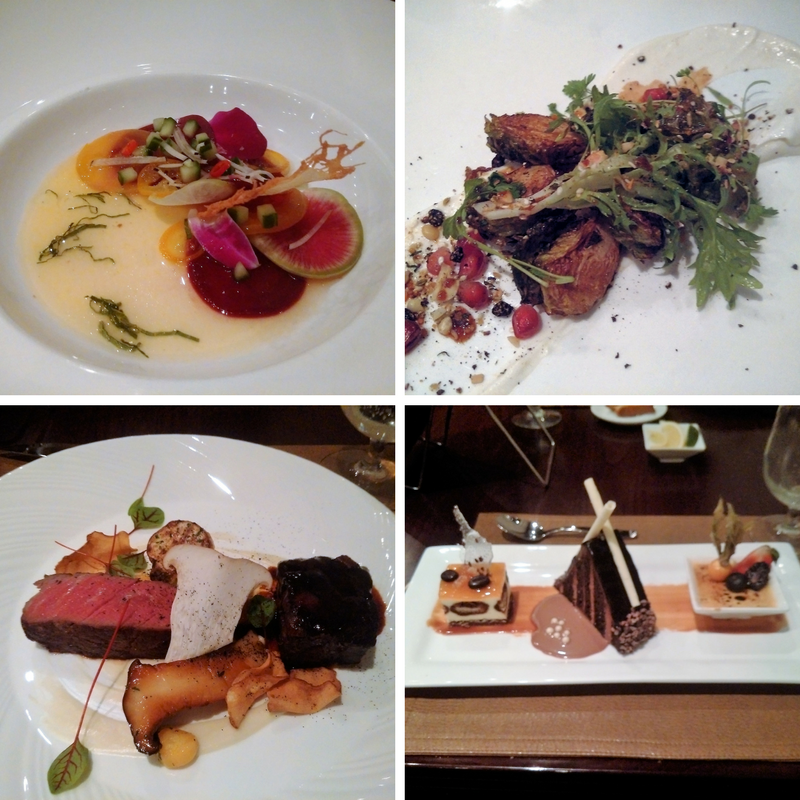 After dinner I, I went for a dip in the salt water pool. I adore that pool – the fact that it's adults only from 9-10pm (the final hour it is open for the day) is icing on the cake. The not too hot hot tub and the eucalyptus steam room had to wait until Wednesday due to time but a nice paddle in the pool was just what I needed before crawling into that big, luxurious bed and drifting off to sleep. There was a little excitement at 11pm when someone was trying to get into my room and  banging on the door, but it turned out it was a nice older lady whose room was actually a floor down from mine and was a little confused since the third floor of the hotel was actually only the second floor of rooms since the ground floor doesn't have any. Once that was sorted out, I packed my bag for the morning's adventures since the bus was due to depart at 7:30 am, laid out my clothes for the morning, and jumped (literally) into bed with my book.
Tuesday started early, but thanks to the new Tim Hortons in the lobby of the Casino entrance, I was able to get caffeinated before I got on the bus. I learned the hard way that when I'm fighting a Migraine, bus travel is not a good idea, but a couple of ibuprofen and some Gravol ginger and I was pretty much good to go for the day. Most of Tuesday was outdoor  fun, so I'll leave those for another day, but we got back to the hotel around 3:30 pm, had enough time to change out of our wet clothing and head down to the optional table gaming lesson the Casino had set up for us.
This is one of the coolest things the Casino does that I'd wager most people don't know about. If you have a small group of people coming to Casino Rama and you want to play one of the table games such as Blackjack, Baccarat, Craps, Poker, or Roulette but don't know how to play, you can call ahead and book a lesson at a private table. The wonderful people at Casino Rama don't suggest trying to book this on a Friday or Saturday night or when there's a big event going on at the Casino but if there are staff available, you can set yourself up with a lesson so you can learn to play. There are also brief game play explanations available on the Table Gaming section of the Casino Rama Website. We were allowed to take pictures of our table gaming lesson because we were in a secluded corner and there was no live gaming happening – it was all fake money. For legal reasons, photography is not allowed on the gaming floor. They did provide us with some imagery we could use for the parts of the floor we couldn't take pictures of – here are some of the over 2500 slot machines on the Casino floor.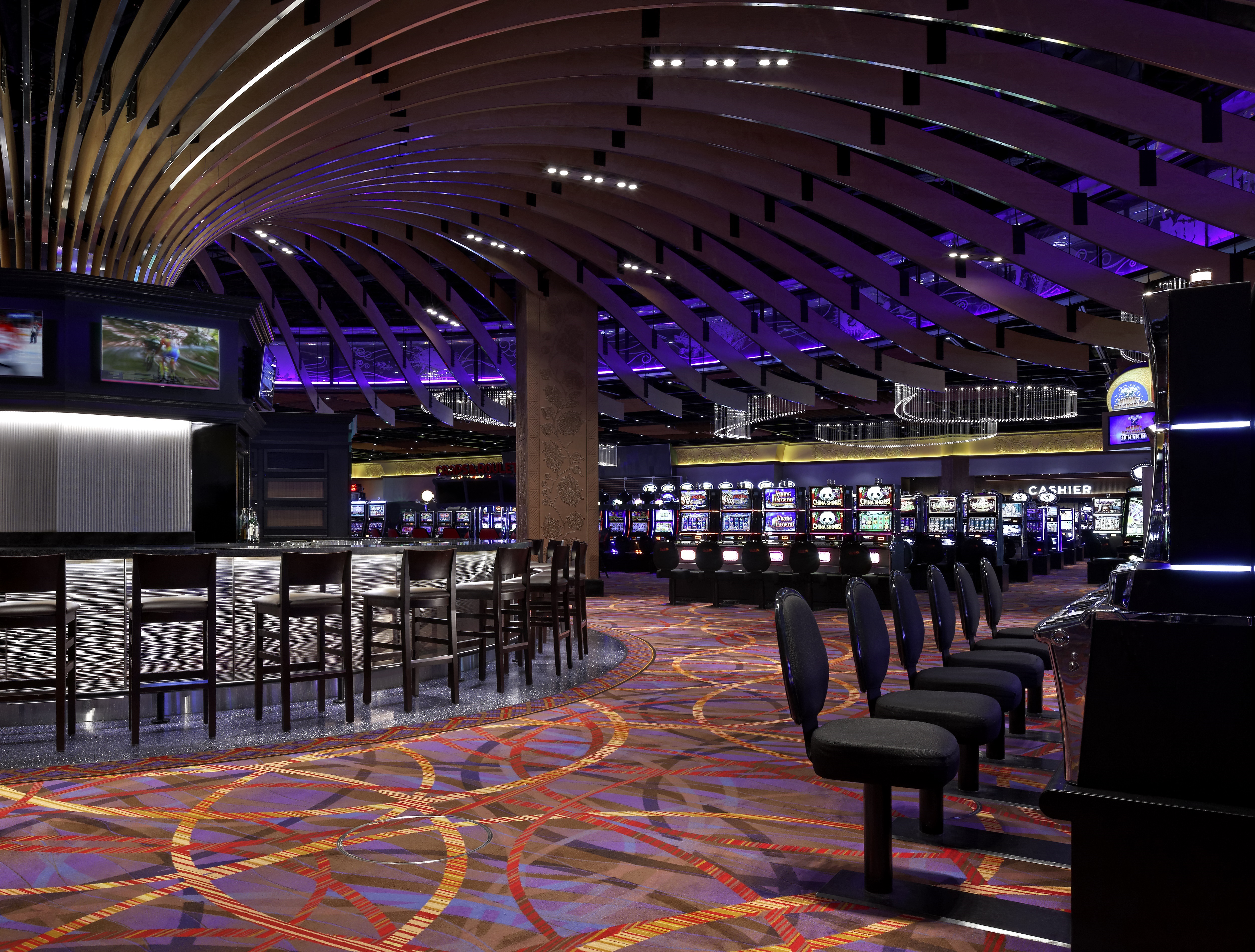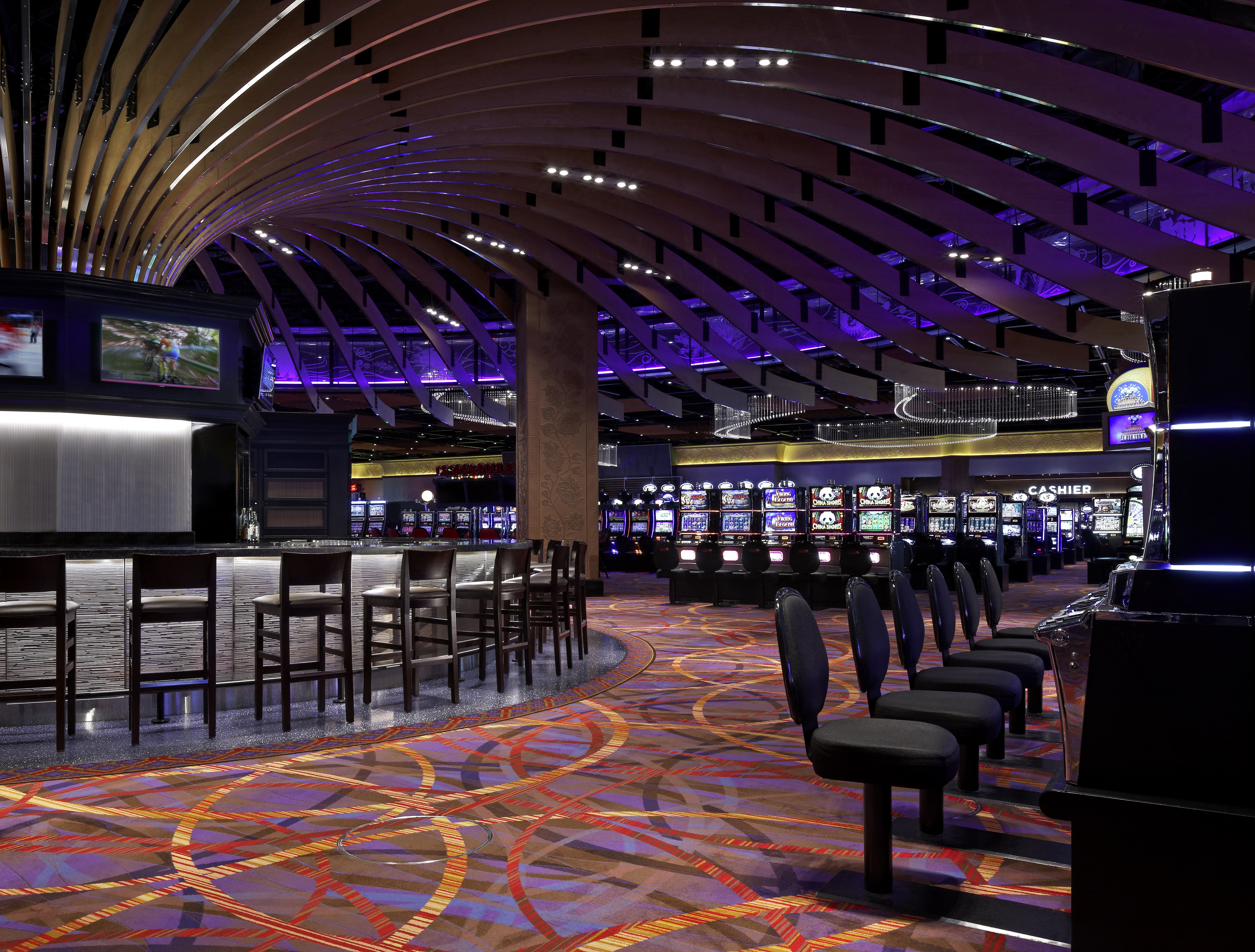 Casino Rama is very dedicated to responsible gaming – they don't oxygenate the air (though it is very well filtered so my asthmatic lungs are always quite happy), all of the TV sets on the gaming floor are time stamped so you are less likely to lose track of time, and all of the staff are very up front about the odds. Every play on a slot machine is a discrete event – what happened the last time someone played the slot has absolutely zero bearing on what happens the next time. Slot machines are completely random. Nobody within the Casino can do anything to alter the machine's chances of paying out. That said, I seem to be good luck to some people as when I sit beside them regardless of whether or not I'm playing, they win. The same goes for Roulette – every time the ball drops is a discrete event. What number came up last spin has zero impact on what number is going to come up this time. Pure Chance – each number has 1/37 odds of coming up. Our lesson included Blackjack and Roulette. I thought I knew Blackjack – I mean how hard is it? Well it turns out that there are lots of variants you can have in a casino game including a nifty little side bet called the perfect pair. In the picture below, my hand is the middle one, and the stack of red and white chips off to the side are my winnings for betting that I'd get a pair. There are 4 decks of cards in the shoe, and there's a stop about a deck and a quarter to a deck and a half through the end – so you never use all the cards and you can't actually count the cards in a game because some won't be used. That being said, you still have 4 of each card and you could get a "perfect pair" or two of the exact same cards. You can also win with 2 of the same colour or just 2 of the same number.  You can also split your hand, and play each card separately – which I did with my pair of sixes. I came out a little ahead after that hand but lost it all by the time we were done (good thing it wasn't real money!).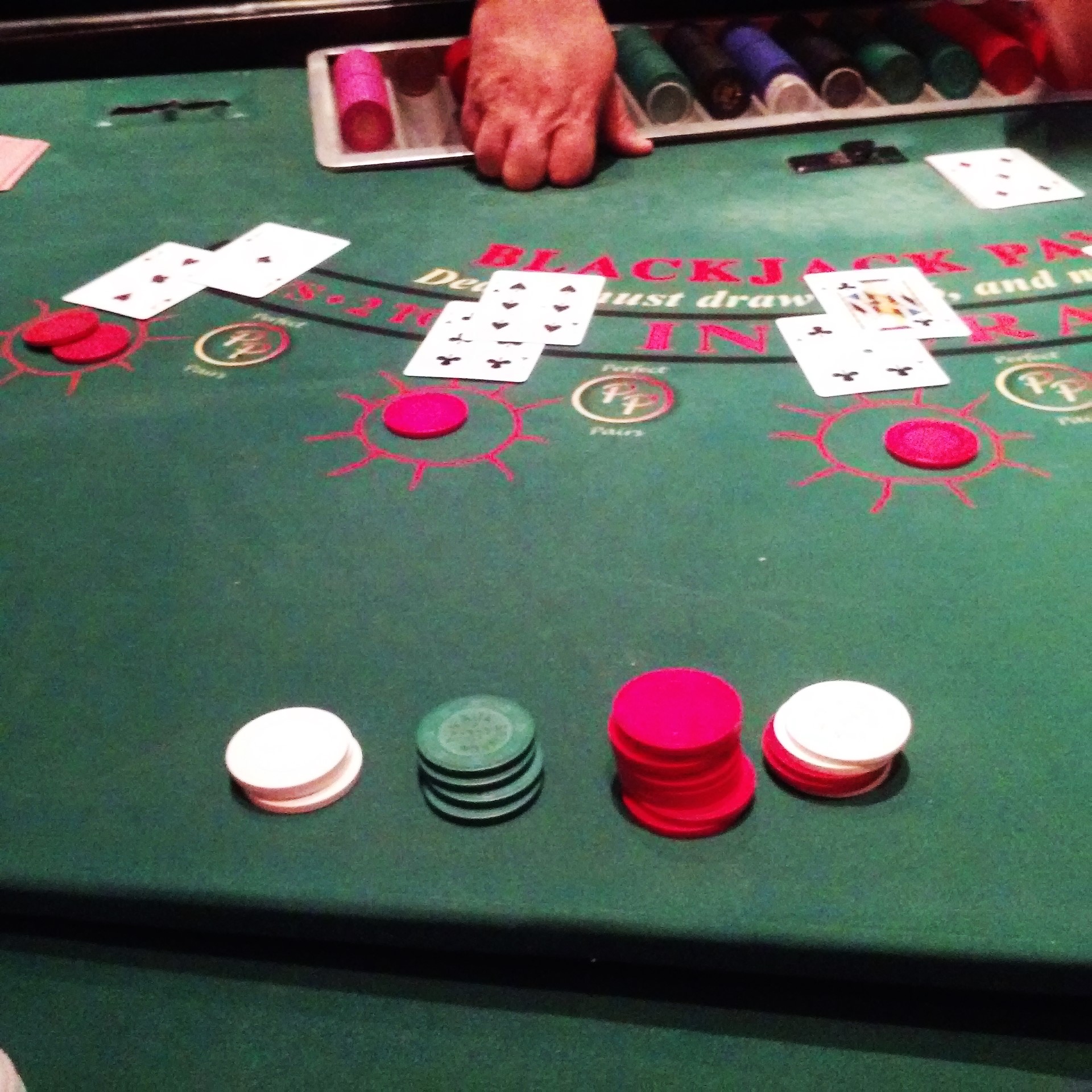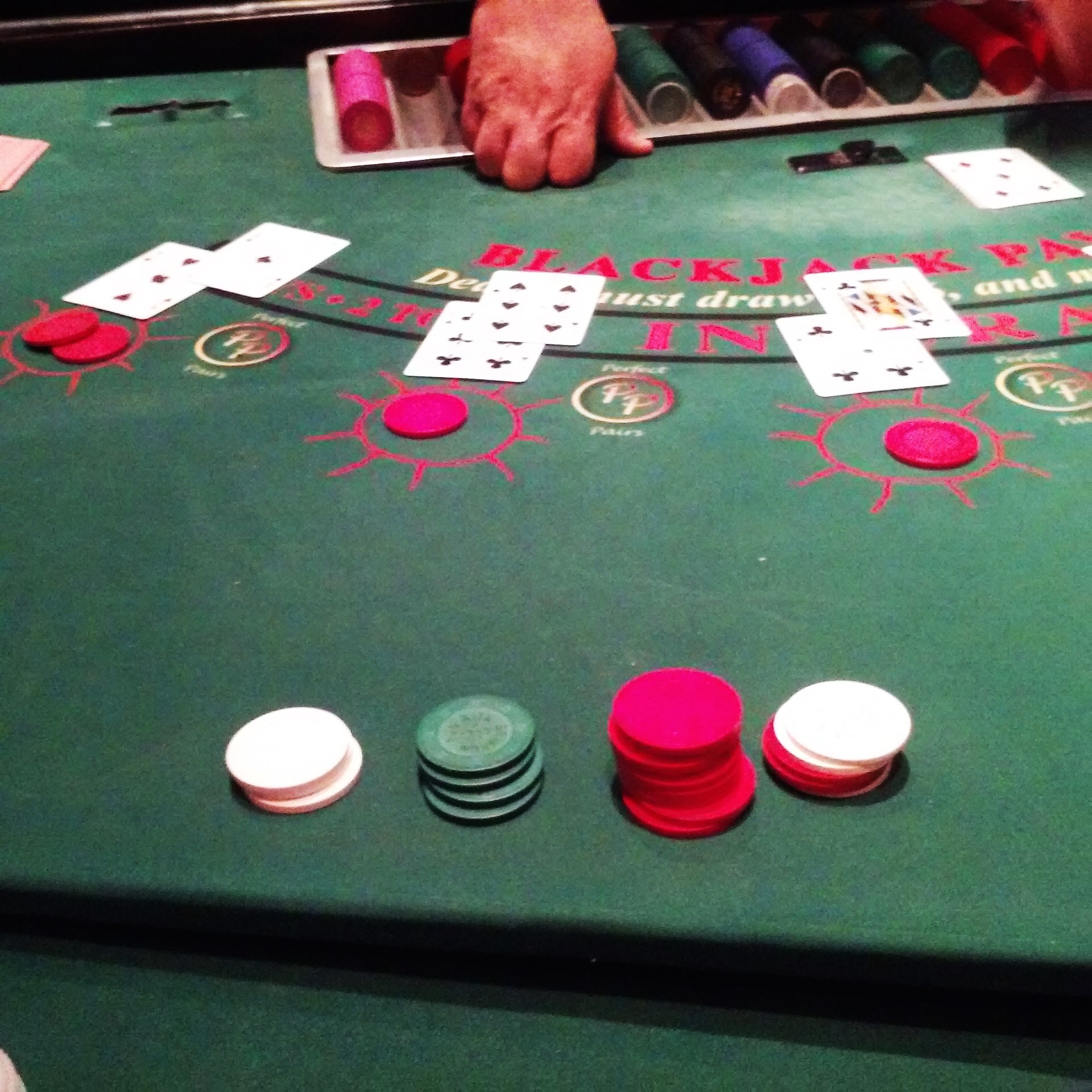 After table games, we went for dinner at an amazing little restaurant that opened in August of 2016 in downtown Orillia, called Rustica Pizza Vino. I'm not usually a huge fan of hand crafted pizza – I find it expensive and the crust is usually too thin for my liking. Well Rustica changed my mind. First we got to see how the chef made the dough – he was trained by a pizza chef who was flown in from Italy just to teach him the correct way to make pizza dough. Then we got to see the really cool, custom-built pizza oven (it only takes 90 seconds to bake the pizza in it)! Two members of our group were brave enough to try their hands at making pizza while the rest of us filmed and photographed the process, and sampled some of the wonderful beer from the Horseshoe Valley Brewing Company (HVBC).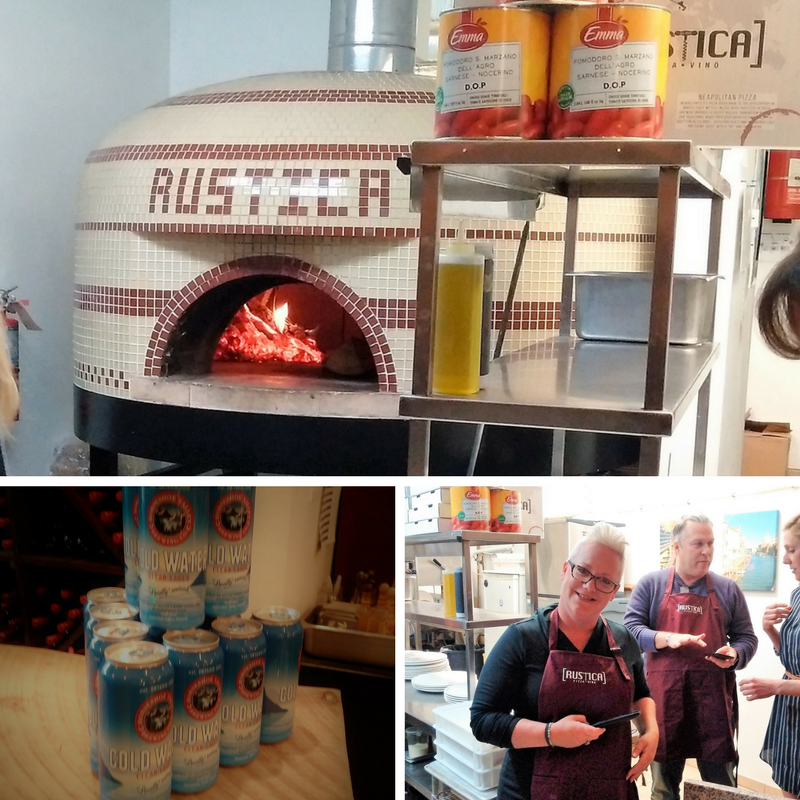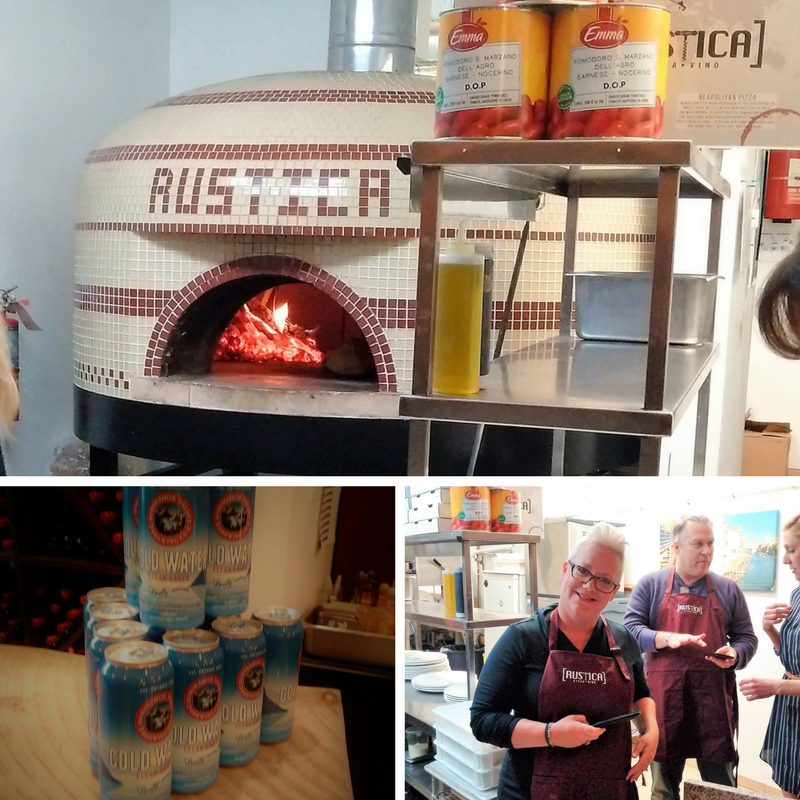 I've always loved craft beer, but I've never been a huge lager fan. I prefer ales – especially of the amber variety. Still, I was quite looking forward to trying out the Horseshoe Valley Brewing Company's Organic Cold Water Clear Lager. First of all, it's an organic beer – and the other organic beer I've had has been really good. Secondly, it's local to the area and for me, drinking local is always a good thing whenever possible. Finally, the brewmaster, Brian was at the tap and sharing lots of brewing knowledge and fun facts so I got a mini course in how they brew their beer. HVBC's beers are vegan friendly, use all natural and locally sourced ingredients, and are brewed in small batches. Having sampled a few glasses (for quality control of course) of the Cold Water Clear Lager, I can definitely say that I'm a fan of their methods. The beer was crisp and light with no noticeable aftertaste and wasn't overly carbonated the way some lagers are. I stopped at the LCBO on the way home to buy some and I suspect a brewery tour is in order.
After the pizza making demo and the beer samples, it was time to eat dinner. I'd love to say that I was restrained enough to stop and snap pictures before eating but I have zero self-control where arancini is concerned, so I asked my friend Cathy for hers. The arancini by the way is a MUST HAVE if you're going to Rustica. We didn't have the Caesar salad but I noticed it on the menu so asked our host why the romaine was served warm in their Caesar salad since I thought it was a little odd. Well, it turns out that romaine has an amazing flavour when warm, but most places just serve it straight out of the fridge and so it tastes just like regular lettuce. We sampled a number of the pizzas, so many that I lost track. While I had to pass on any that had onions, I still didn't leave hungry at all. I think my favourite was a tie between the Diavola (San Marzano tomato, fior di latte, hot salami, black olives, chili flakes, fresh basil) and the Eggplant (San Marzano tomato, lightly-breaded eggplant, whipped ricotta, grilled garlic, fresh basil), though I'd order every single one we tried again. Dessert was pizza doughnuts – which are deep fried pieces of pizza dough rolled in sugar, placed on a bed of Nutella, with vanilla gelato and fresh strawberry on the side – can I just say that these are dangerously good? I'm drooling just thinking of them.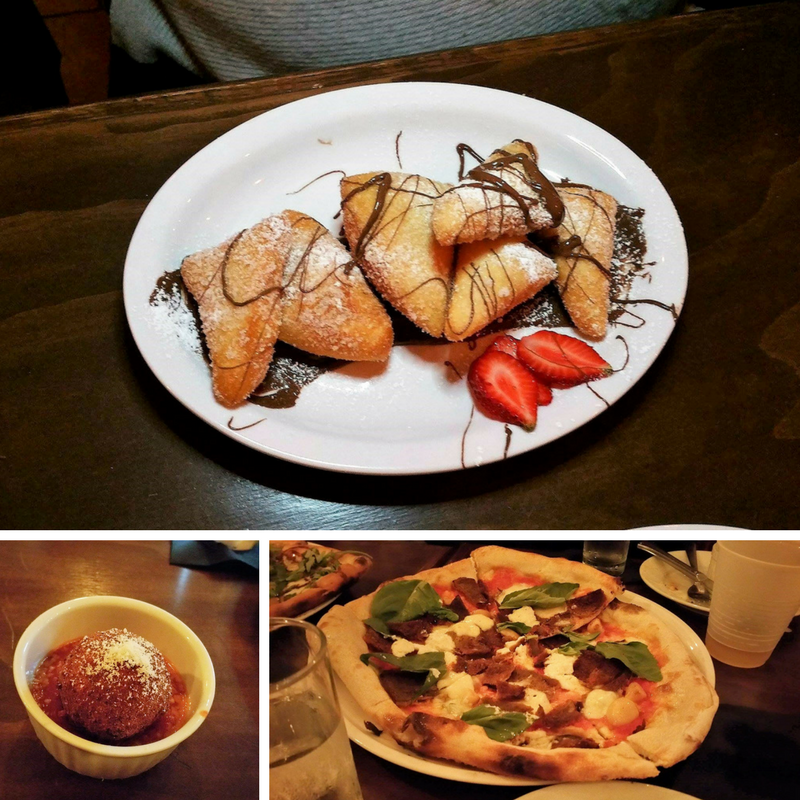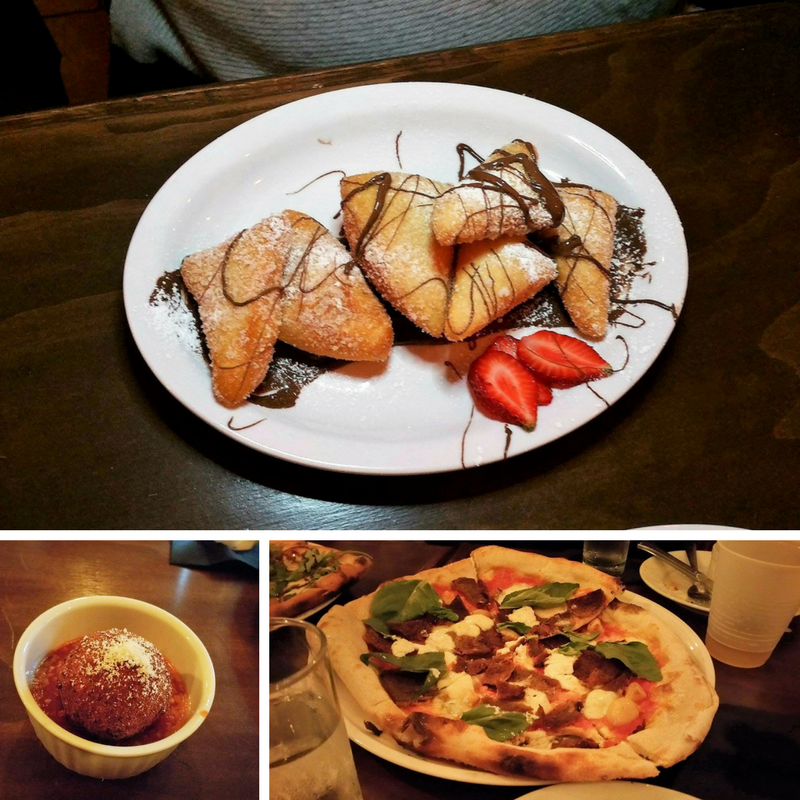 Wednesday morning, some of my fellow bloggers stayed at the resort and got treated to some of the wonderful spa treatments available and spent more quality time at the pool. I, however, decided that hurtling down a hill on 2 small pieces of fiberglass / carbon fiber was a better idea. More about that in the next post. We got back around 3 and I had a much needed soak in the hot tub followed by a shower and then got back on the bus for one of my favourite stops of the trip – the Orillia Museum of Art & History (OMAH). My family is from Orillia going back a couple of generations – my great-grandfather's WWI attestation papers cite Orillia as his hometown – but I've never explored the museums there other than the Stephen Leacock Museum that I went to one summer on a lark. Truth be told, I didn't even know the OMAH existed before this trip and I'm so glad they introduced us to it. While we couldn't see the history exhibit (all the more reason for a return visit) since it was being set up, we got a chance to make our own maple-themed art and tour the current art installation – a non-juried exhibit of art by women. Why only women? Well for a couple of reasons –  the exhibition is an annual one that always runs over International Women's Day (which, coincidentally was the day we were there), and female artists represent only about 6% of the artists shown in most major museums yet are about half of the artistic community. With this annual show, the OMAH brings the spotlight on female artists and the amazing works that they create but that are often overlooked. This was the 21st year for this exhibition (running from February 15 through April 23rd) and the theme for this year's show was Renewal. I don't know about everyone else, but I felt renewed after viewing the exhibit. They have some great local history research tools available in the basement level – which served as the town jail for awhile so is one of the cooler places you can research your family history. Definitely worth a return visit or two.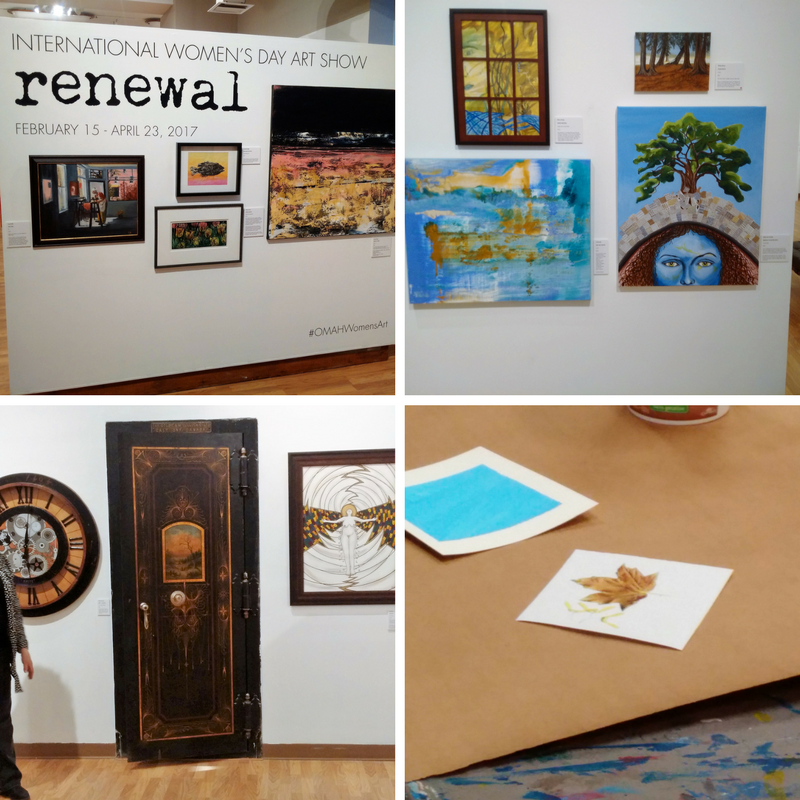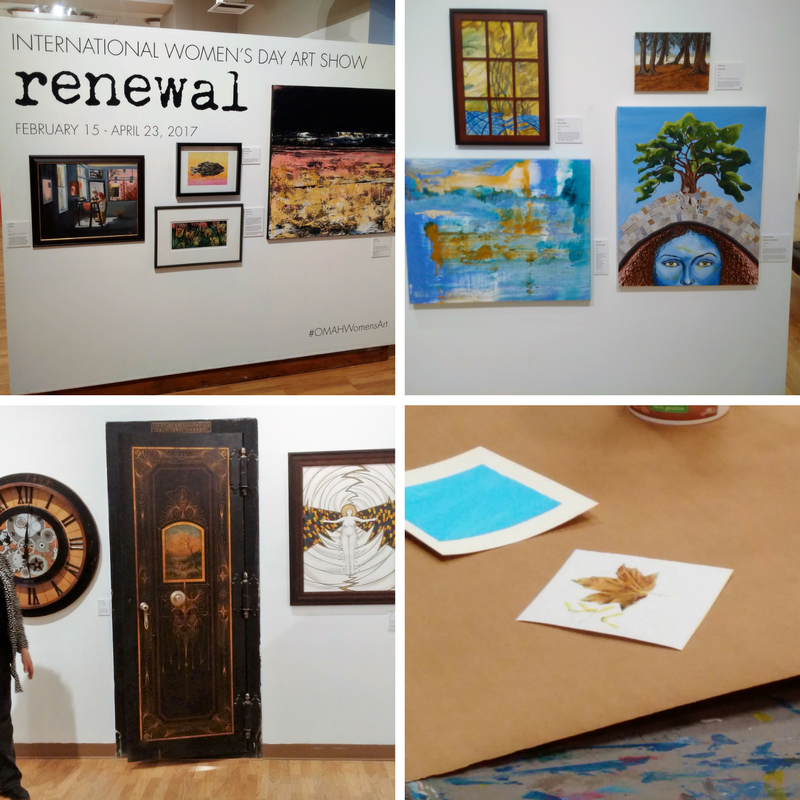 After leaving the OMAH, we went for our last group activity of the trip – dinner at the Grape and Olive Wine and Martini Bistro. Talk about a hidden gem – it's attached to the Best Western Plus Mariposa Inn and Conference Centre. Not somewhere I would necessarily think of for fine dining. I'm so happy we got to have a meal there – now I have another place to go in Orillia for a fancy dinner. Having food allergies can make dining out a stressful experience but the servers at the Grape and Olive were amazing. They took note of my allergies and since the chef couldn't be sure that the pot roast's onions were cooked thoroughly enough so as to not be a problem for me, they came up with an alternate main course (there were choices but I really had my heart set on the beef – and the others contained onion in some form as well). It wasn't a big deal, and they were very careful to make sure that my food came out at the same time as the group and that I didn't feel singled out as someone with a food allergy. The Caesar salad wasn't served warm, but it was still amazing and the dressing was the perfect texture. The steak was done to a perfect medium-rare, and was so tender it melted in my mouth. Dessert was warm apple crisp and once again it was done to perfection – the apples weren't too soft and the whipped cream to apple crisp ratio was perfect. After dinner we had a chocolate making demonstration from one of the pastry chefs at the restaurant and learned about how to properly temper chocolate – surprise, I've been doing it wrong for years. Now I know how to do it the right way and how to test the temperature range easily so no more white marks on my homemade chocolates!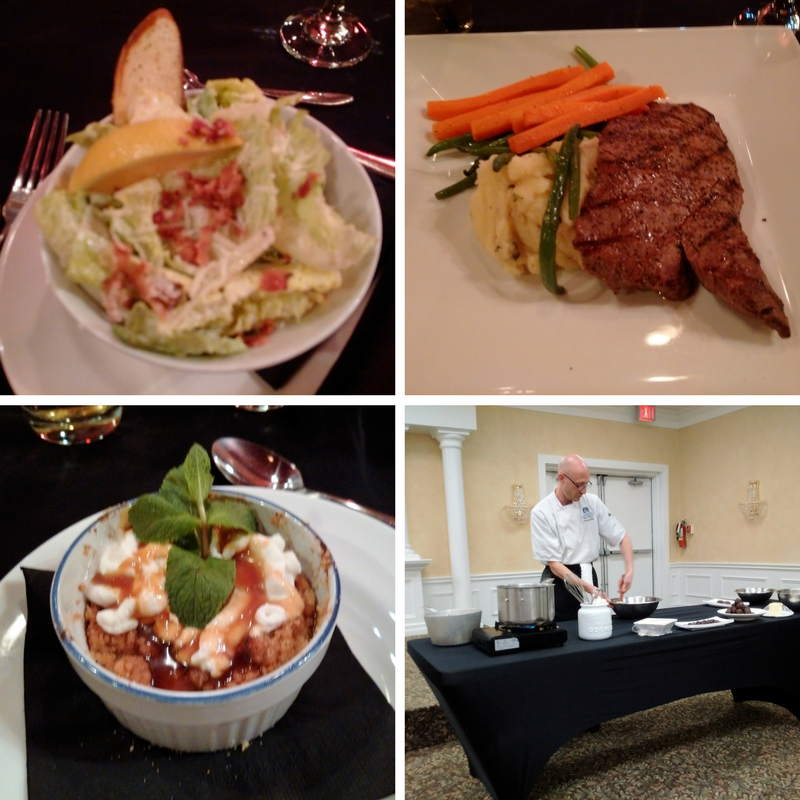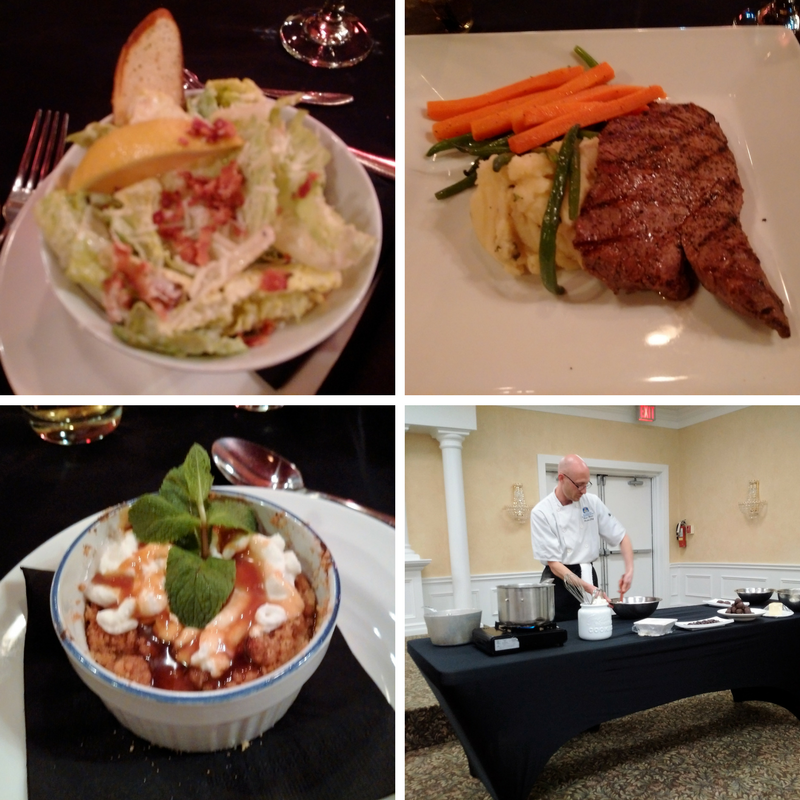 We returned to the hotel, and I joined some of my friends on the casino floor for an hour or two of slot playing fun. I left up a little bit of money (not much but hey it's better than nothing), and returned to my room happy, full, and tired from a fun few days in Ontario's Lake Country.  Granted, what I've written about here is mostly only responsible for the happy and full – the tired came from the outdoor activities which I'll be writing about next. Ontario's Lake Country has so much to offer that I'll have to return a few more times before I can experience everything I want to but it's so close that I'm kicking myself for not having explored more of it sooner!